We're only a couple days into the fall season, but one fashion trend is already starting to emerge that we at GGBailey.com can readily support: animal patterns!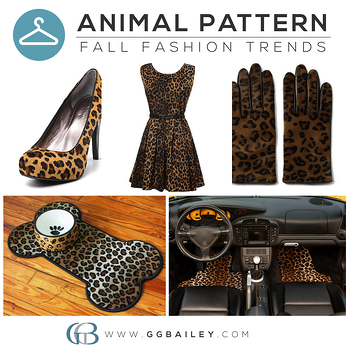 As we wrote recently, the previews of the coming fashion forward animal pattern trend came at the 2013 Mercedes-Benz New York Fashion Week. We were excited to see all the high fashion designers include animal prints in the runway previews for the fall season, and now the industry to starting to follow suit.
Neiman Marcus is using the slogan "we're wild for stripes and spots" to brand their Animal Magnetism campaign, which showcases seven pages worth of aminal patterned items -- everything from shoes, scarfs, and skirts to bags, blouses, and bomber jackets. Their collection, like a lot of others, includes a range of leopard pattern items, some zebra patterns, a few tiger patterned items, and even a couple of snake-skin inspired pieces.
Of course, we at GG Bailey love animal patterns, and that's why our Car Couture™ line, as well as our home and pet placemat collections, all include three animal pattern options: Leopard, Tiger, and Zebra. You'll notice we use the phrase "animal pattern," not "animal print," and that's because our home, pet, and car floor mats are not printed patterns; rather, our carpets are woven, ensuring top quality patterns that will last. You can read more about the difference here.
In fact, our Bone Pet Placemats just became available last week. To celerbate these new mats, we're offering a 10 percent discount off your entire order and free ground shipping through Oct. 3. Click here for details.
While all three of our favorite animal patterns are likely to be put to use in high fashion items throughout the fall season, we expect you'll see more Leopard patterns than Tiger or Zebra patterns. The two-tone color combination is perfect for the season and can be used on all sort of items. Many fashion publications and style setters have already began showcasing their favorites.
Take Elle magazine, for example, which recently published this post titled "22 Leopard-Printed Pieces that Will Make You Say "RAWR!" Their picks include everything from pumps and sneakers to coats and dresess. We think they would approve of our Leopard pattern car floor mats too.
In celebration of fall's animal pattern fashion trend, we have been pinning like wild to our three animal-themed Pinterest boards: Leopard, Zebra, Tiger. Because Leopard looks to be the hottest of the three patterns for fall fashion, we have really been focusing on that pattern. The following is our Favorite Five from our Leopard Pinterest board. You can follow all of our boards by clicking here.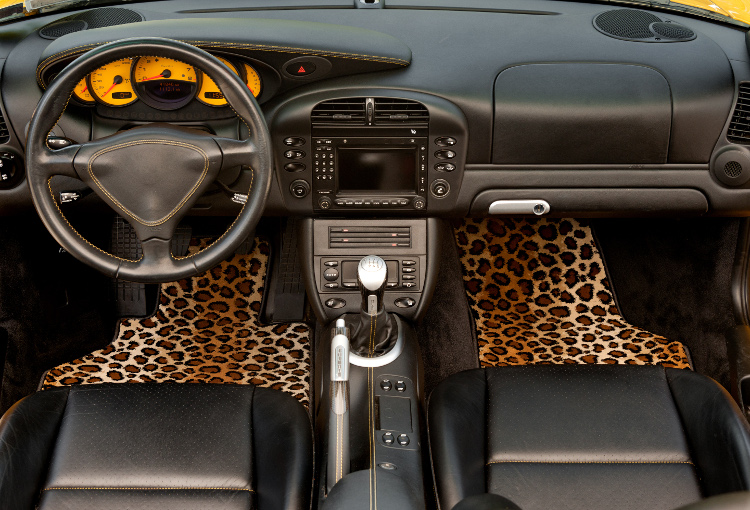 1. Leopard Pattern Car Floor mats GGBailey.com
Of course we can't have a list of our favorite leopard pattern items on Pinterest without including our very own luxury quality Leopard pattern auto floor mats (see the pin). This particular photo is great, because the leopard floor mats are in a stylish car.
Our carpets are elegant, luxurious and heavy weight, which means they will retain their beauty for years to come. They are stain resistant, so you can dress your car up in style with little worry. Just visit our Car Couture™ section to start the selection process for your Leopard pattern car mats, or browse our other animal patterns or oriental options.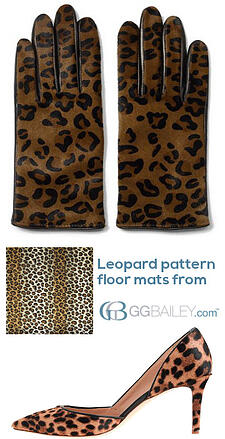 Our Leopard pattern carpets are also available in our home section and in our pet section too, so you can match your style up in all your favorite places.
2. Leopard gloves
Depending on where you live, fall can sometimes bring cold weather, and certainly by the time winter rolls in you will be in need of a good pair of gloves to keep your hands warm when gripping the steering wheel in a cold car. Cue the leopard pattern gloves (see the pin).
Repinned from refinery29.com, these gloves are top quality and fashion forward, so they fit right in with our top quality and fashion forward floor mats.
3. Leopard shoes
Truth be told, there are lots of leopard pattern shoes on our Leopard Pinterest board, everything from pumps and boots to loafers and sandals. Pinterest is crazy about shoes! But for the purpose of this post we chose the J. Crew chic pump pinned by rstyle.me (see the pin).
As we wrote above, a great pair of leopard pattern shoes are the perfect accessory to match our Leopard pattern floor mats from our Car Couture™ line. The particular shoe has sleek lines and is described by the designer as a versatile wear-all-day mid heel. Made in Italy, the pattern is described as hazelnut leopard, and it features a calf hair upper and a leather sole and lining.
We may have pinned a lot of leopard pattern shoes that we think would match our Leopard pattern car floor mats, but this pair is one of our favorites.
4. Leopard bag
If you have the shoes and the driving gloves, you might as well go ahead and get the bag too, and we have pinned several leopard pattern bags to our Leopard board on Pinterest. We have totes, clutches, purses and everything in between, but the one that made our Fave Five list is a black leather and leopard pattern satchel from ASOS.com first pinned by shopsweetthings.com (see the pin).
We zeroed in on this stylish bag because of the contrast between the leather and leopard pattern. It's a high quality item and the combination of the two materials is eye-catching. The use of gold-colored buckles makes it a great bag for fall, and we know leopard patterns are going to be running wild this fall.
Drop this bag onto the passenger seat of your vehicle equipped with our Car Couture™ Leopard pattern floor mats and you'll be ready to hit the road in style.
5. Leopard earrings
Just like shoes and bags, there is plenty of jewelry to browse on Pinterest, and we have repinned quite a few pieces, especially to our Leopard board, including bracelets, charms, rings, earrings and more. But the one to make our Fave Five is the pin that features a pair of vintage French diamond and enamel earrings in a leopard pattern (see the pin).
These leopard pattern earrings are classy and fashion forward, but also feature a vintage appeal that would go great with any fall outfit. First pinned by 1stdibs.com, the earrings are described as "black enamel leopard motif set within 4.20cts round pave diamonds in 18KY gold." We think these are beautiful and that they would compliment our Leopard pattern floor mats perfectly, especially if the mats were placed in a vintage car.
Because we can make custom-fit floor mats for all makes and models, even the most rare and vintage vehicle can be custom-fit with our luxury quality GG Bailey floor mats.
Visit our Car Couture™ line to find the animal pattern, oriental style, or plaid carpet that is perfect for your fall fashion style, or get creative and Design Your Mats™ to create a personalized look that is all your own.