For a lot of us, our cars become a home away from home. And even though we try to keep things tidy, our beloved and loyal vehicles often suffer the burden of our busy lifestyles: a few to-go cups here, a muddy footprint there. The descent into messiness is almost inevitable, but with these tips, you can keep your car interior looking good -- without visiting the car wash every week.
DO make every day trash day. Every time you leave your car, grab a piece of trash to throw away. Trash bags in cars are a good idea in theory, but they're unsightly and can cause unpleasant smells. It's better by far to simply keep up with the trash in your car as it happens.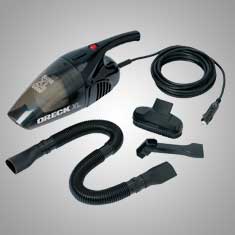 DO invest in a car vacuum. Let's be honest. How often are you going to break out your indoor vacuum (and detangle all those annoying attachments) just to get a few crumbs from your car? Probably not as often as you should. If you care about a clean car interior, you should look into purchasing a vacuum designed specifically for your car like this Oreck XL car vacuum. It plugs right into your car's cigarette lighter, making cleaning up random messes a breeze.
DO clean those car mats. You car mats are constantly working to preserve the value of your car. How do you repay your mats? With mud stains, food stains, crumbs, pet hair, and daily wear and tear. Luckily, car mats can be removed for easy cleaning. With a little care, you can keep your mats looking as good as you. Remember, it's easier to clean up a recent spill than remove a dried-in stain.
Use a soft-bristle brush to loosen any caked-on dirt or mud. Then, vacuum your carpeted mat to pick up the loose dirt and crumbs. Simply spot clean with water for most stains. For tougher stains, you can use commercial carpet cleaners and follow the manufacturer's directions. Use an absorbent cotton towel to lift away the stain and any remaining soap residue. Let the mats dry fully before returning them to your car.
DON'T put your car mat in the washing machine or dryer. We promise you -- nothing good will come of this.
DON'T let your local car wash get your mats wet either. Some car washes have car mat cleaning machines or clips that send your mats through the same wash as your car. These methods can damage your mats or leave you with damp car mats -- which leads to mildew. Emphasis on "ew."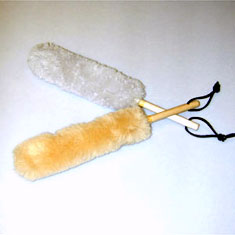 DON'T forget to dust your car interior. We don't always think about it, but the dashboard and interior of your car can be one of the dustiest places! GG Bailey makes a 100 percent Marino sheepskin duster, made especially to absorb the dust and polish the surface of your car.
If you feel your car mats are unsalvageable, or if you're just ready for a change, you can get personalized car mats from GGBailey.com to fit both your style and your car's specifications. Added bonus: they're stain resistant.