Whether you just bought a new car or the floor mats in your current vehicle are wearing out and need to be replaced, you are likely aware there are two distinctive types of automotive floor mats available for your vehicle: Carpet and rubber or plastic.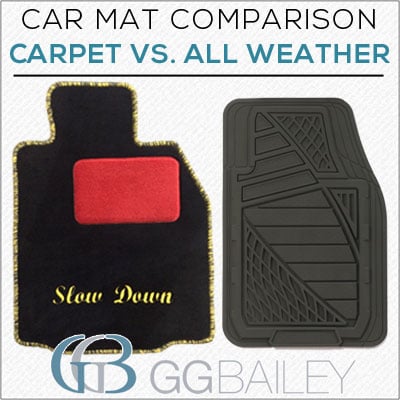 Car floor mats are important because they add style and a personal touch in addition to serving an important function as a protector of your vehicle interior, so it is a good idea to think of your car mats as an investment. The car mats you pick should not only meet your functional needs but should also look good in your car because they you an inexpensive way to customize the look for your vehicle.
We have written before about the 7 Things Your Auto Floor Mats Do For You, and because we make custom car floor mats for the world's top brands, you can trust that we know what's what when it comes to automotive car mats.
Below we have addressed three main points on the subject of carpet car mats vs. all weather mats. Check out our thoughts and share your own opinions below.
Carpet mats add comfort, style
Carpet floor mats are the best option if you're looking for some extra style and comfort. Carpet floor mats come in a wide range of colors and style, and at GG Bailey, we can even customize your car mats with embroidery or logos when you use our
Design Your Car Mats™
option
.
We offer 10 carpet colors when you custom design your own car mat, but if you prefer a pattern then one of the nine options of our Car Couture™ line. There you can choose from animal patterns like zebra and leopard, two colors of oriental patterns, camo, plaid, and more. Our patterns are woven into the carpets, so you won't have to worry about the design fading on this luxury quality carpet.
All weather mats are generally offered in three or four colors and cannot be personalized or designed by the customer. It can be tricky to get a close match if you are concerned about the way they look, and you should make sure you are buying something made with quality materials so you don't have to worry about fading. What the plastic mats lack in style they aim to make up for with protection.
You should also be sure to consider the backing on any floor mats you buy, as some are equipped with nib backing that can leave unsightly holes in your car's carpet, which is why none of the world's top auto brands use that type of backing. GG Bailey's Open Cell Foam will not only protect your vehicle's carpet but will also help keep the floor mat in place to ensure safety. It's an OEM quality backing reserved for only the best brands.
All weather mats offer good protection
Rubber or plastic floor mats are good for all-weather protection because they are tough enough to keep mud and dirt off your carpets. Unfortunately, they don't hide the material you drag in on your shoes. If you like to eat and drink while you drive (not recommended behind the wheel!), then all weather mats will also catch any spilled liquids, making it easy to clean up, but the dirt and debris will sit on top of the mat until you clean them again, so you could still get it on your shoes.
Most manufacturers produce their liners with raised ridges or diamond patterns to help channel water, snow, mud, or any other moisture away from where your feet normally rest, which creates areas for that debris to become lodged. That material can also build up over time if you don't care for your mats, and that would be messy.
It's also important to note that top quality carpet offers good protection too. Our carpet car mats, for example are made of the strongest, most durable and trouble-free carpet fibers available today. We design our own carpet to resist mold, mildew and wear, and when you Design Your Car Mats™ you can add an optional heelpad to create an extra layer of protection against wear on the exact spot where your carpet mats will see the most action.
The patterns of our thicker, luxury quality Car Couture™ carpet will absorb water and actively hide dirt and debris in between vacuums. It works so well fact that we also make home mats that can be used in the entry way of your home. Many of our customers use those mats as their winter mats because they protect your vehicle interior while being safe and stylish.

Carpet mats can be personalized
One of the best features of carpet car mats is the ability to customize the look of your mat. There are only four steps, but thousands of possible design combinations when you Design Your Car Mats™ with GGBailey.com. You get to pick one of 10 carpet colors, 41 edging options, 19 heelpad colors and two shapes, and then personalize it however you see fit. We can add a traditional or single letter monogram to your car mat, add your initials, or any name or custom message up to 10 characters (including spaces) long.
All weather mats are generally available in the most basic colors, and you can find some with additional graphics or designs, but you won't be able to pick each element to create your own.
If you want to learn more about our custom designed car floor mats, check out the following links:
Comment below to share your own thoughts or request a
free swatch kit
to see samples of our carpets for yourself.