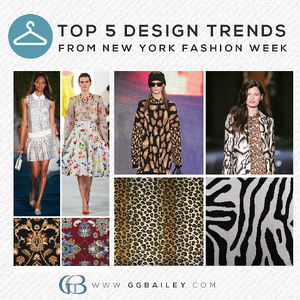 The bi-annual New York Fashion Week, sponsored once again by Mercedes-Benz, wrapped up last week in the Big Apple, and as always, there were lots of lovely lines to digest while soaking in all the new trends, styles, and luxury items presented on the runways and otherwise.
Fashion fans and forward thinkers got the first looks at what the top designers will be presenting for purchase come spring, and as fans of all things fabulous, we at GG Bailey were closely following the coverage of Fashion Week to see what's hot. Our collective notebooks are brimming with excited notes, but we decided to stick with the five things we are most excited about for this blog.
Also, fashion fans, you should know that beginning today we are offering free ground shipping on all orders! So feel free to find the style of luxury car floor mat that best fits your style and save some money. Our gift to fellow fashion forward shoppers!

1. Ralph Lauren's Neon Collection
If Ralph Lauren has his way, Spring 2014 will be full of bold color and monochromatic styles. The designer included a lot of black and white print ensembles in his show, but what caught our eye was the near fluorescent outfits that were so bright some of the models had to don shades. Click here to see more.
Ralph Lauren surely wasn't the only fashion icon to present glowing fabrics in his display, but his use of red, green and blue and even neon orange, lime and yellow had us thinking about all the color combinations of our woven carpet floor mats we could design to match his collection of gowns, jackets, skirts and more.
The potential combinations are endless when you Design Your Car Mats™ because you can choose carpet color, binding type and pattern or color, heel pad color, and embroidery color and style. Three samples we drew up feature dark carpet and brightly colored embroidery, heelpads, and edging in red, blue and yellow. Other options include green, purple, orange, pink and more!
And you get to choose the color of every piece to truly make your custom fit floor mats match your style perfectly. Bright colors on our high end luxury mats? We think Fashion Week designers would approve.
2. Florals
Several designers were showing off their appreciation for floral prints and feminine cut during the 2013 Mercedes-Benz New York Fashion Week. (Pictured from left: Christian Siriano, Tory Burch, Oscar de la Renta.)
Florals are always a favorite, and this year was no different as designers offered a range of frilly and decorative dresses, skirts, tops, pants and even accessories. Elle magazine has a wonderful gallery of their favorite florals from this year's event. Check it out here.
We at GG Bailey love florals, whether on clothing or in home decor. And it also looks great in your car. Our Car Couture™ luxury floor mat line features Black Oriental, Red Oriental, and Beige Chariot. Those woven 50-ounce carpet mats have authentic Persian design with botanical inspiration.
GG Bailey was the first auto mat maker to make true oriental car mats for your vehicle. Our Black Oriental floor mats are among our best selling products, particularly with drivers of high-end brand vehicles. The quality is simply unmatched.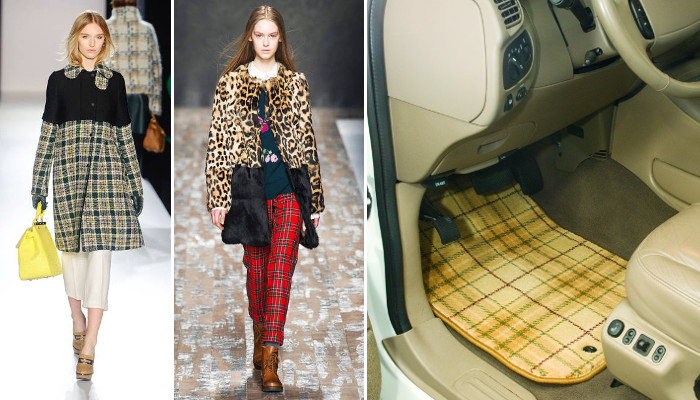 3. Plaid for Fall 2013
Top fashion designers put their own touch on a classic with the use of plaids for their Fall 2013 collections displayed at the 2013 Mercedes-Benz New York Fashion Week. From Karen Walker's monochromatic coats and skirts to Marc Jacobs' use of blue, red and other colors, and even the dark plaid dresses and pants shown by Victoria Beckham, there were plenty of examples of plaid on the runways in New York.
Other plaid highlights included Gucci's aggressive take on the traditional pattern and creative use of what would be considered more expected plaid colors from Creatures of the Wind. Elle Magazine has a fantastic gallery of everything plaid from Fashion Week. You can check it out here. The final image in that gallery combines animal print and plaid, two of our favorite things at GG Bailey.
We at GGBailey.com know a thing or two about the plaid, and we have made our Beige Plaid carpet one of the signature options of our Car Couture™ luxury floor mat line. We also have a plaid option in our Saratoga binding line -- a Blue Backstretch Plaid Ribbon -- along with our Multimane Stripe ribbon and six polka dot riboon options, that you can choose when you Design Your Car Mats™. If you want to take a cue from the Fashion Week designers and style your car with plaid, then we have the custom floor mats you are looking for.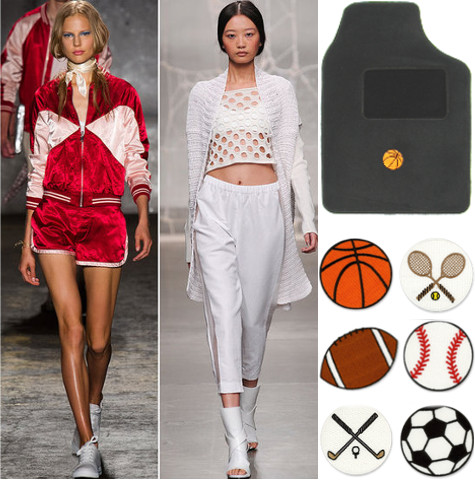 4. Sporty fashion
This potential trend from the 2013 New York Fashion Week is a bit less traditional, but sometimes a more agressive style is warranted. Multiple designers drew on sports to present an intersting style option in the form of atheltism-inspired outfits (such as the pieces by Vera Wang, Marc Jacobs, and Tess Giberson at right).
Calla, Tommy Hilfiger, and a few others also got in on the action, so to speak. Skirts, fancy pullovers, track pants, jackets, and even high fashion sport bras were shown off by models on the runway. Check out this video from Popsugar to see many of those pieces.
Sporty apparell looks great behind the wheel of a sportscar, of course, so this trend is exciting for us. One of the best things about spring is being able to put the top down and drive in the warm weather after a long winter. Plus, we have sporting logos in our Design Your Car Mats™ section that you can add to your custom fit floor mat. Options include baseball, basketball, soccer, golf, tennis, and football.
Also, feel free to check out our Pinterest board for more driving and styling ideas.
5. Animal prints for Fall 2013
If you know GG Bailey, you knew we couldn't post a blog about the 2013 Mercedes-Benz New York Fashion Week without raving about the animal prints displayed on the runway. Fortunately, we were not disappointed by the offerings designers created for Fall 2013.
Designers such as DKNY, Diane von Furstenberg, and Tracy Reese used big and small prints, as well as black, white, tan, brown and colored palettes, too. Leopard is a classic, of course, and a few designers included zebra patterns in a variety of colors. We loved the skirts, shirts, jackets and every piece and accessory in between. What can we say? We're wild about animal prints!
That is one of the primary reasons our Car Couture™ luxury auto floor mat line includes choices of leopard, zebra and tiger. It is important to note, however, that our car mats are not printed patterns; rather, our carpets are woven, ensuring top quality patterns that will last. Read this blog post to learn more about the difference between woven and printed carpets and you'll see why our mats are the best.
Those were our favorite things from the 2013 Mercedes-Benz New York Fashion Week. What were yours?