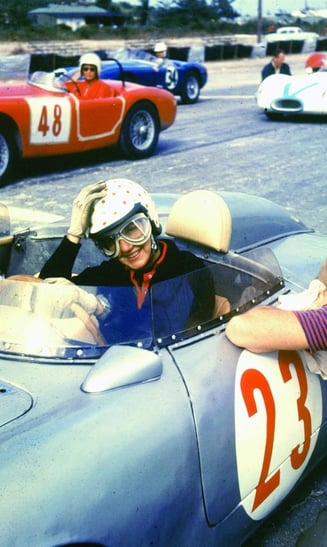 (Photo: Denise McCluggage Nassau Speed Week Bahamas) For years, the automotive industry has been depicted as male oriented; however, Holly Reich noted in the Chicago Tribune that:
"Despite the prominence of leadership roles, women hold about 25% of jobs in the motor vehicle and parts industry as of late 2014, according to the U.S Bureau of Labor Statics... Yet women influence 80% of the car buying decisions."
In spite of these statistics, women have had a rich history of pioneering innovation within the automotive industry. Some of these women date back to the 1800's and have invented automotive devices, such as the car heater and the brake pedal.
At GGBAILEY we have put together a list of six women who have transformed the automotive industry and pioneered automotive publications.
Inventors
Your car ride wouldn't be as comfortable or convenient if it wasn't for some inventions by women. We've compiled a list of inventions women have created throughout the years to make your drive more convenient and comfortable.
Margaret A. Wilcox, Chicago
The Car Heater 1893
Before the electric car heater was created, Margaret Wilcox designed a way for the car engine to open and disperse hot air into the front cabin of the vehicle in 1893.
Margaret was a mechanical engineer born in Chicago.
| | |
| --- | --- |
| Photo: An early application of the car heater in a vehicle | |
Bertha Benz, Germany
First Long Distance Trip in a Motorized Vehicle, Brake Pads 1888
You may be familiar with her last name-- Benz. Bertha was Karl Benz's wife and helped promote her husband's invention of the "motorwagen" by packing her and her sons into their motorwagen for a 66 mile road trip to her mother's.
This 1888 road trip sparked her innovative design known as the brake pads since she noticed the brakes were not functioning at ideal capacity during her journey.
Photo: Monument in Wiesloch where Bertha made a stop
to take in fuel at the city pharmacy

Mary Anderson, Alabama

Manual Windshield Wipers 1903
Frost sparked Mary Anderson's invention of the windshield wiper. Mary Anderson was traveling in NY when her trolley car driver had both front window panes open for better visibility.
In 1903, Mary Anderson was granted a patent for her design of a hand-operated windshield wiper to clear off inclement weather that collects on windshields. Mary was born and raised in America-- originally in Alabama and she later moved to California.
| | |
| --- | --- |
| Photo: Mary's 1903 window cleaner design | |
Hedy Lamarr, Austria
Wireless Transmission Technology-- WiFi/ GPS 1941
Known for her starring roles in Samson and Delilah, Algiers and The Strange Woman to name a few, Hedy was born in Vienna, Austria and a film star. However, there is more to Hedy than just her cinematic performances and beauty.
Her resume also includes inventing wireless transmission technology during World War II. This laid the framework for future technologies, such as WiFi and GPS that help navigate your road trip travels. For this work she was inducted into the National Inventors Hall of Fame in 2014.
| | |
| --- | --- |
| Photo: Secret Communication System Patent 1941 | |
Pioneers
Aside from riveting inventions, women have also pioneered thought in the automotive industry starting widely known publications for the industry.
AutoWeek, Denise McCluggage
Denise dabbled in a variety of professional pursuits-- car racing, journalist, author and photographer-- that stemmed from her two passions motorsports and journalism.
When she retired from professional car racing, Denise focused on her love for journalism creating an automotive magazine known as AutoWeek.
| | |
| --- | --- |
| Photo: Autoweek tribute publication 1927-2015 | |
Jean Jennings
President and Editor of Automobile Magazine
Jean was Good Morning America's automotive correspondent from 1994-2000 and the former president and editor of Automobile Magazine. Jean's interest in cars began as a little girl and has continued to contribute to her professional affairs as well.
| | |
| --- | --- |
| Photo: Jean Jennings | |
Finding your Automotive Spark
Women have sparked innovation and pioneered thought to the automotive industry. You may pioneer the next automotive invention. Tell us what sparks your automotive innovation?
GGBAILEY Carpet Car Mats are for All Weather All the Time
Proudly Made in America for over 40 years and currently providing luxury in millions of vehicles around the world.