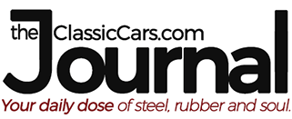 ClassicCars.com Journal published this article on RACEMARK & GGBAILEY on July 26, 2018.
Creating quality race-inspired car mats runs in the family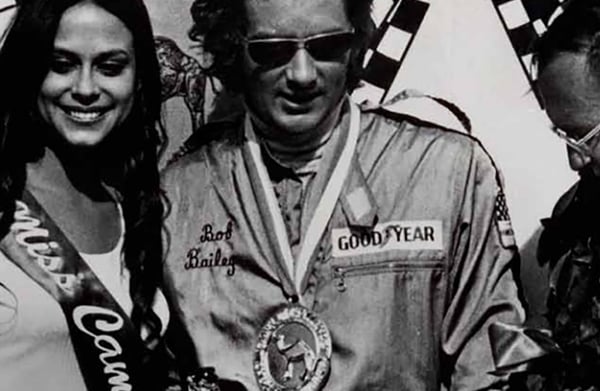 RACEMARK founder Bob Bailey is shown in his racing days.
More than 50 years ago,
RACEMARK
was founded by race car driver Bob Bailey.
Today, it's a family business. Bob's wife, Ginger, is the CEO. His son, Cannon, is the President and his daughter, Emily, is the President of GGBAILEY & Aftermarket Partnerships. RACEMARK is a global Tier 1 OEM and direct-to-consumer automotive accessory business headquartered in Georgia with additional factories in Germany, Hungary and Switzerland.
Bailey was one of the youngest drivers for the Porsche of America Racing Team and won the 1971 Daytona 24 Hour Race, 1st in Class. During his career, Bailey became friends with Porsche teammate Mark Donohue, a Grand Prix racer who won the 1972 Indianapolis 500.
In 1964, Bob founded B&B Motors. In 1972, he and Donohue partnered to provide drivers and manufacturers with specialty racing equipment, such as customized roll bars, racing steering wheels a flame-retardant racing suits worn by drivers such as Paul Newman and Steve McQueen. Bailey and Donohue decided to call the new company RACEMARK.
It was founded on the principle of bringing engineering excellence into every product and has become the standard for innovative, premium-design car mats in the automotive market. RACEMARK is known for its dedication to exceptional quality and its products can be found under foot in millions of vehicles all over the world.
In 1971, RACEMARK became the first company in the world to create custom-fit carpet car mats for the auto industry. Prior to that, most car mats were made from coco and sisal fibers.
RACEMARK is the longest Tier 1 OEM supplier to BMW North America. It started supplying the German automaker with coco and sisal car mats in the late 1960s. It continues to supply BMW today and most automotive brands with textile car mats, including innovative All-Weather Textile products.
RACEMARK also continues to make custom-fit Coco Car Mats and supplies BMW Classic globally with this classic all-natural product.
The second generation of Baileys is proud to introduce custom car and trunk mats to celebrate the racing legacy of their father and quality products — for which the company is known — at ggbailey.com.
A division of RACEMARK, direct-to-consumer division GGBAILEY was the first luxury car mat maker and puts an emphasis on custom design. Family owner and operated, it was founded on the principles of innovation, driving products to new levels of functionality and design. It has built on four decades of devotion to the finest automobiles and accessories in the world.
GGBAILEY's products are proudly made in the USA and ready to ship in just two business days, faster than anyone else in the industry.
The latest offering of custom car and trunk mats for GGBAILEY feature the RACEMARK brand. Inspired by the quality and legacy of RACEMARK International, these exclusive mats celebrate the longtime racing legacy and commitment to quality of the brand.
RACEMARK Heritage car and trunk mats are available when you use GGBAILEY's Design Your Car Mats feature. With this feature, customers can create personalized, custom-fit mats. There are a variety of colors, edgings, heelpads and embroidery options, including a piece of racing heritage — RACEMARK-branded mats.
A recent industry first is the All-Weather Textile car mat featuring function and design. This is the first car mat that conceals dirt and is totally waterproof; just vacuum and hose off and your mat looks brand new, unlike rubber mats that do not trap water or dirt and ruin your shoes. It's an all-weather product that also looks great in your vehicle.
Bailey continues to be active in the automobile industry. He is a founding member of the Saratoga Automobile Museum which is dedicated to the preservation and exhibition of classic automobiles. He still races in vintage car rallies and is an avid collector of classic cars. Of the cars in his collection, he is most proud of his original race cars including his No. 22 burgundy Porsche 911 and his No. 5 yellow Porsche 914-6 GT.