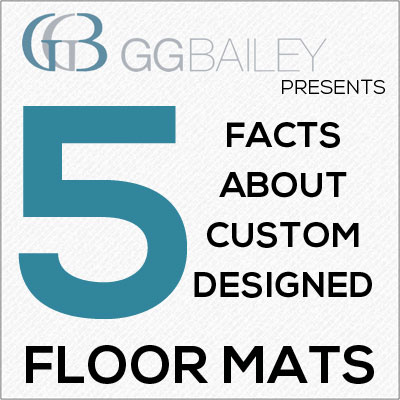 At GG Bailey, we pride ourselves on offering a one-of-a-kind product, because our website is the only one on the internet where you can custom design your own personalized car floor mat.
Our Design Your Car Mats™ section allows you to pick your carpet color, edging type and color, heelpad shape and color, and any personal monogram or embroidery in one of two fonts and one of 18 colors. There are only four steps to design your custom floor mat, but the possible design combinations are nearly limitless.
To help you better understand why our car floor mats are second to none, we present you with five facts below about our Design Your Car Mats™ options. Each point will highlight a different fact about GG Bailey and our custom designed car floor mats.
Remember, we are currently offering free ground shipping* on all orders in honor of Mother's Day, and our giveaway continues through the end of the month. Click the button below to learn how you can enter to win a free set of custom designed car floor mats.
1. Our carpet is top quality
Our carpets have a European velour look and are made of the strongest, most durable and trouble-free carpet fibers available today. We design our own carpet, working with the leading yarn suppliers in the world. We produced the first European velour car floor mats in the United States, and they are now the standard in the world's most elegant automobiles. All of our floor mats are made with superior stain resistance and backed with our Open Cell Foam backing to prevent mat movement.
Need more reassurance? Our parent company, Racemark International, makes floor mats for the world's leading vehicle manufacturers. In fact, Racemark was chosen to supply the carpet floor mats for the special edition Bentley Mulsanne made for Her Majesty Queen Elizabeth II. Only 60 of the Diamond Jubilee editions of the car were made, and each featured a wealth of luxurious touches, including our floor mats.
2. There are two kinds of edgings
The second step of the Design Your Car Mats™ process is to pick an edging, and we offer 41 different choices so that you can get the perfect look for your vehicle. Those 41 options are comprised of two different kinds of edging: serging and binding.
Serging is a stitched edge and binding is a smooth fabric edge. Serging tends to be the more popular choice when our customers design their car floor mats, probably because we offer so many color choices, including a couple of two-tone options, but the various bindings are popular too. There are three different varieties of binding: the solid color bindings, of which there are nine colors available; the Saratoga bindings, which include polka dot and striped options; and the LA bindings, which include reflective and camo options.
Both edging types give your custom designed floor mat a finished look, and you can pick from the 41 total options the best color and style to complete your personalized look.
3. Heelpads protect your floor mats
Every time you get in and out of your vehicle, your floor mats experience a little bit more wear and tear, and the space just under your right heel takes the worst of it. As you work the gas and brake pedals, your heel is working the same spot on your floor mat, which over time will cause the mat to wear out in that one spot.
A heelpad is the best way to protect your custom floor mat because a heelpad is an extra thick carpeted pad that goes under your heel area on the driver's side mat. All of our heelpads are applied with a special finished edge. They come in two styles – rectangular or round – and are available in 19 different colors.
Our carpets are made to be tough and durable, but adding a heelpad will ensure your personalized floor mats will last much longer and look much better over the long haul. You can learn more about our heelpads and why they are important in this blog post.
4. Embroidery will set your mats apart
You don't have to personalize your custom floor mats, but adding a personal message, name, initials, monogram or single letter monogram will surely set your new floor mats apart from any others on the market. Adding personalization is the best way to truly make your mats unique. Our custom embroideries are available in 18 colors and two font styles: block and script. You can add any word or phrase you want, up to 10 characters (including spaces).
There are lots of ways to use embroidery to get creative with your mats. We designed custom floor mats and embroidered team names, colors, and/or mascots for the NCAA Final Four. We designed St. Patrick's Day floor mats using green and the words "Lucky" and "St. Paddy." And we even design custom floor mats for Santa Claus. The only limit is your imagination!
5. We process orders in two days
When you order floor mats from GGBailey.com, you won't have to wait too long to see your new mats inside of your vehicle. We process all orders, including custom designed floor mat orders, in two business days or fewer. That means that most customers will receive their personalized car floor mats in less than a week after they ordered them.
Your custom fit floor mats will be equipped with grommet holes if your vehicle includes a factory locking mechanism for your floor mats. If not, we will include our very own Mat Loc™ Clip retention system. These clips increase your driving safety by helping to hold your mat in place underfoot.
Your order will be shipped using FedEx, and we are currently offering free ground shipping* on all orders. So, order custom designed car floor mats and we'll make them in two business days or fewer and ship them for free. Click the button below to get started.
*Free shipping offer good in the contiguous U.S. only.