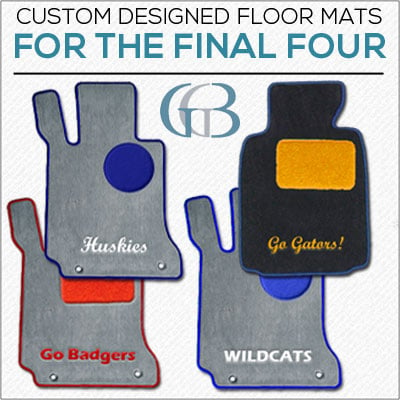 The next round of the men's NCAA basketball championship tournament continues Saturday with the Final Four. Florida takes on Connecticut, also called UConn, beginning at 6:09 p.m. and Wisconsin will play Kentucky at 8:49 p.m.
You might remember we designed custom floor mats inspired by the Florida Gators, as well as three other teams, early in the tournament. Then, once we got to the Sweet 16, we designed personalized car mats for the Wisconsin Badgers and one other team.
Since there are only four teams left competing for the championship, and we have already designed custom fit floor mats for two of the teams, we decided to custom design mats for the other two teams too. Keep reading below to see how we designed floor mats for the UConn Huskies and the Kentucky Wildcats, as well as our previous two designs for Florida and Wisconsin.
To custom design your own car floor mats, get started with our Design Your Mats™ system now. Or you can check out all the options and read more about the choices in the four step process for more information. There are thousands of design combinations possible, so the choice is yours!
If you would prefer an animal, oriental, plaid or other pattern, look at the options offered in our luxury Car Couture™ line. There are nine carpet options available, so you can find a pattern that best matches your style.
Kentucky Wildcats floor mats
The Kentucy Wildcats team colors are blue and white, so we chose to use those colors in our custom floor mat design. The first step in the Design Your Mats™ process is to pick a carpet color. For the Kentucky mats, we picked the grey carpet. We have 11 carpet colors to choose from, but we thought the grey would be a good base for our blue and white accents.
For the next step, we picked a blue edging. We offer two types of edging: serging and binding, which also includes reflective and ribbon edging. Binding is a smooth fabric edge and serging is a stitched yarn edge. We have the most color choices with the serging option, so we chose a blue serged edge for the Kentucky mats.
For the third step, we decided to add a round heelpad in a blue that will match the serged edge. We have two heelpad shapes to chose from --rectangle and circle -- in 19 different colors. Heelpads are optional, but they add an extra layer of protection that will help your mats last for a long time. You can learn more in this blog post about why it is important to consider adding a heelpad to your custom floor mats.
Finally, for the last step, we chose white embroidery, a block font, and typed in WILDCATS because we wanted the team mascot in all caps. The end results looks great, and Kentucky fans enjoy would this mat.
UConn Huskies floor mats
Like Kentucky, the UConn Huskies have blue and white team colors, but their blue is darker, almost navy in hue. Because of this, we picked the same grey carpet for the UConn inspired floor mats. Other carpet choices when you Design Your Mats™ include black, dark grey, light grey, chocolate, camel, pink, beige, cream, and khaki. If you aren't sure which carpet would be best for your custom design, you can request a free swatch kit to see samples in person.
For the edging, we again went with a serged edge, but for the UConn mats, we chose a navy blue that is closer to the team colors. We also have a Saratoga ribbon binding that is navy blue with white polka dots, for those who want something a bit more festive. Our premium Saratoga ribbon bindings are available in polka dots, plaid and stripes, and our L.A. bindings are available in camo and reflective. Our standard binding comes in nine colors, and our serging is available in 21 colors, including a pair of two-tone options.
For the heelpad, we picked a navy blue circle to match the navy blue serged edge. There are 19 different colors available, including three blues, but the navy looks best and matches the team colors well. Check out the step three section of this page to see all the heelpad color choices.
Four the fourth and final step, we personalized the custom UConn floor mat with the word "Huskies" in our script font using the same white thread as the Kentucky mat. All personalizations are embroidered directly into the carpet. You can choose a custom word or slogan up to 10 characters (including spaces), your initials, or the classic look of a traditional monogram or our new single letter monogram. We also offer embroidered logos representing sports (including a basketball!), aquatic themes, pink ribbon, racing, and patriotism.
Florida Gator floor mats
We custom designed our Florida Gator car floor mats back during regional play because they were one of our favorites to win the NCAA men's championship tournament. We really wanted the blue and orange team colors to pop, so we picked the dark grey carpet choice for the first step in the Design Your Mats™ process. Our carpets have a European velour look and are made of the strongest and most durable, trouble-free carpet fibers available. These carpets have been developed with built-in resistance to soil and stains, so you don't have to worry about wear and tear associated with regular use.
For the edging we picked the blue serging because we wanted to save the orange options for the next two steps. We picked an orange rectangle heelpad and orange embroidery using the script font that read Go Gators! Just so you know, adding these custom options does not result in any extra time to process your order. We custom make and ship all of our floor mats in two business days or fewer, so you will get your personalized floor mats quickly.
Wisconsin Badgers Floor mats
The Wisconsin Badgers wear red and white as their team colors, so we decided to use the same grey carpet for the floor mats inspired by that college basketball team. Regardless of the color you pick for your custom designed car floor mats, every mat we make comes with superior stain resistance and is backed with our Open Cell Foam backing to prevent mat movement. If your vehicle has a built in locking system, we install grommet holes that work with your factory setup. If not, we include Mat-Loc Clips™ at no charge so that you can secure your new floor mats in place.
Red is one of our more popular colors for edging, and it is the color we picked for our Wisconsin inspired floor mats. We also picked a red rectangle heelpad and red embroidery in the block font to say "Go Badgers". You get as many as 10 characters (including spaces) when you add personalization to your custom mat, and we needed every character for our Wisconsin mats. We think they turned out great.
Of these Final Four floor mats, which would you pick? Who are your picks to move past the Final Four? We're going with Kentucky and Florida to meet for the championship, with the Florida Gators winning out and being crowned national champions. Share your picks below, or click the button to design your own custom car floor mats right now.