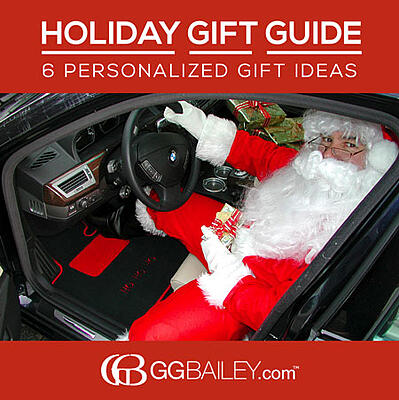 The holiday shopping season is underway and savvy shoppers around the globe are beginning to check off the names on their lists. It's with this thought in mind that we at GGBailey.com have compiled a list of our favorite personalized gift ideas.
We love to give and receive custom gifts and personalized gifts, but really, who doesn't? So as you look for ideas to please those picky people on your shopping list, consider giving them a one-of-a-kind gift personalized just for them. Custom gifts are not only fun and unique, but they show the recipient that you took the time to design a gift just for them.
So, enjoy our six ideas for personalized gifts below, and let us know what you think in the comment section or share your own ideas. Also, shop GG Bailey during the holiday season and take advantage of free ground shipping* as our gift to you.
If you plan to hit the road for the holidays be sure to check out our Top Ten Tips for Holiday Road Travel.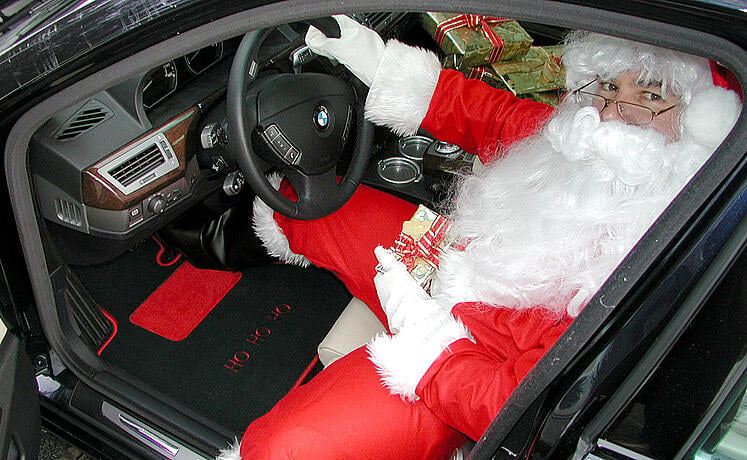 1. Personalized floor mats from GGBailey.com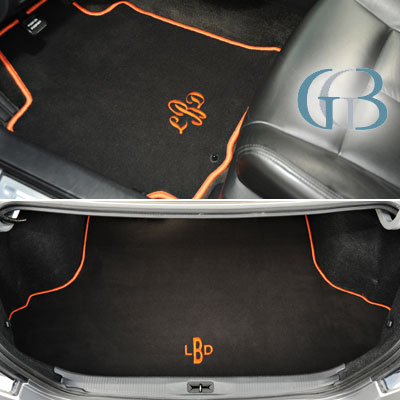 We couldn't create a personalized gift list without including our own personalized car floor mats from our Design Your Car Mats™ line. Even Santa loves our custom floor mats! All you need to know is the year, make and model of your friend or family member's vehicle to design custom floor mats they will love.
There are only four steps to design a set of personalized floor mats but thousands of possible design combinations. You pick from one of 10 carpet colors, choose one of 41 edging options, pick a heelpad shape and color, and then personalize it. You can choose an embroidered name or message of up to 10 characters (including spaces) or choose a monogram. We have two font styles available -- block text or script -- and 18 color choices. If you prefer an embroidered image instead of custom text or a personalized monogram, we also have 16 logos to choose from. Click here to see more details for each step.
Our personalized floor mats make great gifts, and we can make custom-fit floor mats for all makes and models. You can even personalize a trunk mat or cargo mat with a custom message or monogram! All mats are made and shipped within two business days, so you won't have to wait long to get your hands on this custom gift.
Click the buttons below to Design Your Car Mats™ or shop Car Couture™ if you prefer to give leopard floor mats, zebra floor mats, camouflage floor mats or oriental floor mats. We have 11 patterns to choose from in our luxury floor mat line.
2. Personalized bags from Vera Bradley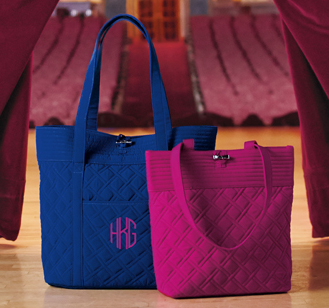 If you or the ladies on your shopping list love monograms, then this next personalized gift idea would be a hit. Vera Bradley offers a line of bags, totes, backpacks, computer bags, and more than can be personalized in four simple steps, not unlike our personalized floor mats.
After choosing your product, you then are presented with three letter layouts to choose from: block, italic, or monogram. Next you pick between serif, no serif, or a script font style. Then you pick one of eight color options, and finally you add your message or monogram. Click here to see their examples.
They ask that you allow up to two weeks for personalized orders, so make sure you plan accordingly. At GGBailey.com, we process all orders, including custom and personalized floor mat orders, in two business days, so our floor mats are great for last minute gift ideas. And we're offering free ground shipping* for the holidays!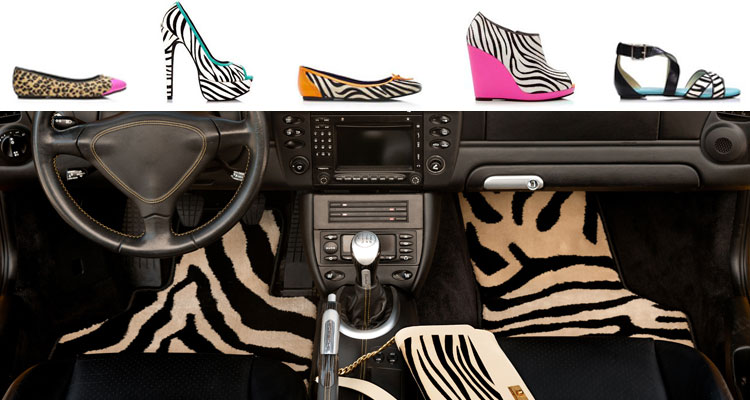 3. Design Custom Shoes on Shoes of Prey
This is a fabulous website for the shoe lovers on your list. At Shoesofprey.com, you design your custom shoes from beginning to end. The process starts when you pick one of eight styles, with choices ranging from ballet flats to party heels. You can then design the shape of the toe, heel, and back, and add decorations like bows or flowers to the toe.
Then you chose from dozens of different textures and colors. They even have animal patterns, which we love at GGBailey.com because those shoes would go so well with the animal pattern floor mats on our Car Couture™ line.
Shoes of Prey requires three to five weeks to custom make the shoes you design, so don't delay if you like this as a gift idea.
4. Personalized barware from The Glass Fox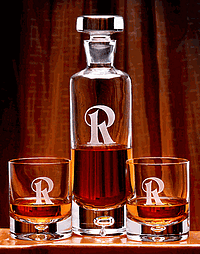 Fancy a drink? If you have a martini lover or beer connoisseur on your list, then they would certainly enjoy their very own barware personalized by theglassfox.com. In addition to pilsner and pub glass sets, they also offer wine glasses, decanters and rock glass sets, a martini gift set, steins, mugs, and more.
You can personalize this gift with an engraved initial, monogram, or name. They offer a range of type face choices and promise to process your order in five business days. Shipping costs extra and the price is based on the amount you spend. They ask that you allow 10 days from the day of purchase to receive your order.
5. Engravable gifts from Cufflinks.com
Cufflinks.com, as the names suggests, specializes in cufflinks, but their website offers a range of gifts that can be personalized for the men in your life. From money clips and business card holders to flasks and bottle openers, they have something that is sure to please with a bit of additional personalization.
We like the three-piece set that includes cufflinks, a tie bar, and a money clip -- all three pieces can be engraved with a custom message. This pieces would add personalized style and class with a bit of luxury to any formal look.
Once you pick your product you can enter up to 10 characters for each piece and choose one of eight fonts. This site includes free shipping on all orders of $50 and claims that most products ship the same day the order is received, though extra time is required for engraving. You should expect your order in 5-7 business days.
6. Gift certificates!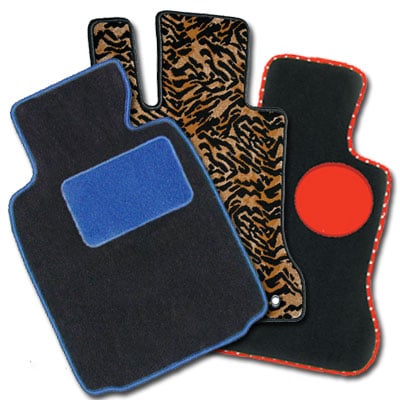 Still stumped? Gift certificates might be the answer. At GG Bailey, we offer gifts certificates of various amounts that can be used on any of our products, from our custom floor mats in the Design Your Car Mats™ section and the luxury floor mats of our Car Couture™ line to our home and pet products.
If you give a gift certificate, your loved one can visit our site and design their own custom floor mat themselves, ensuring they get the perfect fit and style for their vehicle. Our gift certificates start at $50 and go up to $350. They do not expire and can be used at any time for anything on our website, including shipping costs. But remember, we are offering free ground shipping* for the holiday season, so all orders place now are shipped for free. Click here to see gift certificate options.
A lot of sites offer gift certificates, but always be sure to check the fine print.
That wraps up our personalized holiday gift guide! Comment below to let us know what you think and to share your own ideas.
*Free ground shipping offer includes contiguous U.S. addresses only. There is an additional fee for deliveries to Alaska, Hawaii, and Canada. Current offer expires at 11:59 p.m. on 12/3/13. Future free shipping offers will follow. Stay tuned!