It's official. GGBailey.com makes car mats fit for a queen. Her Majesty Queen Elizabeth II, to be specific.
This year is Elizabeth II's Diamond Jubilee -- her 60th year as the reigning monarch. Bentley made a specialty Mulsanne for the Queen in honor of the occasion.
The Diamond Jubilee edition is designed and crafted using the most advanced technologies and the finest materials available.
So it's no surprise Bentley chose Racemark International, the parent company of GGBailey.com, to manufacture the Queen's car mats.
Only 60 of these specialty Bentleys were made (one for each year of Her Majesty's reign), and the car mats aren't the only luxurious feature. Each model includes: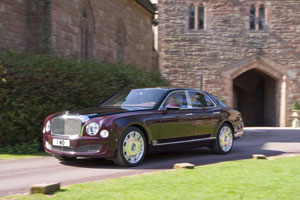 Stain-resistant, high-quality woven floor mats from Racemark International, custom cut for a stylish and safe fit
Gold stitching on each headrest and two cushions depicting a royal carriage and the words "Diamond Jubilee" in gold embroidery
"Naim For Bentley" premium audio system and Burr Walnut veneered iPod drawer
Seat ventilation and massage for the front and rear seats
Ambient interior mood lighting and fold-down Burr Walnut veneered picnic tables with "Diamond Jubilee" on gold overlay
Jewel fuel filler cap and drilled alloy foot pedals
Twin-turbocharged, 6.75 liter V8 engine that can take you from zero to sixty in 5.1 seconds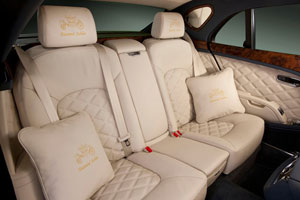 Ready to feel like royalty? We can't get you a Bentley, but we know all about the car mats.
GGBailey.com makes the same high quality mats that will make your car feel more like a throne. You can even customize the mats to fit both your car and your style.
Try our Car Couture™ line for fashion patterns or you can choose your own style with our Design Your Mats™ option.
Go ahead. Give yourself the royal treatment.
*Photos provided by Bentley Motors