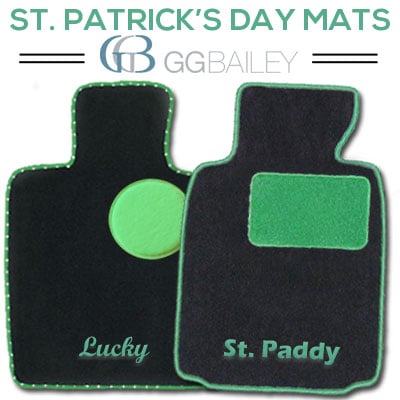 St. Patrick's Day is only one week away, so at GGBailey.com, we have been thinking green. Just about everyone will be wearing something green next Monday, so if you are looking for a unique way to show off your pride and celebrate the patron saint of Ireland, we have an idea for you: custom fit, custom designed car floor mats!
Our top quality car floor mats are truly one of a kind because you design them yourself. We are the first and only site on the internet that allows you to design your own custom floor mats. And between now and March 17, we are offering free ground shipping*!
When you Design Your Car Mats™ on our website, you get to pick from thousands of possible color combinations to craft your perfect car floor mat, and there are several ways to use our personalization options to add the color green to your floor mats! We have two shades of green serged edging, and a green with white polka dots ribbon edging. We also have two shades of green heelpads, and two shades of green embroidery.
Click here to see all the options and to read more about each of the four steps to design your own car floor mats.
Your vehicle should reflect your style, and with GG Bailey's Design Your Car Mats™ system, your auto floor mats can reflect your St. Patrick's Day spirit. You get to pick carpet and edging colors, add extra protection with a coordinating heel pad, and complete the design with any embroidered message, traditional monogram, single letter monogram, or one of several logos.
Our products are made with the highest quality materials. When you Design Your Mats™ with our many different features and options you can be sure your custom fit floor mats will be beautiful and durable. There are only four steps to the custom design process, and each step presents a variety of options to choose from, so there are thousands of potential combinations.
Check out the steps and the choices below to see how we designed our personalized St. Patrick's Day car floor mats. Then design your own and emjoy free ground shipping*.
Pick a carpet color
The floor mat design process starts after you enter your vehicle year, make, and model, and chose the number of mats you want (front only, a whole set, or a cargo mat). First, you choose your carpet. We have 10 colors to choose from. For our pair of St. Patrick's Day floor mats, we picked dark grey carpet and black carpet.
Our carpets have a European velour look and are made of the strongest, most durable and trouble-free carpet fibers available. These carpets have been developed with built-in resistance to soil and stains, so you don't have to worry about damaging them with regular use. We work with the world's leading yarn suppliers to design our own carpet. We produced the first European velour car floor mats in the United States, and our mats are now the standard in the world's most elegant automobile models.
All of our auto floor mats are made with superior stain resistance and backed with our Open Cell Foam backing to prevent mat movement. Request a free swatch kit if you are unsure which carpet color is best for you and we'll send you samples of each of the carpet choices at no charge.
Choose an edging type and color
The second step is to choose your edging. We offer two types of edging: serging and binding, which also includes reflective and ribbon edging. Binding is a smooth fabric edge and serging is a stitched yarn edge. Both types present a professional look you will be proud of, so you can't go wrong with either style.
Our premium Saratoga ribbon bindings are available in polka dots, plaid and stripes, and our L.A. bindings are available in camo and reflective. Our standard binding comes in nine colors, and our serging is available in 21 colors, including a couple of two-tone choices.
For our St. Patrick's Day inspired floor mats, we picked kelly green serging to go with the dark grey carpet and the green polka dot binding for the black carpet. You can explore more examples of the edging options by clicking here.
Pick a heelpad shape and color
After you have picked your carpet and your edging, the third step is to add an extra level of protection for your floor mats and choose an optional heelpad. This is an exclusive option that prevents wear and tear on your custom designed mats with an extra thick carpeted pad that goes under the heel area on the driver's side mat. All of our heelpads are applied with a special finished edge, and they come in two styles – rectangular or round – and are available in 19 different colors.
For our two specially designed St. Patrick's Day floor mats, we picked a kelly green rectangle heelpad to match the kelly green serging and a kelly green round heelpad to go with the kelly green polka dot binding.
Heelpads are absolutely the best way to protect your floor mat from daily wear and extend the life of your new custom car accessory. Click here to read more about the importance of adding a heelpad when you design your custom fit car floor mat.
Personalize your car floor mat
The final step to design your custom floor mats a fun way and to make it truly one of a kind is to Personalize it! Our personalized embroideries are available in block or script lettering and in 18 color choices, including two shades of green, that are directly embroidered into the carpet. You can choose a custom word or phrase up to 10 characters (including spaces), your initials, the classic look of a traditional monogram, or our new single letter monogram.
For our custom designed St. Patrick's Day car floor mats, we chose to embroider the word "Lucky" in kelly green script on the mat with the circle heelpad and polka dot edging, and "St. Paddy" on the other custom mat in kelly green block.
If you prefer a traditional monogram, be sure to enter your initials in order. We will then take your third letter and make it the bigger letter in the middle. If you prefer your initials in order, all the same size, simply choose the embroidery option and type the letters as you'd like them to appear. See more examples of the options by clicking here.
Once you complete your custom floor mat purchase we will make and ship your newly personalized floor mats in two business days. Click the button below to get started!
*Free ground shipping applies only to the 48 continuous U.S. States.