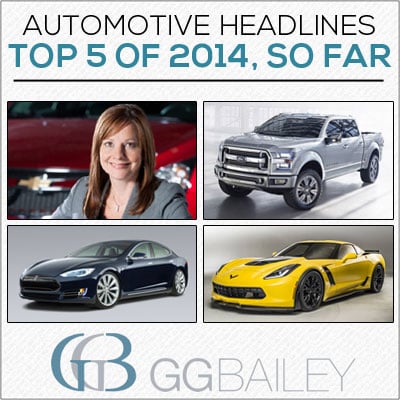 With almost a quarter of the year in the books, we at GG Bailey thought it would be a good time to look back over the past three months at the top automotive headlines of the year so far.
The Detroit Auto Show and the Chicago Auto Show provided car enthusiasts with plenty of great news items, and thanks to a rebound that continues to grow and expand the automotive market, we are likely to see a lot more exciting headlines before the year is done. There are still plenty of big time auto shows coming up this spring, including the New York Auto Show next month, so we wanted to reflect on the recent stories before new ones begin to take over the automotive news market.
From new vehicle launches to new CEOs, 2014 has already been a fun year for the automotive world. We picked our five favorite stories to include below, but you can comment at the bottom to share your own.
And remember, our free ground shipping* offer continues through Friday. So design your own custom car floor mats today and have them shipped in two business days or less at no charge. Whether you Design Your Car Mats™ on our website or pick a pattern from our Car Couture™ line, you won't pay for shipping.
1. Mary Barra takes over as GM
As the highest-ranking woman at GM and in the automotive industry, Marry Barra leads the design, engineering and quality of the automaker's 11 global brands. Her focus has been on building at least 500,000 cars and trucks with some form of electrification (including hybrids) by 2017. Barra started at GM as a teenager to help pay tuition while she sought an electrical engineering degree. She has held a number of positions within the company over the years, from engineering jobs to plant manager and eventually several vice president positions before taking the top spot.
A new CEO is big news for a big automotive company, and the fact Barra is a woman has made headlines too. At GG Bailey, we picked this as one of our top five headlines because our CEO is also a woman with a family history in automotive manufacturing and racing. Ginger Cannon Bailey, who founded GG Bailey in 2001, helped create the first luxury carpet floor mat back in 1975 at Racemark International, along with her husband Bob Bailey, a former racecar driver for Porsche of America. Read more about our family history by clicking here.
2. Chevrolet introduces new Corvette
Speaking of GM, Chevrolet officially introduced the 2015 Chevrolet Corvette Z06 at the Detroit Auto Show and received nothing but high praise. Like the more high-profile Stingray, the Z06 has an aluminum frame, but what sets it apart is the 6.2-liter supercharged V8 and custom-made eight-speed automatic transmission. The car has 625 horsepower and was the fastest vehicle GM has ever produced for the street.
It also boasts a tremendous amount of "downforce," an engineering term describing a car's ability to hug the road when it barrels around corners. Most mass-market vehicles are exactly the opposite: they have too much lift when cornering. This, combined with larger tires, gives the car a great deal of control even at high speeds. Add in lots of carbon fiber and a seriously aggressive style and you've got one heck of a street legal car.
Our parent company, Racemark International, manufactures the floor mats for the Chevrolet Corvette Stingray, so you can trust that GG Bailey car floor mats meet the qualifications of the finest auto makers in the world.
3. Ford building aluminum F-150
Ford created a big debate with a risky move this earlier this year when they announced that their best selling vehicle was getting a radical makeover. The 2015 F-150, planned for sale this fall, will be the first major pickup made of aluminum. The truck also gets two new engines, major styling revisions, a plateful of technical updates and a marketing message that this isn't beer-can aluminum; it's military Humvee aluminum.
The vehicle will be 700 pounds lighter, yet it will be harder for a heavy load to dent the bed than in the steel predecessor and harder for a shopping cart to ding the door in a parking lot, according to Ford officials. The weight loss, combined with smaller, more efficient motors, means much improved gas milage, but those details haven't been officially announced yet.
Though we mostly write about cars on our blog, GGBailey.com makes custom fit floor mats for trucks too, including floor mats for the Ford F-Series, and we are looking forward to making our first set of custom floor mats for the aluminum F-150.
4. Tesla gaining fans, value
Tesla, maker of the all electric Model S, has been building an audience and gaining value on the stock market since last May when the company reported its first quarterly profit and Consumer Reports gave the Model S one of its highest scores ever. Then, in February, Consumer Reports announced Tesla had jumped from 11th to fifth among the world's most popular auto brands.
As if that weren't enough good news, the California-based auto maker announced earlier this year that they will start marketing an SUV next year called the Model X. The all electric vehicle could help Tesla double their sales.
The company has also created a bit of controversy by cutting out dealerships and selling direct to consumers, a practice that allows buyers to enjoy a lower price and the company to pocket more profit. Auto dealers, obviously, haven't been happy about this. The state of New Jersey has been working to make it illegal for an automaker to direct sell, and just this week Ohio joined the fight against Tesla, which has two storefronts in that state.
It will be interesting to see how that plays out, but even a little controversy likely won't slow this brand down. Tesla is another business partner of Racemark, the parent company of GG Bailey, so you know our custom car floor mats are top of the line.
5. Automotive jobs bouncing back
After the recession and a lot of restructuring sent tens of thousands of workers to the curb, the U.S. auto industry's recovery has been dependent on lean workforces working long hours, but that trend is starting to reverse course.

Showing increasing confidence in the pace and durability of the recovery, automakers are spending to restock depleted departments in core areas, such as sales, marketing, distribution, and product planning. They're also building up competency in fields such as information technology and digital marketing, and scouting for talent on college campuses and at nonautomotive businesses.
While data from the Bureau of Labor Statistics shows that automotive jobs are still below pre-recession levels, the arrow has been pointing up for a while now and the growth looks to continue. Auto suppliers around the country have been hiring, and that is good news for the market as a whole.
The auto industry finished last year with the most sales and the most jobs since 2007. This strong and speedy recovery has helped the economy recover, and 2014 already looks to continue the trend, with most of the top companies expecting continued growth.
What do you think? Did we leave out a headline you are excited about? Comment below and let us know. And remember to take advantage of free ground shipping* now through Friday.
*Free ground shipping applies only to the 48 continuous U.S. States.