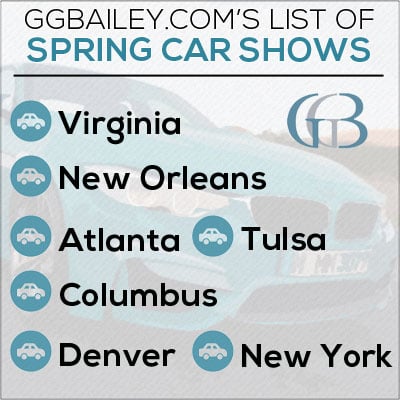 Spring is a time of renewal, a time for shaking off the frost of winter and moving on to warmer temperatures and more activity. We have already written a post about spring break road trips, but we thought it would be a good time to take a look at the automotive industry and see what is coming our way.
The spring time calendar is just chock full of big time car shows. At GG Bailey, we make custom fit, custom designed car floor mats for all makes and models, so we always like to follow the news out of the big auto shows so we can better serve our customers. Keep reading below to learn about seven auto shows we will be watching over the next two months.
Also, keep in mind that we are offering free ground shipping* until March 17. So, whether you Design Your Car Mats™ or pick an animal or oriental pattern from our Car Couture™ line, you will get your custom fit car floor mats delivered for free. We process most orders in two business days or fewer, so you can get your custom floor mats sooner than you think.
The list of national auto shows we have below does not include every major auto show, but it does include the shows we will be watching with particular interest. Feel free to comment at the bottom with anything we have overlooked or to simply share your thoughts. And be sure to take advantage of free ground shipping* before March 17.
Columbus International Auto Show
The Columbus International Auto Show, which begins today and continues through Sunday, features throngs of automobile enthusiasts streaming into the expansive displays to ooh and ahh over the year's shiny new models of sedans, sports cars, SUVs, and minivans. Each year automobile manufacturers ranging from Acura and Aston Martin to Volkswagen and Volvo zoom into the Greater Columbus Convention Center and set up shop for the Columbus International Auto Show. As onlookers longingly envision themselves behind the wheel or backseat driving inside a Ford Mustang, Fiat 500, or one of the futuristic concept cars on display, a number of events vie for overloaded eyeballs, including the Ram Off-Road Experience and the Dialed Action Sports Team BMX Show.
New Orleans Auto Show
The 2014 New Orleans Auto Show takes place March 21-23. Featuring a long list of dealer members, this show is a prime opportunity for car sellers and manufacturers to show off their latest offerings in front of an enthusiastic crowd. Taking place at the Morial Convention Center, this annual event draws a large crowd of people eager to see what the market has to offer.
Virginia Motor Trend International Auto Show
Taking place the same days as the New Orleans show, this Virginia Auto Show will be in Richmond at the Greater Richomond Convenrtion Center. The Virginia Motor Trend International Auto Show invites attendees to check-out the newest vehicles side-by-side in a non-selling environment, sit behind the wheels, inspect engines and kick tires. The show floor will be packed with exciting new models including the Audi SQ5, BMW 4 Series, Chevrolet Corvette Stingray, Fiat 500L, Lexus IS-F, Mercedes-Benz S550, Nissan Rogue, Toyota Corolla, Subaru Crosstrek Hybrid and more, as well as exciting 2015 pre-production models including the Chevrolet Silverado HD, Chevrolet Colorado, Ford Mustang, Ford F-150, Lincoln MKC and GMC Yukon.
Atlanta International Auto Show
Next on the calendar is the Atlanta International Auto Show, taking place March 26-30 at the Georgia World Congress Center in downtown Atlanta. The show, which is celebrating its 32nd year, is basically in the back yard of GG Bailey's U.S. location. It is an annual showcase of more than 400 new 2014 imported and domestic cars, light trucks, vans and sports utility vehicles. Factory and dealer representatives will be on hand to answer questions, and a wide variety of styles will be featured: luxury cars, economy cars, family cars, sports cars, hybrids, electric vehicles, convertibles, limited production cars, light trucks, vans and 4-wheel drive vehicles.
Tulsa Auto Show
Moving out west, the Tulsa Auto Show will take place April 11-13 at the Expo Square. The show presents all your favorite makes and models of new cars and trucks in world class factory presentations. Exciting and informative displays are featured by manufacturers from around the world touting their latest designs and innovations. Come to the Tulsa International Auto Show, where dozens of factory product specialists will focus on vehicles that exude the latest they have to offer. Each year the Tulsa auto show features nearly 600 new models, dozens of pre-production models and a host of prototype and concept vehicles
Denver Auto Show
Taking place April 9-13 at at the Colorado Convention Center, the Denver Auto Show is the premier showcase of the newest model year imported and domestic vehicles -- cars, vans, crossovers, hybrids, light trucks and sport utilities. Visitors will see all the newest models, and be treated to sneak peeks of selected intros, concepts, and the latest in tricked out cars! Factory representatives from the car lines will be on hand to answer your questions in a no pressure environment at the show. There are cars to suit every budget and life style at the Denver Auto Show. With the car lines all under one roof, it's easy to compare prices and features, saving both time and money.
New York International Auto Show
Beginning April 18 and running through April 27 at the Jacob Javits Center in New York City, the New York International Auto Show is one of the country's oldest and largest car show events. Big debuts from some of the most important auto makers are often expected at the NYC show, and Jeep is a perennial favorite at this event. BMW also plans a few new releases for the event, so we will be watching the headlines from this show very closely this year.
Those are the spring auto shows we will be keeping an eye on this year. Did we miss your favorite? Comment below to share your thoughts, and don't forget, we're offering free ground shipping* on all orders until March 17.
*Free ground shipping good for continuous U.S. states only.