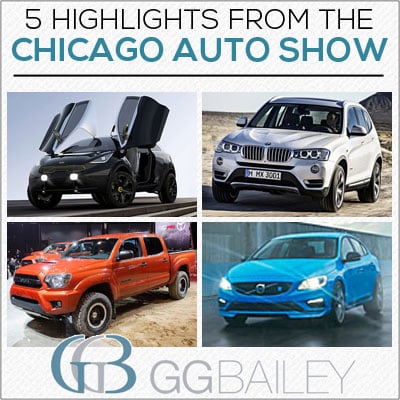 The Detroit Auto Show is barely in the rearview mirror, and now the Chicago Auto Show is set to wrap up today. The nation's largest and longest running auto show, the 2014 Chicago Auto Show features hundreds of vehicles, both new models and concepts, and there seemed to be a particularly focus on foreign auto makers this year.
Subaru, Nissan, Volvo, BMW, and even Kia made splashes and generated headlines with some of their offerings. Toyota's new line of off road trucks generated buzz, as did Volkswagen's announcement of a partnership with Andretti Autosport to build two rallycross Beetles, which should debut at the Summer X Games in Austin, Texas. The all-wheel-drive GRC Beetle gets a 560-plus-horsepower turbocharged direct-injection gasoline engine.
At GG Bailey, we always enjoy following the news from the biggest auto shows, because we make custom-fit car floor mats for all makes and models. That means we want to always be on top of the latest automotive news so we know what to expect and can always be sure to meet our customers' needs. If you want to personalize your car floor mats, then our Design Your Car Mats™ section is for you, but you may also enjoy the animal, camo, or oriental patterns of our Car Couture™ line.
So check out our five highlights from the 2014 Chicago Auto Show below, then comment at the bottom to join the conversation.
1. Kia shows off 3 new cars
Kia unveiled two production models and a concept: the 2015 Soul EV, the 2014 Optima Hybrid and the Niro concept, an urban-oriented hybrid.
The E.V. is the first electric car Kia is bringing to market. The car features an air-cooled 27-kilowatt-hour lithium-ion polymer battery powering a 109-horsepower electric motor that produces 210 pound-feet of torque. That's not a lot of power, but Kia claims the range of the vehicle is an estimated 80-100 miles, and a top speed of 90 miler per hour isn't too bad. For its launch, the Soul E.V. will be sold in only a few states, including California, Oregon, New York, New Jersey and Maryland. With a stylish makeover, the E.V. won't be mistaken for its gas-powered siblings.
The midsize 2014 Optima Hybrid looks the same as the restyled Optima unveiled at the New York Auto Show last year, but it received a few Hybrid-specific tweaks, including drag-reduction vents in the front bumper. The powertrain and fuel-economy numbers are about the same: the gas engine and electric motor produce a combined 199 horsepower and 235 pound-feet of torque, and the LX model gets 36 mpg in the city and 40 on the highway.
The Niro looks like something from a science fiction movie set with its sleek profile, butterfly style doors, and multiple cameras mounted inside and out, allowing the driver to view a live feed of the car's surroundings on a dash-mounted screen. Kia said the car was aimed at "active lifestyle" owners, which explains its somewhat aggressive, go-anywhere look. Power comes from a turbocharged 160-horsepower 1.6-liter engine and a rear-wheels-only electric hybrid system that gets its power from regenerative braking and adds to the car's traction portfolio when the front wheels begin to slip.
2. BMW unveils redesigned X2 crossover
BMW unveiled its updated 2015 X3 crossover in Chicago, and while the changes in styling and appearance are modest, the power train options have been upgraded, including an optional diesel planned for released in the United States. As before, the X3 will be available with 2-liter 4-cylinder and a 3-liter in-line-6 gasoline engines and all-wheel drive. BMW decided to liven up the offerings with a 180-horsepower 2-liter turbodiesel engine and an optional rear-wheel-drive setup available on the diesel and 4-cylinder gasoline models.
BMW's new diesel offering shouldn't be a surprise considering the range of full-size diesel models available from competitors like Audi and Mercedes-Benz, and considering BMW introduced a diesel version of its big 7 Series sedan for sale in the United States. The 255-horsepower 3-liter turbodiesel in-line-6, which is paired with a ZF 8-speed automatic transmission and an all-wheel-drive system, produces 413 pound-feet of torque and will carry the car from zero to 60 mph in a swift-for-its-size 6.1 seconds. BMW says the car, priced at $84,350, will arrive in showrooms this spring.
3. Nissan, Toyota take on trucks
Nissan introduced a diesel-powered Frontier concept pickup truck during the 2013 Chicago Auto Show, and Toyota released an entire line of tough-looking off-road trucks.
The diesel Frontier, equipped with a roughly 200-horsepower 2.8-liter 4-cylinder Cummins turbodiesel, is based on the gasoline-power Frontier Desert Runner 4x2 model. Nissan says its intent is to gauge interest in a diesel-power small truck. The concept featured a mat silver paint job with red and carbon fiber accents, a color scheme that is features on the inside too, that gives the truck an aggressive and active look.
Toyota Racing Development, the automaker's branch responsible for added performance and aggressive design, is the brain behind Toyota's new TRD Pro Series versions of the Tundra, Tacoma, and 4Runner trucks. Added off-road inspired upgrades include Bilstein shock absorbers, front skid plates, performance suspension and exhaust components and TRD-theme badging and interior accessories. The 2015 4Runner, Tundra and Tacoma with the TRD Pro Series package will be available in the Fall of 2014. Pricing has not yet been announced, but Hollis said pricing will be affordable considering all the capability included on these vehicles.
4. Volvo rolls out two new cars
Volvo introduced the V60 wagon and S60 sedan Polestar during the Chicago Auto Show. The Polestar pair aren't your typical soccer mom grocery getters, as Volvo built these two with performance in mind. Volvo seems to be determined to shed its image as the builder of stodgy, sensible cars.
Powered by a 345-horsepower in-line-6, the bright blue Polestar Volvos can rocket to 62 mph from a standstill in 4.9 seconds on their way to a top speed of 155 m.p.h. The engine produces 369 pound-feet of torque and is mated to a paddle-shiftable 6-speed automatic transmission. Custom shocks and springs, larger brakes, 20 inch rims, and that bright blue paint job made for quite a debut.
Volvo says the V60 and S60 Polestars will be available at U.S. dealerships in June.
5. Subaru shows its sedan side
Subaru unveiled an updated version of its Legacy sedan, promoting its improved fuel efficiency over the outgoing model, in an attempt to grab a piece of the huge sedan market. The fuel-economy figures are still estimates, but Subaru says the 2015 Legacy 2.5i, which gets a 175-horsepower 4-cylinder boxer engine, will achieve 26 miles a gallon in the city and 36 on the highway, for a 30 mpg combined figure. The 256-horsepower 3.6-liter 6-cylinder boxer-equipped model achieves an estimated 20 mpg in the city, 28 highway and 23 combined. A continuously variable transmission and all-wheel drive are standard for all trim levels.
The redesigned body sheds a bit of weight and improves aerodynamics by 10 percent, according to Subaru. The 4-cylinder model even features a set of active grill shutters that open and close depending on speed, a design intended to squeeze every bit of efficiency out of these cars. Other style points are gained thanks to heated seats, LED lights, a 12-speaker stereo system, adaptive cruise control, traffic monitoring, lane departure warning, steering responsive fog lights, and pre-collision braking.
Expected to arrive to showrooms this summer, prices will be about $22,390 for the base model or $29,690 for the 6-cylinder.
Those were our five highlights from the 2014 Chicago Auto Show. Comment below to share your highlights, or visit our Design Your Car Mats™ section to design your own custom car floor mats, or check out the patterns of our Car Couture™ line.