When designing your custom car mats through GG Bailey, there are over a million different combinations to choose from. Maybe not that many -- but there are a lot.
Most people know about our beautiful carpets (available in 13 colors), edging, heelpads, and even our monogram and embroidery options. But you might not know that you can also customize your car mat with a logo. Logos are embroidered emblems that are added to the custom car mat.
Explore all GG Bailey's logo options, from the Cadillac Crest to a beachy palm tree. Speaking of the beach, GG Bailey's car mats -- especially the 72-ounce, luxuriously woven Car Couture™ carpets -- are great for catching sand after a day by the water. And speaking of water, GG Bailey mats are also absorbent while remaining mold and mildew resistant.
What's on your perfect summer car mat?


Summer Collection
With summer heat at its peak in July, it's a great idea to pick up some mats from GG Bailey's summer logo collection -- and then enjoy them in the comfort of your car's air conditioning. Options include nautical images like: an anchor, lobster, whale, alligator, palm tree, and a sailboat. You can also get logos of a horseshoe and the American flag.
Sports Collection
Perfect for the sports lover in your life, GG Bailey offers logos for these sports: soccer, golf, basketball, football, tennis, and our favorite sport here at GG Bailey -- auto racing.
Whenever you purchase a car mat with a pink ribbon, we'll donate 10 percent of the cost to The Breast Cancer Research Foundation.
Other Options for Customizing your Car Mat
Some customers choose to take advantage of GG Bailey's personal embroidery option -- choosing to add the name, instead of the logo. Like this GG Bailey customer and Maserati owner did for his cargo mat. Nice!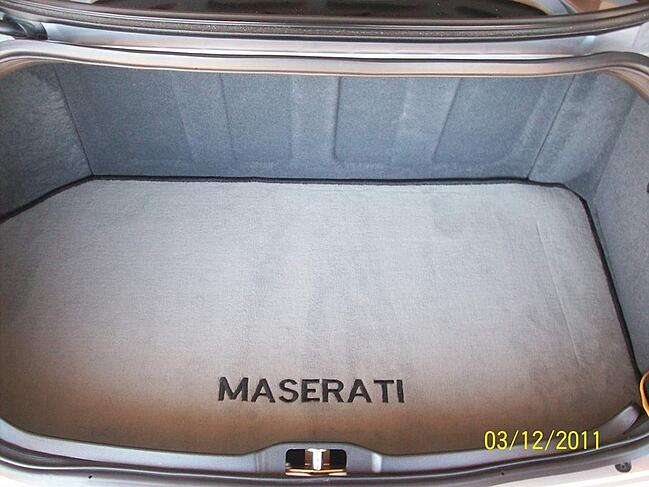 Whatever your choice, the time to act is now. For customers in the contiguous U.S., get free shipping on all car mat purchases through July 31st!