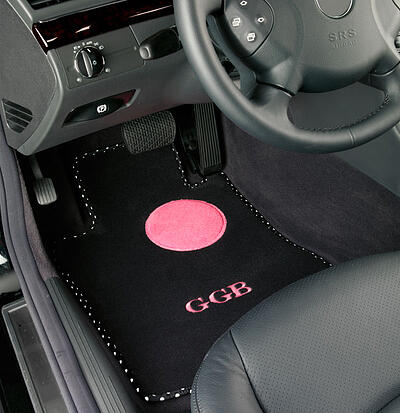 How can buying a car mat help put an end to breast cancer? Join GG Bailey for our annual Pink and Drive online event!
Whenever you order a set of our custom car mats with a pink breast cancer ribbon, GG Bailey will donate 10 percent of price to The Breast Cancer Research Foundation. From now until the end of October, which is breast cancer awareness month, we'll also make a 10 percent donation for any mat designed with pink elements. Plus, any order through October 12 will be shipped for free.
In the United States, a woman will be diagnosed with invasive breast cancer every 2.3 minutes. That's why the scientific and medical research funded by the BCRF is so important. We must find the cause and the cure for this terrible disease.

From GG Bailey CEO Ginger Cannon Bailey:
"For me and my fellow survivors, nothing is more important than the work that is being done through the efforts of this incredible organization and the researchers they fund. BCRF sends 91 cents of every dollar directly to the cause of curing this disease. This delivers the tangible results that give us hope for us, our daughters and granddaughters."
In the photo: GG Bailey CEO Ginger Cannon Bailey and her sister Sarah Cannon Dietch participate in the Susan G. Komen Global Race for the Cure in Washington, D.C.
Here are some other startling facts about breast cancer:
Breast cancer is the second most common cause of cancer in women, second only to skin cancer.
Worldwide, approximately 1.3 million cases of breast cancer will be detected each year.
In men, an estimated 2,190 new cases will occur in 2012, with 410 deaths.
A little less than 1 out of 8 women will develop breast cancer.
How can you join GG Bailey in the fight against breast cancer? Here are eight ways to put some pink in your car mat. Choose any of them!
Pink carpet. Our luxury-weight carpet is also mold and stain resistant.
Pink heel pad. You can choose either a circle or rounded rectangle to protect your mat where it needs it the most.
Pink serged edging. High-quality pink yarn creates an elegant, finished look.
Pink ribbon edging. Pink ribbon with white polka dots adds a fun edge to your mat.
Pink embroidery. Get your name, monogram or any message (10-character limit) embroidered on your mat in pink thread.
Pink Ribbon breast cancer logo. The classic pink breast cancer ribbon is placed on the lower left corner of the mat.
Pink Ribbon home mat. Order one of our Subtle Style two-tone mats with the embroidered Pink Ribbon and we'll donate 10% of the price to The BCRF.
Pink Ribbon pet placemat. We'll also make donation when you order a Pink Ribbon two-tone mat for your pet.
For customizations that you don't see online, contact customer service to see what's possible. Chances are, we can make the mat you want.

Together, we can make a difference. Design Your Mats™ today!