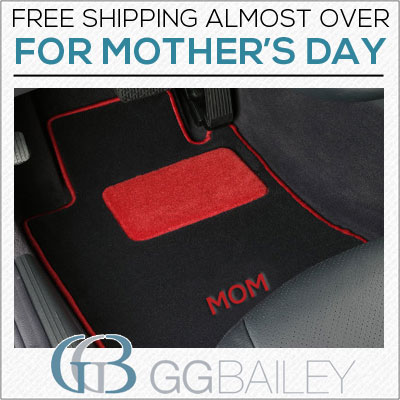 Mother's Day is not less than one week away, but you still have time to order custom fit, custom designed car floor mats for your mom and get free ground shipping*. You don't need a coupon or promo code, just choose the free ground shipping option when you check out to have your entire order shipped to you for free.
Be sure to check out FedEx shipping schedule to make sure ground shipping will get your order to you on time. We normally process all orders in two business days or fewer, but for today only, if you are ordering personalized car floor mats for your mom, we will process and ship your order in one day. Just be sure to place your order and give us a call at 1-866-644-2245 before 5 p.m. EST so that we know to put a rush on your mom's car mats.
If you need some inspiration, check out these previous blog posts we wrote with Mother's Day gift ideas:
Our free ground shipping offer ends today at 5 p.m., so even if you aren't considering a set of custom designed car mats for your mom, you can still save money by placing your order today.
If you want custom floor mats, GG Bailey will allow you to choose your carpet and edging colors, give your mats extra protection with a matching heel pad, and finish off the design with an embroidered message, monogram, or a logo. Plus our stain-resistant, luxury-quality mats are custom-fit for your vehicle.
Our products are made with the highest quality materials. When you Design Your Mats™ with our many different features and options you can be sure your custom floor mats will be beautiful and durable. There are four steps to the custom design process, as illustrated below, and each step presents a variety of options to choose from, so there are thousands of potential combinations.
You can see the details of our custom design process and learn about all the options in this post.
If you or your mother prefer a pattern, then our Car Couture™ line is just for you. We have nine luxury carpet options, from animal inspired patterns to a pair of oriental options, with a few others in between. These are woven carpets, not printed, which means the designs won't fade. Printed designs merely sit on top of the carpet and will fade or disappear entirely as time goes on. On the other hand, woven designs like ours permeate the entire carpet.
As with our Design Your Mats™ option, we custom fit all our floor mats to your exact year, make, model and sub-model of vehicle. We can custom make car floor mats for all makes and models, so if you don't see your vehicle in the selection process, then feel free to contact us.
If you aren't sure which mats would look best in your vehicle, and you are worried about getting your order in time for Mother's Day, you can request a free swatch kit. We'll send you samples of all our carpet options so that you can decide which one is best for you.
Browse all our options, but remember, free ground shipping ends today at 5 p.m. EST.
*Free ground shipping good for the contiguous U.S. only.