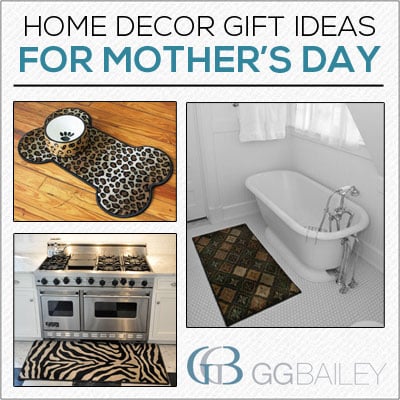 Mother's Day marks that time of year when you shower your mother with affection and gifts, and if your mom is a fan of home decor, then we have some gift suggestions for you.
GG Bailey is best known for the custom fit, custom designed car floor mats of our Design Your Mats™ line and the luxury car mats of our Car Couture™ line, but did you know we also make products other than our custom car floor mats? We do make the best car floor mats available in the industry and we also think you might enjoy some of our other products:
We work with our carpet partners to design our own carpets, and our parent company, Racemark International, provides the car floor mats for the top auto brands on the market. All this means that you can trust the guality of a GG Bailey product.
Browse all of the sections of our site, and when you find a Mother's Day gift your mom will love, go ahead and add it to your cart because as our gift to you, we are extending our FREE ground shipping* on all orders for one more week. We make and ship all orders in just two business days or fewer, so make sure to check out our FedEx shipping options to make sure your gift arrives in time for Mother's Day.
1. Home mats and pet placemats
We couldn't create a list of home decor Mother's Day gift ideas and not mention the home mats and pet placemats from GGBailey.com. In addition to sheepskin rugs, we have home carpet mats available in medium (30"x17"), large (48"x25"), extra large (57"x25"), and double door sizes (72"x32").
Our luxury quality home mats are stylish, but they also serve a important function as GG Bailey mats protect your floors in high-traffic areas while allowing your mom to add her own style to her home. Whether the desired style is traditional, contemporary, or a little of both, you should be able to find something your mom will enjoy among our 10 designs of luxury-weight carpet.
Our woven polyurethane carpets come in Beige Chariot, Topkapi, Red or Black Oriental, Beige Plaid, Camouflage, Leopard, and Zebra. Our Subtle Style carpet, available in beige and grey, is specially made with high-quality nylon yarn that is cut to create a simple and elegant two-tone pattern. Our two-tone carpets also have a Pink Ribbon version, which features a breast cancer awareness pink ribbon. Sales of those products benefit the Breast Cancer Research Foundation. You can check out more samples of the patterns by clicking here.
All of our mats are designed with stain and mold-resistant fibers, so they are ideal for kitchens, bathrooms and undercover entryways. Your mother can use them anywhere she wants to add style and protection. Each mat is finished with a matching serged edge and a non-slip foam backing that won't harm fine floors, so you don't need a rug pad.
All of the patterns and carpets that we use for our home mats are also available for our pet placemats. The rectangle-shaped pet placemats come in two sizes: small (10.5x19") and medium (13"x24"), and we also have a Bone Pet Placemat (29"x17"). Our pet placemats feature all the same benefits as our home mats and treat your four-legged friends to an upgrade in style.
We also have Car Pet Mats in two different sizes, so if your mom likes to take her four-legged friends for rides in the car, she can protect her seats in style.
2. Wall decor
A great piece of art can really change a room, and you can find a wealth of wonderful options in the Williams-Sonoma Home collection. Whether you prefer an original watercolor of an Italian beach scene, framed blueprints or maps, charcoal sketches, photography abstracts, or curated originals, they are sure to have something to suit your taste, but more importantly, your mom's taste.
Standard shipping should get most orders to your door in five business days, but upgraded shipping options are available. Keep in mind, for items priced $150.01 and more (and most of the art pieces are over that price), your shipping and processing cost will be 11 percent of the merchandise total.
3. Mom pillow
This is a fun and comtemporary way to show your mom how much you love her on Mother's Day, and her linens will smell sweeter than ever thanks to this customizable dupioni silk sachet, hand-embroidered with silk ribbon and filled with dried lavender buds. The sachet measures 4" (10cm) x 4" (10cm) and is filled with dried organic lavender buds.
The artist also takes custom requests, but those are likely to take longer to process. Because the pillow is being shipped from Canada, the estimated time of delivery is 7 to 14 days depending on the mail service to your area, and any import duties or taxes imposed by your country will be your responsibility to pay.
4. Indoor fruit trees
If your mom has a green thumb, then a small fruit tree that can be grown indoors might be the perfect Mother's Day gift. Four Winds Growers sells locally in California but also offers many of their plants and fruits online. The founder of the nursey, which has been in operation since the late 1940s, developed the world's first Dwarf Citrus trees. Now they offer more than 60 varieties of citrus trees online, so whether your mom loves lemons or prefers pmoegranates, they are sure to have something she will enjoy.
Their web store also offers other variety of drawf trees, as well as other kinds of edibles, such as berries, olives, and figs. They even have a special section for potted gift trees. Keep in mind that they only ship on Mondays, and they cannot ship citrus trees to Florida, Texas, or Arizona. They provide guide books for caring for the dwarf trees, but the website is also full of useful information.
5. Gift certificates
Gift certificates make great gifts because they allow your mother to choose the items that she thinks best compliment her home decor style. We offer GGBailey.com gifts certificates of mulitple amounts that can be used on anything on the website, from our custom car floor mats in the Design Your Car Mats™ section and the luxury floor mats of our Car Couture™ line to our home and pet products.
Our online gift certificates start at $50 and there is no limit to the number you can purchase. They do not expire and can be used at any time. Gift certificates also make great last minute gifts because we send them digitally.
Comment below to let us know what you think of this list or to share you own ideas. And remember that we have FREE ground shipping* on all orders through next Monday.
*Free ground shipping offer includes contiguous U.S. addresses only.