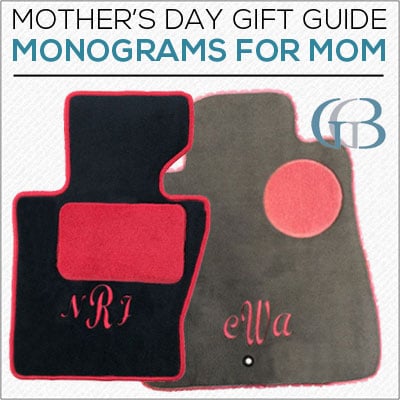 Mother's Day is on Sunday, May 10, this year, which means you have less than three weeks to find the perfect, unique gift for your mom. Don't worry if you haven't started shopping yet, because we have prepared a perfect gift guide for Mother's Day.
At GG Bailey, we specialize in custom fit, personalized car floor mats, and our custom designed floor mats make the perfect gift for your mom. You can use our Design Your Car Mats™ section to create personalized, one-of-a-kind floor mats for your mother, or browse our Car Couture™ line if your mom prefers an animal, oriental, plaid, camo, or other pattern.
When it comes to honoring your mom on this special holiday, there is no better way than to give her personalized gifts, and monograms are a classy way to add a personal touch to any number of items. Our five suggestions below would make most moms exceedingly happy, so pick the gift idea that best suits your mother and personalize a gift today.
As you check out our suggestions, you should know that, in honor of Mother's Day, we are offering free ground shipping* for the next two weeks. There is no voucher code required, just choose the free ground shipping option during the checkout process. We process all orders in two business days or less, and you can view our FedEx shipping schedule here to make sure you get your gift on time.
Check out our five monogram gift ideas below, and let us know what you think in the comment section.
1. Monogrammed car floor mats
There are only four steps to design a set of personalized floor mats but thousands of possible design combinations. When you custom design personalized car floor mats on our website, you get to choose the carpet color, edging type and color, heelpad shape and color, and personalization.
It is during that final step that you can add a special monogram to your mom's custom floor mats. We have two types of monograms: the traditional monogram and our single letter monogram. You can also choose from a block or script font and one of 18 color options.
With a traditional monogram, you would enter the three initials in order, then we would take the last letter, move it to the middle, and make it larger than the other two letters. For a single letter monogram, you would simply type the letter you want on the mats followed by an asterisk, and we will embroider that letter directly onto the mat with two circles surrounding it.
If you want to design custom car mats for your mother but don't want a monogram, you can type any custom word, phrase, or initials up to 10 characters (including spaces). You still get to pick from the block or script font and 18 colors. All custom embroideries are sewn directly into the mat to ensure a high quality result that will last.
And don't forget, we are offering free ground shipping* on all orders for the next two weeks.
2. Monogrammed robe
If your mom loves monograms, then this next personalized gift idea would be a great gift. The Monogram Shop out of East Hampton, N.Y., offers a wide range of items, but we really like their micro fiber robe.
The robe has the option of a traditional monogram on the front or adding letters to the back in an arc, like a boxer's robe. They offer a wide range of monogram styles and fonts, and 19 color choices.
They ask that you allow up to two weeks for personalized orders, so make sure you plan accordingly. At GGBailey.com, we process all orders, including custom and personalized floor mat orders, in two business days, so our floor mats are great for last minute gift ideas. And we're offering free ground shipping* for Mother's Day!
3. Monogrammed bedding
One of our favorite sites, Mark and Graham, offers all sort of items that can be personalized, from jewelry and stationery to bags and accessories. For a unique Mother's Day gift, we suggest monogrammed bedding.
From duvet cover and sham combos, to accent pillows and sheet sets, they offer a variety of styles and options for you to chose from. The process is simple. You pick the product you want to personalize, choose the size and quantity, then add a monogram. They offer a variety of monogram styles and fonts, including several single letter monograms, and 24 color choices.
They ask that you allow 6-8 days for delivery from the date of your order, so keep that in mind when shopping their site. They also offer rush delivery options for an extra cost.
4. Monogrammed barware
Whether your mom likes martinis, wine, cocktails, or simply prefers juice, she would certainly appreciate monogrammed barware from Williams-Sonoma. The glassware features superb clarity, is dishwasher safe, and most pieces come in sets of four.
You can pick a single letter monogram or the traditional three letter monogram. Your personalized selection is then engraved into the glass. Williams-Sonoma offers a variety of font styles and colors for most of their monogrammed items, but there is only one style available for most of the glass barware pieces.
They ask that you allow five business days for delivery from the date of order for most orders, but custom items could take one to two weeks to deliver. They do offer special holiday shipping and rush shipping is available for an extra charge.
5. Monogrammed jewelry
If your mom is a fan of single letter monograms, then jewelry from Helen Ficalora might be the perfect gift. The artist has a unique and personal handmade style that your mom will appreciate, and the style is reflected perfeclty in her alphabet charms. The charms are about a half-inch in size and range from $155 to $165 depending on your preference of metal.
You can choose any combination of letters to personalize a braclet or necklace featuring the initials of your mom, or pick the initials of yourself and your siblings. The charms are available in gold and silver, with each letter engraved in block print. Jewerly from Helen Ficalora is available in six stores across the country or by calling a custom service line. Details about processing and shipping times were not available on the website.
That completes our monogram gift guide! Remember, we are offering free ground shipping* just for Mother's Day, so get your mom a custom set of monogrammed floor mats and we'll cover the cost of shipping. Enjoy!
*Free ground shipping good for the contiguous U.S. only.