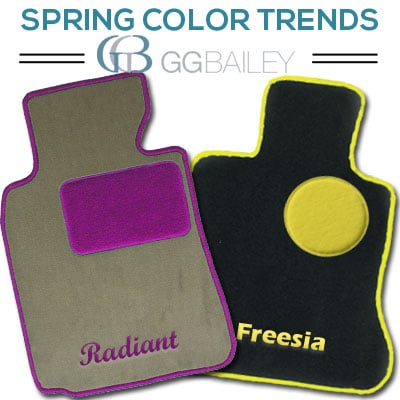 The start of spring is only days away now, and the change of season has us here at GG Bailey looking at spring color trends for 2014.
Pantone, the ultimate source for all things color, has released its Fashion Color Report for Spring 2014, and it looks like we are in for a mix of bright hues and soft pastels this year. We can support this trend, because our custom car floor mats include plenty of brightly colored options when you Design Your Car Mats™ on our website.
And just in time for spring, we are offering free ground shipping* now through Friday. So design your own custom car floor mats today and have them shipped in two business days or less at no charge. There are only four steps to design your own personalized car floor mats, but thousands of possible design combinations.
Click here to see all the options and to read more about each of the four steps, or read more about the color trends for spring 2014 below and how our custom floor mats can help you customize your vehicle to fit the latest style. Or if you prefer a pattern, check out our Car Couture™ line.
Pantone's Top Ten Colors for Spring 2014 are:
1. Dazzling Blue
Pantone named this the official color of spring 2014 — after 17.05% of designers used this color in their collections. We at GG Bailey wrote about how automakers are using a lot more blue in their designs for 2014 and 2015 models back when we blogged about Detroit Auto Show trends. Though we don't call our blues Dazzling Blue, there are a variety of ways to add one of several shades of blue to your custom car floor mat, including four different kinds of blue edging and three different shades of blue heelpads and embroidery.
2. Violet Tulip
Pantone claims that — aside from being a romantic and nostalgic lavender-like color — Violet Tulip is reminiscent of "Downton Abbey's" Lady Mary. While we're not so sure about that comparison, we can assure you that the purple options available when you Design Your Car Mats™ with GG Bailey will add a trendy touch of style to your vehicle.
3. Radiant Orchid
Pantone cites Michelle Obama and Kate Middleton as fans of this purple-pink shade. While Violet Tulip has a bit more of a blue tint in appearance, Radiant Orchid is very near a traditional purple. Our purple edging, heelpad, and embroidery options are more closely related to this shade than the former.
4. Celosia Orange
This color is a bold, slightly-burnt shade of last year's Tangerine Tango. While neon shades of yellow and orange have been popular in all areas of fashion recently, this tone of orange is a bit more subdued. If you are a fan of this trendy color, then you might enjoy adding some orange personalization to your custom floor mats with orange edging, an orange heelpad, or orange embroidery.
5. Freesia
Leatrice Eiseman, executive director of the Pantone Color Institute, credits Freesia as having "good positive connotations," and "conjuring up images of spring." This description seems fitting given the bright yellow color that fits perfectly with the mood of spring. Yellow is one of our most popular colors when customers design their own custom car floor mat, so we're glad this shade was included in the trends list.
6. Cayenne
An exotic red-orange color adds a little spice to the otherwise "cool" color palette for spring 2014. While our color options might not line up perfectly with this tone of red, we do have plenty of red options you can add to your custom car floor mat. Like yellow, red is one of our most popular colors, and we recently added a burgandy carpet to the selection process. We even have a red ribbon binding with white polka dots to give your personalized mats an extra spring feel.
7. Placid Blue
A cool, calm color reminiscent of the sky, this lighter shade matches up well with our light blue options. Pair it with a light grey or beige carpet for a subtle and relaxing feel. We recently designed custom floor mats inspired by college basketball teams, and this light shade of blue would be perfect for University of North Carolina floor mats, if you happen to be a Tarheels fan.
8. Paloma
A grounding neutral for the bold and bright colors of Spring. We have several carpet options when you Design Your Car Mats™ that mimic this grey-like color. Most auto interiors feature a subtle styling based on shades similar to this color, so many of our base carpets are designed to fit right in with your vehicle's color scheme.
9. Sand
A warmer version of beige, which helps to tie in the rest of the colors. Just like with the grey options, we have designed several shades of subtle beige carpet that mirror this trendy color. Having a subtle base carpet allows the bright edging, heelpad, and embroidery options to really stand out.
10. Hemlock
The "green" trend continues, and Hemlock is a subtle shade of it. According to Pantone, 5.30% of designers used Hemlock in their spring collections. We have several shades of green with each of the options when you Design Your Car Mats™. We even designed floormats featuring lots of green for St. Patrick's Day. Those designs for that holiday inspired us to offer free ground shipping*, and that offer continues through the end of the week, so design your own custom car floor mats featuring spring colors this week and we'll pay for shipping!
Feel free to comment below with your thoughts about the spring color trends for 2014.
*Free ground shipping applies only to the 48 continuous U.S. States.