The Frankfurt Auto Show has wrapped up in Germany, and while the show might be over the talk about it will continue for at least a couple of weeks to come.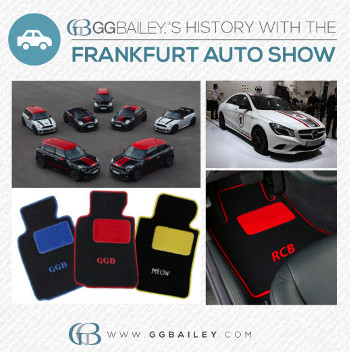 We've already written about our own Top Five vehicles displayed at the 2013 Frankfurt Motor Show, and we'll write more below about some of the news items we are excited to see and following closely, but first we wanted to take the chance to tell you a little about GG Bailey's history and long-time association with the Frankfurt event.
Racemark International, parent company of GG Bailey and maker of top-quality, factory-installed carpet floor mats, first exhibited at the Frankfurt Auto Show in the early 1970s. Racemark was the first company to introduce American-made, European-style carpet floor mats to the European market.
In fact, Racemark was the first company to make carpet floor mats at all, and the European velour carpet developed by Racemark was the first by an American company.
Racemark's presence at the Frankfurt show led to long-term relationships with European car manufacturers in the United States beginning in 1974. Ten years later, in 1984, Racemark opened its first factory in Switzerland. It is that location that allows GGBailey.com to custom-make and ship personalized car floor mats all over Europe quickly and at good rates. In addition to our European shipping program, European drivers have plenty of reasons to buy luxury floor mats from GGBailey.com.
GGBailey.com was founded by Ginger Cannon Bailey, CEO of Racemark, in the fall of 2001. Racemark International's founder, Bob Bailey, a former world class racecar driver for the Porsche of America Racing Team, continues to be actively involved in all aspects of the automotive world from collecting classic cars to vintage auto racing.
GG Bailey continues to take pride in being the exclusive source of custom-fit, made-to-order floor mats. Customers can create their own personalized car mats in our Design Your Mats™ section of the website, or chose from one of 10 styles or patterns in our Car Couture™ line.
This rich history of innovation and customer service, along with our company's long-time involvement with the Frankfurt Motor Show, is a big part of the reason we enjoy seeing the show's continued success and why we always follow closely the news and developments that come from the event.
With that thought in mind, we present three more things we're excited about from the 2013 Frankfurt Auto Show.
1. Mercedes-Benz gets personal with load of custom options
Luxury auto maker Mercedes-Benz is taking a slightly difference approach with the new CLA-Class, which starts at just less than $30,000 in the U.S., by offering customers a wealth of custom options. Looking to compete with the ever-growing personalization market (think MINI, Fiat, and even Volkswagen), MB is expanding their portfolio with this sporty four-door that will have a range of choices so that drivers can make it their own.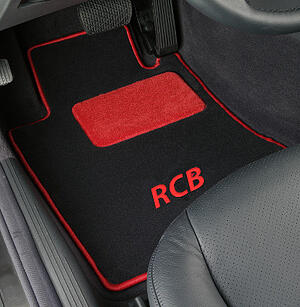 Pictured above is the CLA-Class that Mercedes-Benz showed off at the Frankfurt Auto Show, and it featured options that included a "Road & Track" decal kit, carbon fiber-style mirrors, black and red 18-inch aluminum alloy wheels, a special trim kit, painted brake calipers, sports steering wheel, stainless steel pedals and more. Click here to see more photos from Autoblog.com.
Of course, we here at GGBailey.com love customization, especially when it comes to automobiles and associated accessories. It's why we mak3 custom floor mats for all makes and models. GGBailey.com created the first direct-to-consumer, customer-designed and personalized floor mats on the Internet.
The sort of driver who will buy the CLA-Class is the sort of person who loves to customize their ride, and that is the sort of driver we love.
A black floor mat with red binding and the name of the lucky driver, or whatever message they wanted, would be perfect for the driver who wants their own look and personalization. You can get started creating your own look in our Design Your Mats™ section.
2. Additions to the Original MINI Accessories Program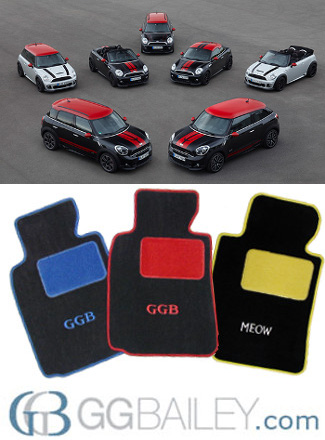 Already a favorite among fans of compact cars and personalization gurus, MINI had their full line of offerings on display during the 2013 Frankfurt Motor Show, and they showed off new additions to the Original MINI Accessories Program. The highlights in this product area include the world's first ever retrofit 25-watt xenon headlamp for selected MINI models, the new generation of the portable navigation system developed especially for MINI, and the new MINI child seats.
The Mini Accessories Program is unique in that it allows owners a range of ways to selectively highlight and enhance the expressive design, sporty driving properties and functionality of their vehicle. With seven models and up to eight engine variants, MINI already is a brand that represents customization and personalization from the get go, so their accessories program allows drivers to truly design a package of options that is truly their own.
One of the additions to the program, the 25-watt xenon headlamp, represents the first of such a retrofit option for auto makers. In terms of quality, luminosity and range, the retrofit headlamps are identical to the xenon light. They also offer longer service life and lower energy consumption than standard halogen lamps. Other add-ons include the Navigation Portable XL system with 4.3-inch display, an integrated traffic jam warning and innovative holder for integration in the cockpit. Read more from Overdrive.com.
MINI embraces custom choices, which GG Bailey loves, and we can make custom-fit floor mats for all makes and models. We have an almost endless list of floor mat design options in our Design Your Mats™ section, from 10 carpet color options, 41 binding options, 33 heelpad options, and 16 logo options, to 18 embroidery color choices. The tricky part is deciding what you want your custom floor mats to look like!
3. Bugatti races into the fashion industry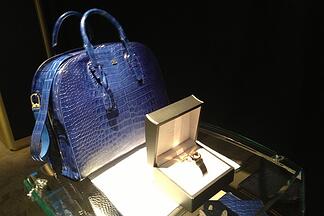 Bugatti, maker of luxury speedster the Veyron, is hoping to capitalize on their luxury name and attract a whole new audience with a line of high end clothing and accessories. Ferrari and Porsche, among others, have set the precedent with their own fashion lines, and Bugatti is hoping to attract part of that crowd, particularly women.
Auto makers are increasingly using accessories to grab the attention of female buyers who are an increasingly important market in their own right. At GG Bailey, we created our pink carpet and preppy edgings, including polka dots, plaid and stripes.
Brand recognition, particularly when it comes to high dollar items, is important, and Bugatti hopes shoppers will associate their shoes, handbags and jackets with their cars, like the Veyron Sport Vitesse, which sells for $2.3 milion.
"We want to create a world around Bugatti," said Wolfgang Schreiber, president of Bugatti, in an article published in the Wall Street Journal.
Bugatti announced plans for a chain of international retail stores to offer their merchandise, so we'll have to wait and see if shoppers embrace their luxury goods. We at GGBailey.com are fans of luxury, and fans of luxury automobiles, so we're particularly interested to see how people react to the new Bugatti offerings.

We created our Car Couture™ line so that we could offer shoppers a luxury floor mat for their vehicle that will last. GGBailey.com created the first fashion forward floor mat designs, such as our Leopard, Tiger and Zebra patterns.
As durable as they are beautiful, our car mats are woven, and as our history suggests, have been breaking ground the world over. Our Black Oriental pattern is among our most popular of options, and we can custom-fit any vehicle with our auto floor mats, trunk mats, and cargo mats.
If you are a fan of style and luxury, you should check out our Pinterest boards, where we pin daily luxury goods, luxury vehicles, and anything related to driving style that catches our attention.