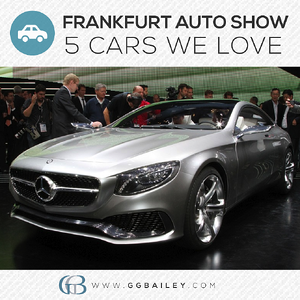 The Frankfurt Auto Show, or the International Automobile Exhibition, as it is called in Germany, is well underway and there has already been a steady flow of exciting news and announcements from the 10-day event.
From the latest concept cars and crossovers, to the newest electric vehicle offerings, the Frankfurt Motor Show (another oft-used name for the event) has plenty of auto candy for enthusiasts to devour. Check out this New York Daily News gallery to see some of what the future of driving has in development. There is a lot to consider, but we at GG Bailey have our eyes on luxury, style, and design, and we have compiled a few of our favorite vehicles on display from the show.
Check out our list below and let us know what you think.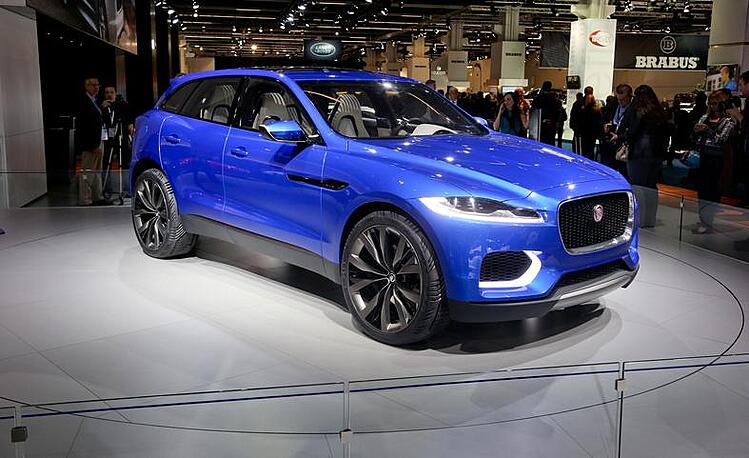 1. The Jaguar C-X17
Jaguar, for the first time ever, unveiled a crossover concept vehicle. The luxury brand automaker is the only mainstream company that does not currently offer an SUV or crossover, so this blue beauty obviously had the Frankfurt Auto Show abuzz with excitement. See more photos from Car and Driver here.
Now, Jaguar hasn't said whether or not the C-X17 will be put into production any time soon, or at all, but insiders commented that the vehicle looks mostly ready to hit the road. In fact, Jaguar isn't saying a whole lot about the C-X17 concept, but the size compares to the Audi Q5 and BMW X3. If, or maybe we should say when, the luxury crossover makes it to the market, we will be eager to design custom floor mats for this model. Something from Our Car Couture™ line, perhaps?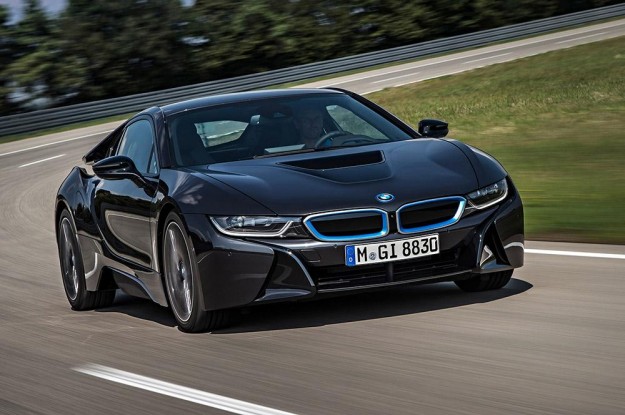 2. The BMW i8
BMW has long been a favorite automaker -- know for combining luxury, style and performance -- and the new BMW i8 debuted at the Frankfurt Auto Show this week is no exception. The plug-in hybrid has an electronically limited top speed of 155, can reach 62 miles per hour from a sitting start in only 4.4 seconds, and produces an impressive 362 combined horsepower from a 1.5 liter turbo charged triple and electric motor.
Capable of up to 113 miles per gallon, the BMW i8 adds a whole new level of style to the hybrid market. The BMW i8 is scheduled for release early next year, with a price tag of about $135,000. Drivers who pick one up and want to add their personal design touch will enjoy knowing we make top-quality BMW floor mats.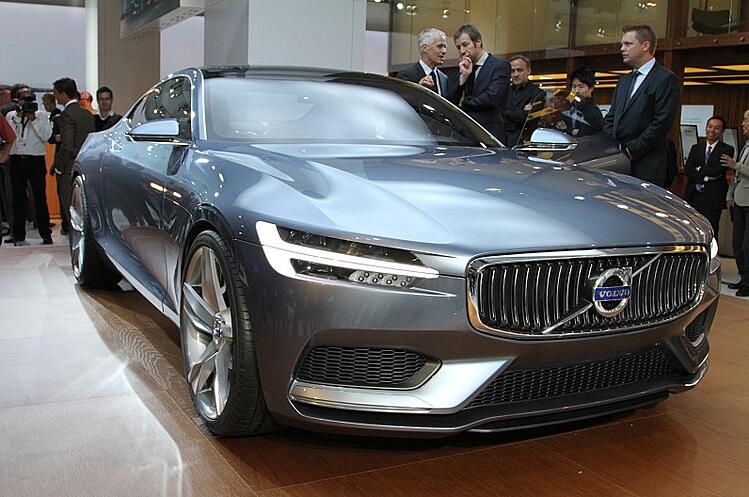 3. Volvo Concept Coup
The reviews have been mixed on the Volvo Concept Coup, debuted at the Frankfurt Auto Show this week. Some have complained that a concept car should have more of a wow factor, but we tend to agree with those who say this is "the prettiest Volvo ever." The car is sleek, understated, and refined, and the interior is elegant, featuring supple leather and a crystal shifter.
The floor mats include a heel pad, which we think is important to preserve the quality of the carpet when you Design Your Mats™, but future drivers might want a bit more personalization for their Volvo. Just like the mats we make to order for our customers, the Volvo Concept Coup also features a woven carpet, so you know the quality is great. Oh, and as the trend has been at the Frankfurt event, this one is planned as a hybrid. Check out more photos from Motor Trend here.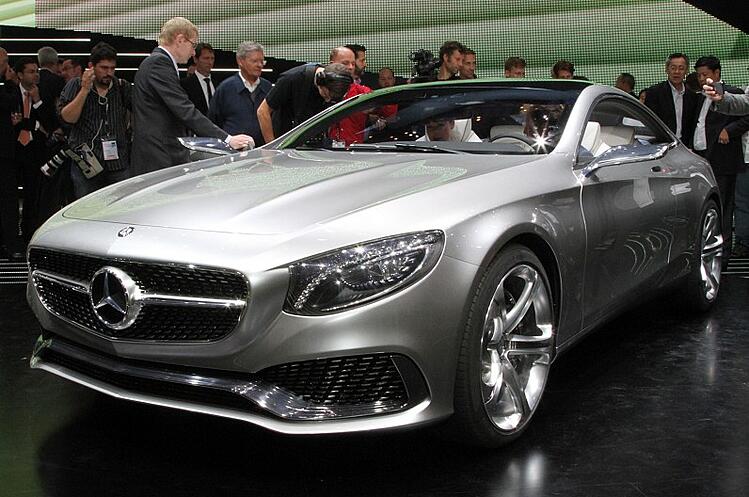 4. Mercedes-Benz S-Class Coup Concept
Mercedes-Benz, the cream of the crop in luxury automakers, recently upgraded its flagship S-Class sedan, but at the Frankfurt Motor Show, the S-Class received an addition but subtraction -- that is a subtraction of two doors.
The S-Class Coupe concept is a lusciously designed two-door vehicle with some near-future features. Mercedes-Benz has injected some aggression into what is usually a subtle, refined vehicle, using sleek, bold lines, a pillarless window opening, a lower profile, and an impressively sized logo in the large grill to show off the brand. The aggression continues inside too, with an impressive sound system, display and stylish design. See more photos form CNET here.
The Mercedes-Benz S-Class Coup may be a concept at the moment, but we're hopeful the MB braintrust puts this one on the market, because we'd love to make custom floor mats for this beautiful vehicle.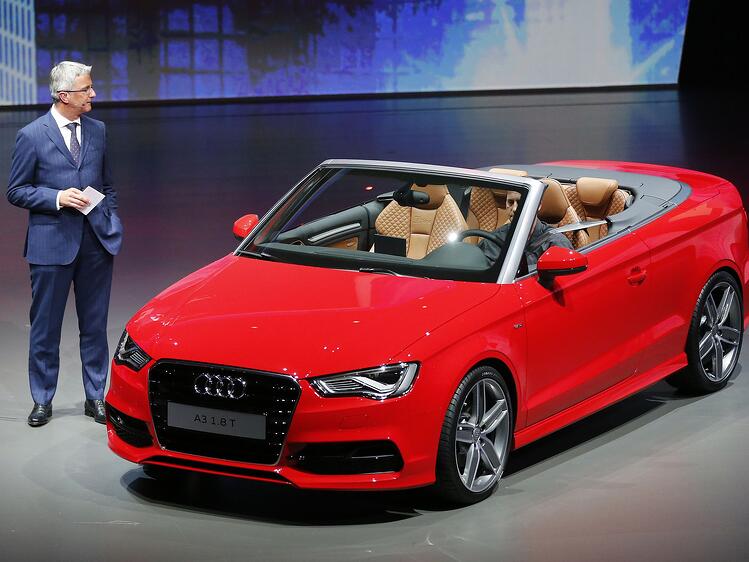 5. 2015 Audi A3 Cabriolet

Audi announced at the Frankfurt Auto Show that it is finally brining its A3 convertible to America, and we couldn't be more excited about the A3 Cabriolet debuted in Germany for two reason -- it's a bold red droptop, and it features a stylish tan and black interior. See more photos here from USA Today.
Popular in Europe, the newest version from Audi is bigger, lighter and leaps and bounds more technological advanced -- it comes with a 4G connection, navigation powered by Google, touchscreen, and can provide passengers with a Wifi connection. Nevermind that the top goes up or down in 18 seconds and at speeds of up to 31 miles per hour.
We could go on and on about the new vehicles and concepts on display at the 2013 Frankfurt Auto Show, but we'll leave you with our top five. We're always excited about new models hitting the market, because can we make custom floor mats and personalized floor mats for all makes and models, and if you don't see the vehicle you are looking for already listed, contact us to let us know. We look forward to working with you!