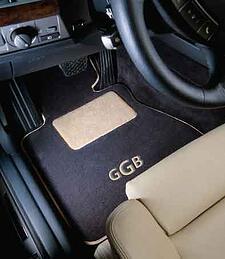 Do you ever find yourself making a pros and cons list when deciding between two things? If you do, you've probably noticed sometimes both sides end up even, which makes your initial efforts invalid. When this happens, you may have to get a little more detailed and base your decision off the quality of each pro and con.
The same goes for gift shopping , groceries or anything really. It doesn't matter whether you are a car enthusiast or a new driver at 16 with your first car; when you shop for car accessories, you shouldn't have to sacrifice quality over aesthetics.
On first glance, going with a one-size-fits-all mat for your car seems like a good decision. One size fits all mats are usually less expensive and faster to buy; however, you are sacrificing the perfect fit of a custom car mat and buying a lesser quality product with no features.
Contrarily, when you purchase a custom car mat from GGBAILEY, you are purchasing a custom fit product with engineered automotive stain resistant carpet and the highest quality features and options.
There are some big differences between a custom fit car mat and a one-size-fits-all mat, and here's why:
Customizable
If you want something truly unique and personal, you'll probably want a car mat that offers more than just one customizable option. GGBAILEY offers four ways to custom design your car mat:
Carpet

Edging

Heelpad

Embroidery & Logos
Plus, if there is a cause or sports team you are passionate about, you can design your car floor mat with its logo and spread awareness one car ride at a time.
Protection
Keeping in mind that the origins and purpose of a car mat is to protect the interior floor of your car, you should be shopping for a car mat that does just that. GGBAILEY car mats provide the full function of the car mat by protecting your car's interior.
Not only do they protect your car's interior floor space, but they go even further and can keep your fabulous new sneakers, heels and other shoes from being tarnished by inclement weather such as sludgy snow or muddy debris.
GGBAILEY car mats actually absorb the moisture and hide such outdoor materials.
Thermoplastic rubber type car mats, on the other hand, allow debris to be visible and to stay stagnant on top of the mat exposing your shoes to such debris.
Longer-lasting
A custom fit car mat will last longer too; ultimately, this saves you money in the long run. GGBAILEY makes this possible by:
Keeping the original value of the car's interior

Not having to continually purchase new car mats because of stains and wear

The

heelpad

(optional) protection from uneven wear and tear
Quality
When you purchase a custom floor mat instead of a one-size-fits-all mat, you are purchasing a better quality material and design. There are a few places you can purchase a car mat; however, is each one made with the same quality to get you the most mileage out of your money?
At GGBAILEY you have a variety of quality car mat materials to choose from depending on which collection you choose from. All materials used are renown for their stain resistant properties.
GGBAILEY's Luxury Car Mat line are woven mats made from polypropylene fibers which is known for its stain resistant and are a higher weight, heavier carpet weighing between 50-70 oz. Car mats in other GGBAILEY collections are made from nylon, which are durable and also made from stain resistant fibers.
Custom Fit
Our custom fitted car mats are shaped to fit your car's floor with superior material for a high-quality car mat. Both the shape and quality are designed to match the original equipment manufacturer (OEM) standards.
Other, one-size-fits-all car mats are made with very poor materials that are not even carpet and do not handle the daily wears and tears.
With GGBAILEY custom car mats you truly do get it all:
A Perfect Fit
High Quality Material

Personalization

The Latest Designs
A quality car mat is shaped to fit the car and is designed with an engineered backing to avoid the mat from moving.
The Choice is yours
Next time you are purchasing your car mat, don't forget to shop around and weigh out the pros and cons. Are you looking for quality, personalization? Or, you could just be shopping for a unique gift you feel someone close to you might enjoy.
Whatever your need, you should have a fun and exciting shopping experience and not feel that you have to sacrifice one thing to accommodate another; you should get exactly what you want.