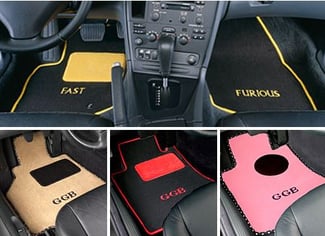 It is no secret that everyone has varying aesthetic preferences. For example, some people may prefer having white, plain walls in their homes, while others prefer painting with loud statement colors. Then, there are some people who desire more of a neutral pallet for their wall color.
No matter what color preference you have, the point is that you have the freedom to choose and the ability to customize them to incorporate your personal style. Not only is the end result truly catered to your liking, but the unique process of customizing can often be half the fun.
Instead of purchasing a generically designed car mat for your car that someone else likely has, why not indulge and enhance your creativity with a custom fit personalized car mat and trunk mat designed by you?
Creating a custom design for your car mat is more than just sifting through options to create a design. GGBAILEY customizations enable you to:
GGBAILEY offers a multitude of ways to custom design your car mats, such as:
Carpet
As leaders in the industry for over 40 years GGBAILEY has developed highly specialized automotive carpet that is durable and luxurious. They offer over 20 different carpet choices; ten solid colors and eleven carpet designs of luxury weight carpet
Edging
No detail is insignificant- even the edging. There are two styles to choose from: serging (woven edge) and binding (smooth edge); if you style your mat with the binding option, the option for reflecting or ribbon edging are available.
You can also choose between polka dots, plaid and striped Saratoga ribbon bindings. The L.A bindings are available in camouflage and reflective designs. There are a variety of edging designs to choose from including the standard binding- available in nine colors, and serging- available in 21 colors including a pair of two-tone options.
Heelpad
This is a feature unique to GGBAILEY designs. The heelpad is available in two shapes: round or rectangular. This car mat feature is designed to avoid heel induced wear, extending the life of your mat. Aside from choosing the circle or rectangle shape of the heelpad, you can choose between nineteen different colors.
Embroidery
This is the stage in the design process that finalizes your custom design to truly have a uniquely designed car mat.
The available embroidery options are block or script lettering with eighteen color choices that are directly embroidered into the carpet. You can choose up to ten characters (including spaces) for your embroidery or initials which can be created in a classic monogram style.
GGBAILEY also offers embroidered logos that represent your favorite sports team, charitable cause or patriotism. The logos are designed and available to match with the edging and heelpad selections.
Designing with GGBAILEY
When you custom design your car mat, you have the opportunity to make a statement that can impact more than just who joins your for a car ride. With your taste and style, you can design a truly custom and personal car necessity. Custom designing with GGBAILEY is a unique shopping experience from the pattern you choose to the letters or logos you embroider.