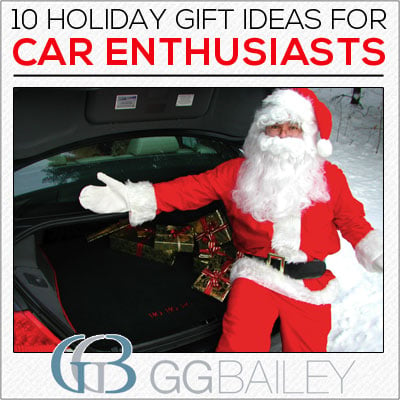 The holiday shopping season is here, and chances are at least one person on your gift list is an auto enthusiast. If that's true for you, then we have some great gift ideas you will enjoy.
Beginning with our own custom-fit, personalized car floor mats from our Design Your Car Mats™ section and the stylish, luxury quality car mats from our Car Couture™ line, we have focused on unique car-themed ideas that are sure to please the auto enthusiast in your life. Many of these gift ideas can be customized for the recipient, so you can make it a truly unique gift.
If you like the GGBailey.com items on our car-themed gift idea list, then you should know we are offering FREE ground shipping* for the holiday season. No coupons or promo codes required. All you have to do is select the free shipping option when you check out.
So, browse our 10 gift ideas for car enthusiasts below, and let us know what you think in the comment section and share your own ideas.
1. Custom car mats from GGBailey.com
We couldn't write a gift list for car lovers without suggesting our own personalized car floor mats from our Design Your Car Mats™ division. Just make sure you know the year, make and model of your friend or family member's vehicle to design custom floor mats they will love. Our mats are made to custom fit each make and model, do those details are important.
There are only four steps to design your personalized floor mats but thousands of possible design combinations. You begin by picking one of 11 carpet colors, then choosing one of 41 edging options. You can then add a heelpad, available in 19 colors and two shapes, and then personalize it with embroidery. You can choose an embroidered name or message of up to 10 characters (including spaces) or choose a monogram or initials. We have two font styles available -- block text or script -- and 18 color options. If you prefer an embroidered image instead of custom text or a personalized monogram, we also have 16 logos to choose from. Click here for more details about each step.
Our personalized floor mats make great gifts, and we can make custom-fit floor mats for all makes and models. You can even personalize a trunk mat or cargo mat with a custom message or monogram! We make all custom car mats in about two business days, so you won't have to wait long to get your hands on this custom gift.
Visit our Design Your Car Mats™ or Car Couture™ sections to get started. If you want to give leopard, zebra, camouflage or oriental floor mats, then Car Couture is what you are looking for. We have 11 patterns to choose from in our luxury floor mat line.
2. Cobra iRadar Atom radar detector
Cobra envisions a new generation of radar detectors with the iRadar Atom. Paired with a smartphone, its app gives you detailed alerts and also connects with Cobra's AURA database, which automatically shares alerts from the Cobra community for over-the-horizon detection.
With the aid of your smartphone and an app, the compact Cobra iRadar Atom is a powerful tool for monitoring the road ahead for speed traps and road hazards. It sells for about $138 on Amazon, and drivers can rely on a community of detectors to be alerted accurately and reliably of safety and enforcement threats on roads all around them.
The device has been touted by some reviewers as the most innovative, technologically advanced, and user-friendly detector device ever created.
3. Protect the seats
If the car enthusiast on your gift list is also a pet owner, then they would certainly enjoy a GG Bailey Pet Car Mat. The high quality carpet mats come in two sizes and 10 patterns, and they give your pooch a cushy seat that protects your car seats from dirty paws and debris in style.
Made with the same woven carpets of our Car Couture™ line, the pet car mat can be matched to a set of custom-fit, luxury floor mats or purchased as a stand alone item. Pick any of the 10 designs of luxury-weight, stain-resistant carpets. Our woven polyurethane carpets are available in traditional and contemporary designs. Our Subtle Style carpet, available in beige or grey, is specially made with high-quality nylon yarn that is cut to create a simple and elegant two-tone texture. All our mats are made with the best materials to resist stains
We also have pet placemats available in the same carpets.
To add some comfort and protect the seats of the driver and passengers, you can give a Sheepskin Seat Vest Cover or Sheepskin Bucket or Bench Seat Cushion. Available in several colors, our sheepskin seat accessories are universal fit for all seat types and they are every bit as durable and elegant as they are comfortable. They add style and luxury to a vehicle while also being functional.
4. Kinivo BTC455 Bluetooth car kit
For drivers who just want to add Bluetooth without major modifications to their car, this tiny dongle by Kinivo sends hands-free call audio and wirelessly streamed stereo music through a car's speakers via the auxiliary input present on most modern car stereos. Simple controls let you accept incoming calls and skip tracks.
Just be sure the vehicle you are buying this for has an auxiliary jack, as those only really became common around 2006. If there is a jack though, the kit is simple to install and use and it makes driving a little bit safer for those people who take calls or stream music on their cell phones.
Kinivo normally lists the price of the BTC455 at $74.99, but it is currently on sale for $49.99, which is about the same price as it is listed on other sites.
5. Quality cleaning products
A clean car equals a happy driver, and auto enthusiasts find joy in caring for the vehicles so they would also enjoy high quality gifts that help them get the job done.
For the exterior, our Sheepskin Washmitts, which are made of 100 percent Merino sheepskin, are soft enough to be ideal for dusting, polishing and washing your car without worrying about damaging the paint or clearcoat. Available in black or grey, our washmitts can be used either wet or dry and with any soap that is approved for use on vehicles. Rinse your mitt after every use and it will last a lifetime.
For the interior, we suggest a Sheepskin Duster, ideal for safely removing dust and debris for your car dash and other hard surfaces, and our Oreck XLAUTO Car Vacuum. The lightweight sleek silver vacuum plugs into the vehicle cigarette lighter and has a 15-foot cord for accessing the trunk and other hard-to-reach places.
Just like our custom car mats, these products will be shipped for free during the holiday season!
6. Auto magazine subscriptions
There are literally hundreds of different magazine titles out there for auto enthusiasts, with themes ranging from track racing and off road performance to luxury cars and concepts. Magazine subscriptions always make great gifts because the issues keep coming all year long. Whether it's Automobile Magazine, Road & Track, Car & Driver, or Autoweek, you can find a great deal on subscriptions using this website. They have more than 60 titles to choose from.
7. Formula One Speaker Dock
Cars, music and technology combine with dazzling effect in the Formula One Speaker Dock. Assembled in Modena, Italy, this speaker dock for iPhones and iPods is built from the manifold of a retired eight-cylinder F1 engine of your choosing, from a lineup that ranges from a 1978 Cosworth DFV to a 2007 Ferrari 056.
Providing crisp highs from the head pipes are two 70-watt tweeters and two 70-watt midrange speakers, while the end of the manifold's collector tube is home to a 140-watt subwoofer that bottoms things out with jaw-rattling bass. The base, leather trim, hex screws, and corrosion-resistant 6082 anodized aluminum speaker cowlings come in a choice of six colors. Works with iPhones and iPods with 30-pin connectors only.
This gift costs $8,500 and personalization is available.
8. AAA 77-Piece Warrior Road Kit
This is great gift for any drivers on your holiday gift list, as this kit features all the essentials one might require in case of an emergency breakdown. It doesn't take up much space in the trunk or cargo area and includes everything from an air compressor and jumper cables to a first aid kit and three-piece fleece set for staying warm in the winter weather.
LifeLine First Aid -- a leader in the field of first-aid and disaster readiness products -- has teamed up with AAA to bring you a line of high quality Road Assistance Kits. Featuring both first-aid and automotive emergency items, these practical all-in-one kits can help protect you in the event of an automobile breakdown or personal injury.
This gift allows you to show someone how much you care by showing that you are planning ahead, because afterall, you know when you might need it.
9. Lemus BlueDriver Wireless Vehicle Monitor
The Lemur BlueDriver Wireless Vehicle Monitor uses a sensor (plugged into the vehicle's OBD-II port) and an app to turn a smartphone into a useful automotive diagnostic tool. If a vehicle's "Check Engine" light illuminates, this tool can decipher whether the cause is minor or a true safety hazard. Its other talents include clearing trouble codes and offering insight as to whether a vehicle is ready for a smog test.
This tool works with all makes and models that are model-year 1996 or newer. The app works with Apple devices running iOS 7.0+ and Android devices running Android 4.0+. It costs about $100, but just like GGBailey.com, the company is offering free shipping for the holiday season.
10. Gift certificates for car sites
If you are still looking for ideas, gift certificates might be the answer. At GG Bailey, we offer gifts certificates of various amounts that can be used on any of our products, from our custom floor mats in the Design Your Car Mats™ section and the luxury floor mats of our Car Couture™ line to our home and pet products.
If you give a gift certificate, your friend or family member can visit our site and design their own personalized floor mat themselves, ensuring they get the perfect fit and style for their vehicle and taste. Our gift certificates start at $50 and there is no limit to the number you can buy. They never expire and can be used at any time for anything on our website. Click here to see gift certificate options.
*Free ground shipping offer includes contiguous U.S. only.