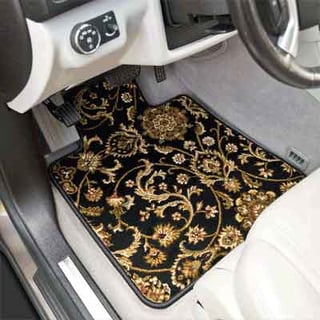 Car mats are more than just a stylish accessory, they are a necessity which functions to protect and prevent wear and tear of your vehicle interior.
However, not all car mats are designed with the same quality.
Certain car mats are tested to automotive aftermarket original equipment manufacturer's (OEM) standards; these standards are drastically higher than residential aftermarket standards. These tests include fading, wear and tear and also emission requirements.
Automotive aftermarket parts and accessories are designed for comfort, convenience, performance and safety. OEM parts and accessories have to be tested in all of the aforementioned areas.
In accordance with OEM testing, OEM car mats are not permitted to emit odors and substances, including gases or radiation.
Where are Aftermarket Luxury Car Mats Sold?
Where can you purchase and customize your own set of aftermarket luxury car mats? You can shop online for them.
GGBAILEY.com™ has been the exclusive car mat choice of some of the world's finest automobile manufacturers for over 40 years; we are also the innovative leader in the industry providing you personalized styles, custom fit and quality materials.
GGBAILEY Carpet Construction
Our car mats enhance your automobile's interior and are the cost-effective way to improve your vehicle's interior while adding a personal touch and plush comfort for the ultimate luxury experience.
The difference between GGBAILEY car mats and residential aftermarket car mats is the material of our carpet which is woven with polypropylene fibers.
This material allows our automotive aftermarket car mats to protect your vehicle's interior from dirt, grime, mud, tar and daily wear by absorbing moisture and outdoor debris.
Why Quality Matters?
Why is it more beneficial to purchase automotive aftermarket luxury car mats rather than residential aftermarket car mats? It's simple - it's all about quality and durability.
Since GGBAILEY car mats are carpeted, they are controlled through the use of the right antimicrobial fibers which are automotive tested rather than residential aftermarket testing; Therefore, our car mats are tested by higher standards ensuring durability, quality and safety.
Each of our car mats must have Open Cell foam backing that we have exclusively designed to help prevent mat movement without putting marks and indentations on your floor pan.
Also, each GGBAILEY car mat order includes our patented Mat-Loc® retention clips for driver and passenger mats.
How You can Have Quality Car Mats Too!
Your car is a multipurpose transportation vessel; between all the passengers that come in your car-- pets, kids, family and friends-- quality and safety should be your first priority.
GGBAILEY.com is part of the Racemark International group of companies and were the first car mat company, in 1974, to create a carpeted auto floor mat.
Through continuous innovations, we have enhanced our car mat's structure and have worked with the leading yarn suppliers in the world to design our own carpet.
Your 1st stop shop for aftermarket luxury car mats is here and awaiting your creative and personal designs.
GGBAILEY Carpet Car Mats are for All Weather All the Time
Proudly MADE IN AMERICA for over 40 years and currently providing luxury in millions of vehicles around the world.