It's incredibly easy to create personalized car mats from GGBailey.com. Pick your car, pick your colors, and we'll make it and ship it in just two business days.
But if you're like me, you want to know all the options for every detail. To make it simple, here's a breakdown of each component in your custom mat. Happy customizing!
Fit.
This part is simple. Choose your car's year, make, and model, and our system will automatically pull up your mat options.
Carpet.
When you design your own floor mats, you can choose from 13 different colors of high-quality, stain-resistant nylon carpet that is made to car manufacturing standards. Unlike our competitors that use residential carpet, GG Bailey personalized mats won't fade from direct sunlight.
Edging.
You have two elegant choices for the edges of your mat. Serging is a stitched yarn edge, and binding is a smooth fabric edge. Our Saratoga and LA binding fabrics include plaid, polka dot, striped, and reflective options.
Heel pad.
The heel pad is an extra-thick carpeted area that protects your mat from wear and tear where it needs it the most. You can choose a circular heel pad or a round-edged rectangle. Choose from 19 complementary colors.
Embroidery.
Our personalized embroideries are available in four styles and 18 vibrant colors. Remember: because of space limitations, your message can have up to 10 characters (including spaces) per mat. If you choose to get monogrammed car mats, your last initial will be a larger size and located in the center.
Block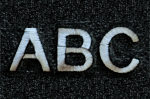 Script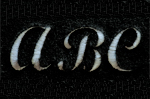 Block Monogram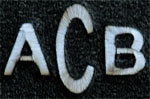 Script Monogram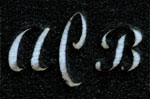 Logo.
If you prefer, we can apply an embroidered logo instead of embroidering a monogram or message directly on the mat. Choose from various brand logos or pick one of our designs that captures your personality.
Backing.
All of our car floor mats have a special Open Cell Foam backing that we have exclusively designed to prevent mat movement. When your car mat stays in place, it keeps you safe.
Retention System.
Our patented Mat-Loc™ clips are included in most car floor mat orders, and are only available through GG Bailey. If your car has a built-in retention system (like grommets or clips), we'll make sure the mat accommodates your car's system.
Now you're ready to design your own mat. Which options will you choose?