Legend has it that in 1986 on a calm Baker Beach night, the first wooden man lit up the night sky with embers of wonder—and that was only the beginning of the Burning Man music festival.
Music festivals generally bring a sense of community and freedom for attendees, and Burning Man is no different.
After checking out Burning Man's website, you'll soon learn that this music festival is founded on 10 principles and embodies a culture of inclusion, art and self-expression.
As Burning Man evolved over the years, and in accordance with its culture of inclusion and self-expression, cars too became a main event at the Burning Man festival.
Attendees are able to truly customize creative and lavish mobile vehicles to parade around and camp out in at this festival.
Take a peek at some of GGBAILEY's top Burning Man mobile vehicles that were displayed at Burning Man last year!
Top 5 Burning Man Mobile Vehicles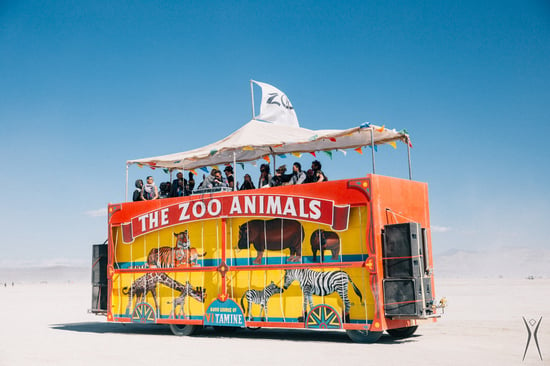 Kirk Strawn and some volunteers came together to create this double-sized VW bus in 2003 and it debuted at The Burning Man festival in 2009; both its pannels and frame are made from steel.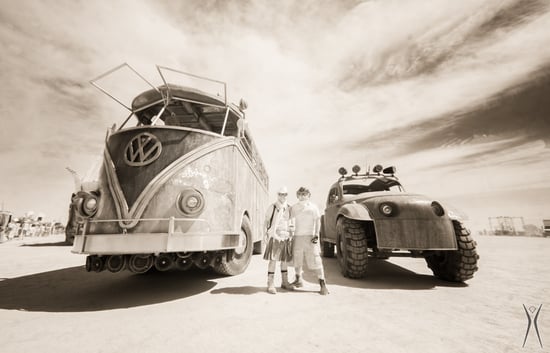 Enlarged Mutant Vehicles: Hank EspressoBuzz
Jaime Vaida designed the One of the Twins art car for The Burning Man festival and was inspired by the fans of another fire festival, Telluride, and art car "Shack to Hell You Ride" which appeases their love for beat up old shacks. It was designed to be functional as well as a visual art piece and there is a potbelly stove inside this amazing art car.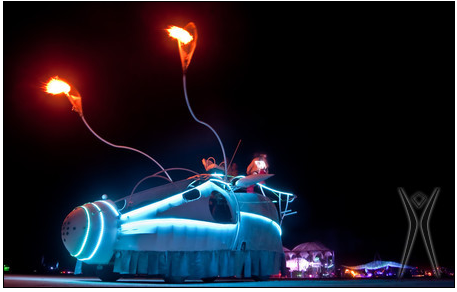 One of the Twins by Jamie Vaida
Henry Chang started and continues his scuplting career in Las Vegas. His exposure and intrigue of computer science, music and cadwork led him to his passion for designing and scultping unique art cars.
His first art car was a different, or less advanced version of the one shown below, and he took it to Black Rock City in 2011; however, he wasn't satisfied and ultimately ditched it. Later, he built a new framework making each piece a sculptural beauty.
"We live in a car crazy culture and it's wonderful to be able to contribute to this mass culture in such a way that the bulk of people "get it", yet I can still maintain my creative individuality. I think I may be fabricating cars for a long, long time. I love it." - Henry Chang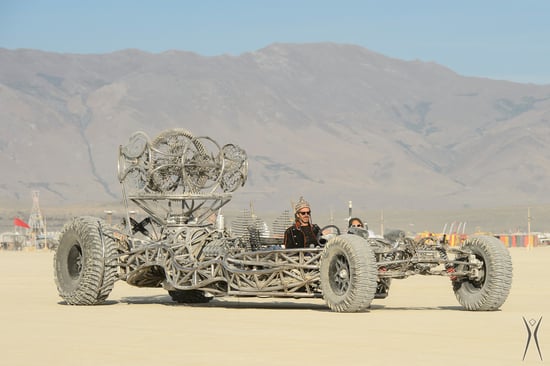 Fusion by Henry Chang: Michael Troutman/ DMT Imaging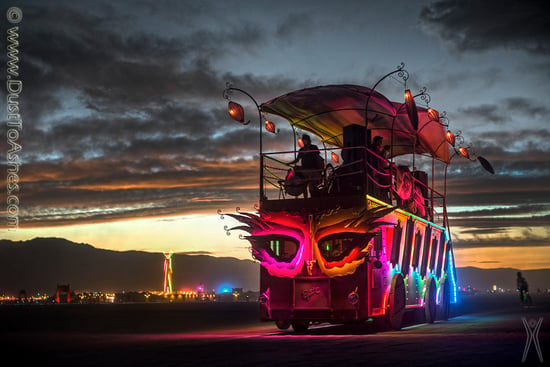 Midnight Eyelashes Express Dust To Ashes
Music festivals foster a creative cocktail of art, expression, culture and the automotive industry. When people attend music festivals, they are packing up their car and traveling or camping out for a more intimate sense of community and inclusion.
Burning Man has been around for years and brings together a community of creative and innovative mobile vehicle designers.
You don't have to awe over these mobile vehicles, you can actually register your vehicle and show it off at Burning Man too.
Looking for more ways to incorporate an artistic and personalized expression in your vehicle?
If you can't make it to this year's Burning Man festival but crave the sense of artistic and creative self-expression in your vehicle, you can start by designing your own GGBAILEY custom car mats to truly make your car an artistic and personalized extension of you.