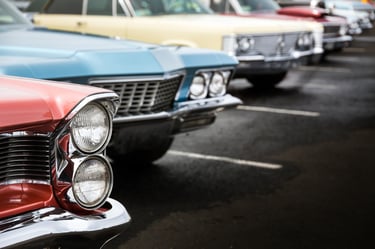 Racecars have paved the way and help mold some of the automobiles we drive everyday. Timeless classics such as Porsche, Ferrari, Jaguar and Aston Martin were styled and engineered to parallel their racing counterparts.
With such monumental history and unique roots, it is no wonder why the automotive industry has continued to be a prominent part of pop culture. From famous car collectors, shows, films, museums and legacies, classic cars too were made to meet and exceed any car enthusiasts' desire.
The Collectors
Car enthusiasts know that in order for an automobile to truly be considered vintage, it needs to have been built between 1919 and 1930. These automobiles are statement pieces representing class, an iconic time in
history and, for some, a stroll down memory lane.
Many of you know Jay Leno as the host of the Tonight Show, but he isn't just a comedian; Jay Leno has a passion for vintage automobiles. He even has another show called "Jay Leno's Garage" that airs on Wednesday nights at 10 PM EST on CNBC.
The show examines all aspects of the automotive industry from classic cars to the inside scoop of the car collecting market. If you're a car enthusiast who wants to learn more about this comedian's automotive passion, you can click here.
Another comedian car enthusiast you may know of is Jerry Seinfeld. Famous for his stand-up comedy acts and "his starring role in the show 'Seinfeld,' he now hosts another show called "Comedians in Cars Getting Coffee."
This show offers "a fresh new blend of comedians in a small concentrated cup. Every Wednesday at 11:30 PM EST on CNBC" Each episode features a set of well-known comedians that buckle up inside vintage automobiles and go for a spin to grab a cup of joe, all while capturing the comedic conversations during the drive. This is a fabulous blend of vintage, comedy and pop culture. You can watch the latest episodes of "COMEDIANS IN CARS GETTING COFFEE" here.
Both Jay Leno and Jerry Seinfeld are well respected classic car collectors. In fact, Jay Leno by himself has well over 130 classic and new cars inculding:
2014 Mclaren P1

The LLC Rocket
Not to be out done by his comedic counterpart Jerry Seinfield has a small love for classic cars in the neighborhood of $15MM. He has one of the biggest Porsche collections in the world including:
955

1955 550 Spyder

911 1st ever produced
The Shows and Museums
Maybe you are a car enthusiast who doesn't only sit back and enjoy the vintage automotive industry through a television screen, but would much rather participate in the excitement of it. There are plenty of classic car shows and museums to be a part of for a real feel of the vintage automotive industry.
If you are a car enthusiast, you may already be familiar with various car shows around the world. For instance, SEMA is a well-known car show that typically takes place during the fall season and is considered "the premier automotive specialty products trade event in the world." If you click here, you can view some of the highlights of the 2015 SEMA show.
Another popular car show is the Amelia Island Concours D'Elegance. Essentially anyone can submit their car for this show; however, it is only through an invite from the Car Selection Committee that your car will be displayed and showcased for the event itself. A general rule of thumb for your car to be selected is that it must have been built before 1974. You can learn more about a vehicle's qualifications for this show here.
Whether you are looking to brush up on some classic American car history or browse through some vintage automobiles, the PETERSEN AUTOMOTIVE MUSEUM and the SARATOGA AUTOMOBILE MUSEUM both offer extensive collections to fill any car enthusiast's desire. They tell stories, feature exhibitions and showcase events to give you all the entertaining automotive knowledge you crave.
Then and Now: Building a Legacy
The automotive industry has enriched history and continues to enhance pop culture. History provides a timeline of legends, landmarks and legacies. Bob Bailey is one example of someone who has built a legacy in the automotive industry.
Bob Bailey grew up in the trenches of car racing. His passion for this sport stemmed in the early 1950s. His father was an avid sportsman, artist, entrepreneur and photographer and let him tag along for the car races. Bob's father was a proud owner of a 1954 Jaguar XK 120 and the Vice President of the Jaguar Owners Association.
Bob's father may have been a Jaguar fan, but Bob had a soft spot for Porsches. His passion and love for Porsches fostered his career path as a professional race car driver, racing for Porsche of America in 1968-72
RACEMARK International began in 1964 founded by Bob Bailey. Porsche of America team world class racecar driver. RACEMARK is a global leading tier one OEM (Orginal Equipment Manufacturer) supplier & designer of automotive interiors for over 50 years. RACEMARK is a proud supplier of premier automotive brands.
RACEMARK International is the parent company of GGBAILEY which was founded by Ginger Bailey. As a part of the RACEMARK International group of companies, GGBAILEY produces the finest car mats in the world.
Leave Your Mark
The collectors of vintage automobiles treasure the sturdiness of steel and the timeless shape of tradition. Vintage cars are a snapshot of the past. Perhaps it's our love of feeling nostalgic, or of America's history of cars. Either way, click here to see how you too can create your own automotive mark with a monogrammed car mat for your classic car or any vehicle on the road.