The annual SEMA Show kicked off on Tuesday in Las Vegas. For a few days, the auto industry's focus drifts away from reality and into a fantasy world of big, wild, extreme builds of all shapes and colors. Some interesting themes flow through this year's show, including unlikely off-road vehicles, re-engined classics and potential world record breakers.
Every year, the automotive world descends upon Las Vegas for the Specialty Equipment Market Association (SEMA) Show, transforming the city into a mecca of aftermarket modified cars. The result — usually — is odd, wacky and positively awesome cars that you will see at no other show.
We at GG Bailey like to follow the news from all the important auto show events so that we can stay on top of the news that our customers are paying attention to.
Many of the vehicles shown at SEMA are custom designs, just like our personalized, custom designed car floor mats. Check out the headlines below and then visit our Design Your Car Mats™ section to custom design you own unique set of car mats.
We work with the best carpet providers to design our own style, colors, and patterns, and our parent company -- Racemark International -- creates carpet car mats for the best brands in the world, so you know you can trust our products.
Hennessey Venom GT
The Hennessey Venom GT already has an unofficial world speed record, and Hennessey is hoping that it can make it official (or at least drive the unofficial record higher). Making its debut at SEMA, the updated Venom GT has a 1,451-hp 7.0-liter twin-turbo V8, making it over 200 hp more powerful than its unofficial world record-holding predecessor. Hennessey estimates a top speed in the neighborhood of 280 mph (451 km/h), a 0-60 mph (96.5 km/h) of 2.4 seconds and a 0-200 mph (322 km/h) of 12.8 seconds.
The Venom GT is built upon a Lotus Exige, in case you were wondering, but by the time Hennessey is finished with the British pocket rocket and the American monster have little in common.
Kia A1A Optima convertible concept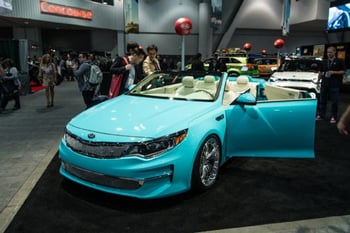 Kia is hoping it can draw in some crowds with this creation. Called the A1A Optima, it takes the standard saloon and chops it into a four-door convertible. A four-door convertible with suicide doors. The A1A Optima is named after a famous coastal highway in Florida, and pays tribute to the sunshine state with its roofless bodystyle, backwards-hinged doors and bright teal paintwork.
In addition to having its roof lopped off, the A1A Optima also had its windshield shortened to give the car a sportier look. Kia strategically reinforced the Optima's chassis with steel tubes to improve the structural rigidity of the topless sedan.

The A1A Optima rides on a suspension that has been lower noticeably over the standard Optima sedan. The concept rides on a set of 20-inch custom wheels, completing its beach-ready look.
The A1A Optima is strictly a four-seater with a center console taking up the middle seat in the back. Living up to its show car billing, rear seats are accessed via a set of rear-hinged doors.

Dodge Challenger GT AWD
Ever thought you needed a Challenger fit for all conditions? If the answer is yes then the GT AWD is the car for you. The year-round muscle car has been widened for the AWD system and comes with 20-inch wheels. Parts are taken from the Dodge police car and the uprated 5.7-litre HEMI engine will produce 440hp.
It's painted in destroyer grey with orange trim and is completed by a unique spoiler and chin splitter. It's mean, fast and, for now at least, just a concept.
This SEMA Dodge has a widebody kit and massive fender flares. Still, the 11-inch-wide rear wheels are barely able fit beneath the bodywork. Of course, SEMA being SEMA, Dodge couldn't just stop there: There's also a chin spoiler, rear spoiler, unique Mopar graphics and Destroyer gray paint, with Header orange and Matte black graphics, to round out the exterior of the Challenger.
The interior takes color cues from the exterior, and features Header orange stitching over Katzkin leather seats, center console, shifter boot and side panels. Suede inserts adorn the seats, and a flat-bottom steering wheel completes the interior.
Chrysler 300 Super S
The regulation 300C is hardly a shrinking violet but add a matte blue finish and a grille made of miniature Mopar logos and you get quite the machine. The Super S has been lowered with 22-inch concept wheels. Its 5.7-litre HEMI gets a boost of 75hp, too, while inside there's a new flat-bottomed steering wheel and plenty of premium styling, none more pleasing to the eyes than the concept Katzkin light grey leather seats trimmed in blue stitching.
At the back, a pair of aerodynamic enhancements can be found, specifically the concept rear valley and the deck-lid spoiler. Last but not least are the Super S and Mopar Design badges that are spread throughout the body of the 300 Super S Concept, highlighting the car's exclusive status.
Power comes from a HEMI-powered 5.7-liter V-8 engine gets Mopar's Stage 1, Stage 2, and Stage 3 Scat Pack upgrade kits. That's a wide range of power updates that takes the 300's standard V-8 output of 363 horsepower and 394 pound-feet of torque up to 393 horsepower and 428 pound-feet of torque (Stage 1), 405 horsepower and 428 pound-feet of torque (Stage 2), and 485 horsepower and 457 pound-feet of torque (Stage 3).
Jeep Wrangler Red Rock
This year's SEMA event has featured a lot of off road vehicles, and few vehicles scream off road like the Red Rock Jeep Wrangler.
Just 50 of the Red Rock Jeep Wranglers will go on sale as Jeep celebrates 50 years of its Easter Jeep Safari event by creating this ultimate model. The Wrangler is a trademark convertible model with canvass coverings but is set apart by a custom red paintjob and unique decals on the bonnet. LED headlamps and fog lights are also added for the special model while the rubicon winch will be given a Jeep warranty for the first time. It's been treated in a special coating to protect from rust.
The Red Rock rides on "next-generation" Dana 44 solid front and rear axles, with electronic locking differentials and a Rock-Trac transfer case sporting a 4:1 low range. The manual-transmission-equipped Jeep also has a 73.1:1 crawl ratio for getting over tough obstacles.
On the inside, the Red Rock concept features Amaretto Brown Katzkin leather seats with silver accent stitching, and plenty of "Red Rock" callouts. There's also a CB radio.
Those are just five of the vehicles we really liked at the SEMA show. And we can make custom car mats that would fit those or any other vehicle.
Comment below with your thoughts about the vehicles above or get busy designing your own custom floor mats.