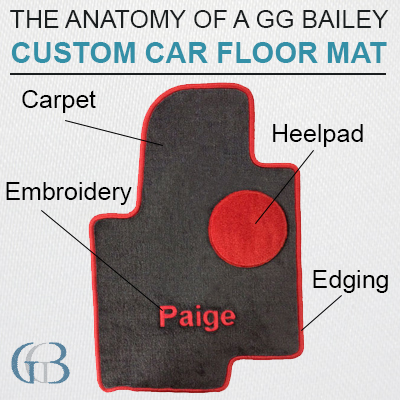 GG Bailey makes custom fit, one-of-a-kind car floor mats that you can design yourself.
With GG Bailey's Design Your Car Mats™ system, your auto floor mats can be uniquely yours. Choose carpet and edging colors, add embroidery or a logo, and give your mats extra protection with a matching heel pad. Plus your stain-resistant, luxury mats will be cut to a custom fit perfect for your vehicle.
Our products are made with the highest quality materials. You Design Your Car Mats™ with our many different features and options, as illustrated below. We have so many options for each of the four steps that the number of design combinations are almost limitless. In fact, we have so many choices that it could be a bit overwhelming, so we decided to break down each choice and explain the options in a useful way.
After you learn about the anatomy of a custom GG Bailey floor mat below, remember that we still have a couple of days left on our free ground shipping* special. All orders placed now through Sunday will be shipping for free. No coupons or vouchers needed -- simply choose the free option when checking out.
All GG Bailey custom floor mat orders are processed in about two business days, and shipping only takes about four days to most of the United States, so you will have your new personalized floor mats in no time. Enjoy!
1. The carpet
We have two types of carpet to choose from: The solid carpets in our Design Your Car Mats™ section and the luxury quality designs in our Car Couture™ collection. So the first choice you make it whether you want to custom design your own car floor mats or if you want to pick out one of the heavier weight patterned designs.
All of our carpets have a European velour look and are made of the strongest, most durable and trouble-free carpet fibers available today. These carpets have been developed with built-in resistance to soil and stains. In fact, we design our own carpet, working with the leading yarn suppliers in the world. We produced the first European velour car floor mats in the world, and they are now the standard in the world's most elegant automobile models.
All our auto floor mats are made with superior stain resistance and backed with our factory quality material to prevent mat movement without damaging your vehicle's floor carpet.
We offer 10 color options when you design your own car mats, and 11 options when you choose the luxury Car Couture option. If you pick a pattern, then you are done at this point because the edging options are include, but if you design your own car mat, keep reading.
2. The edging
Our options include two styles of edging: serging and binding, and the binding options also include reflective and ribbon edging. Binding is a smooth fabric edge and serging is a stitched yarn edge.
Our premium Saratoga ribbon bindings are available in polka dots, plaid and stripes, and our and L.A. bindings are available in camo and reflective. Our standard binding comes in nine colors, and our serging is available in 21 colors, including a pair of two-tone options.
The purpose of the edging, of course, is to give the mat a finished look and to make sure the carpet edges don't fray. The serged edge is a bit thicker than the bound edge, and there are a lot more color options when you pick that option. It's really all about your own sense of style.
3. The heelpad
If you've ever had a set of floor mats in your car for more than a couple of years, you probably notice the spot that tends to wear out first is the spot underneath the driver's right heel. That makes sense, of course, because working the pedals means that spots sees the most action.
Our heelpads are meant to protect that spot and therefore extend the life of your custom car mats.
This is an exclusive option that prevents wear and tear on your car floor mats with an extra thick carpeted pad that goes under your heel area in the driver's side mat. All of our heelpads are applied with a special finished edge. They come in two styles – rectangular or round – and are available in 19 different colors.
While this is an optional step when you design your car mats, it is a very affordable way to more than double the life of your mats. Our carpets are top quality and engineered to last, but with a heelpad your new mats will last that much longer.
4. The embroidery
The last part of a GG Bailey custom car mat is the part that gives you the most freedom to personalize your design.
Our personalized embroideries are available in block or script lettering and in 18 color choices that are directly embroidered into the carpet. You can add a custom word, slogan up to 10 characters (including spaces), your initials, or the classic look of a monogram.
We also offer embroidered logos representing sports, aquatic themes, pink ribbon, racing, and patriotism.
Our embroidery colors are designed to match the edging and heelpad options, so you can create a matching look. But you don't have to! There are so many options with our custom car mats that you can decide on just about any look that you like.