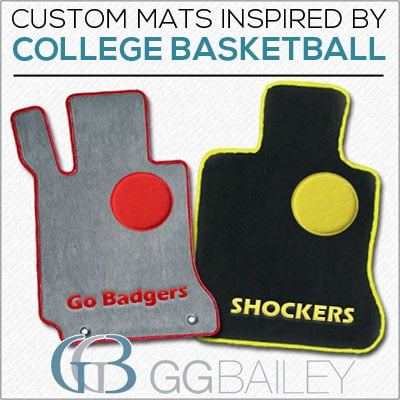 The NCAA men's college basketball tournament has now reached the Sweet 16, and the action continues Thursday, so there is still time to custom design car floor mats that show support for your favorite team!
To celebrate the tournament, we are offering
free ground shipping
*! Just add your own custom designed car floor mats to your cart or pick a pattern from our
Car Couture™
line and you will get free ground shipping.
There have already been a couple of surprising upsets, but a few of the favorites remain in play. Thursday's matchups include Wichita State (7) at Notre Dame (3), North Carolina (4) at Wisconsin (1), West Virginia (5) and undefeated Kentucky (1), and Xavier (6) at Arizona (2).
Using the Design Your Car Mats™ tool from GG Bailey, you can use the appropriate combination of options from our thousands of possible selections to custom design personalized car mats that meet your need. There are only four steps, but near limitless design combinations, so you can design the custom fit mat that perfectly fits your style choice.
Below we custom designed car floor mats in honor of two teams we expect to meet up in the Elite Eight: Wisconsin and Wichita State. Wisconsin is obviously a favorite over North Carolina, but we are hoping that Wichita State pulls the upset over Notre Dame. Check out the step-by-step process below to see how we personalized GG Bailey car mats to support two college basketball teams. And remember, if you don't have a favorite team, we have a basketball available in our logo selection when you Design Your Mats.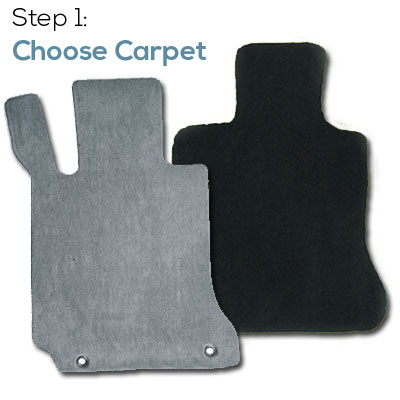 Pick your carpet color
The design process begins after you enter your vehicle year, make, and model, and chose the number of mats you want (front only, a whole set, or a cargo mat). The first step is to pick a carpet color. For our two new college basketball floor mats, we picked a grey carpet for Wisconsin and black for for Wichita State.
All of our carpets have a European velour look and are made of the strongest and most durable, trouble-free carpet fibers available. These carpets have been developed with built-in resistance to soil and stains, so you don't have to worry about wear and tear associated with normal use. In fact, we work with the world's leading yarn suppliers to design our own carpet, and we produced the first European velour car floor mats in the U.S. Our mats are now the standard in the world's top automobile models.
All of our car floor mats are backed with our Open Cell Foam backing to prevent mat movement. Not sure which carpet color is best for your custom design idea? You can request a free swatch kit and we will send you samples of each of the carpet choices in our Design Your Mats™ and Car Couture™ lines.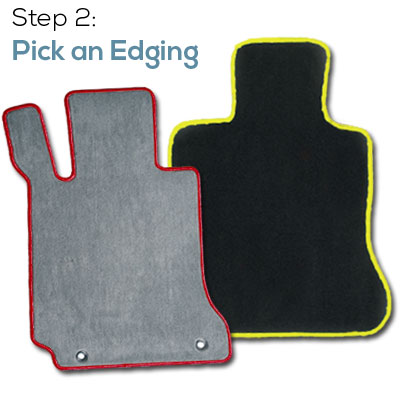 Choose an edging type, color
The next step in the custom design process is to pick your edging. We offer two kinds of edging: serging and binding, which also includes reflective and ribbon binding. Binding is a smooth fabric edge and serging is a stitched yarn edge. Both types present a great finished look that only enhance the overall finished quality of your car mats.
Our premium Saratoga ribbon bindings come in polka dots, plaid, and stripes, and our L.A. bindings are available in camo and two types of reflective styles. Our standard bindings are available in nine colors, and our serging is available in 21 colors, including a couple of two-tone choices (red/black and yellow/black).
For our 2015 college basketball tournament car floor mats, we picked a yellow serged edge for Wichita State and a red serging for Wisconsin. You can see examples and learn more about the edging options by clicking here.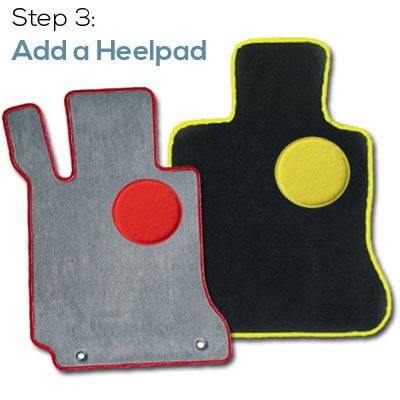 Pick a heelpad shape and color
The third step is optional, but you can select to add an extra level of protection to your car mats by adding a heelpad. This is an exclusive offering that helps slow down wear and tear on your personalized floor mats with an extra thick carpeted pad that goes under the heel area on the driver's side floor mat. Our heelpads are applied with a special finished edge, and they come in two shapes – rectangular and round – and are available in 19 different colors.
As you can see, we picked a round yellow heelpad for Wichita State and a red rectangle heelpad for Wisconsin.
Heelpads are the best way to protect your floor mat from daily wear and extend the life of your new custom fit car floor mats. Click here to read more about the value of adding a heelpad when you custom design your OEM fit car floor mat.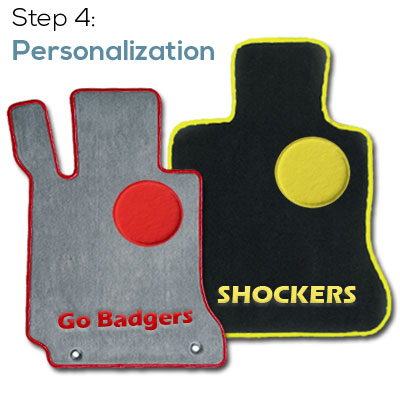 Personalize your custom floor mat
The last step to design your custom fit car floor mat allows you to make your mats one of a kind, because this is when you personalize your car floor mats! Our personalized embroideries are available in both block or script lettering and come in 18 color choices that are directly embroidered into the carpet. You can enter a custom word, phrase, or slogan with as many as 10 characters (including spaces), your initials, the classic look of a traditional monogram, or our single letter monogram.
For our custom designed college basketball floor mats, we added the words Go Badgers in red block for Wisconsin and SHOCKERS in yellow block to complete that school's black and yellow color scheme.
If you choose a monogram when you design your floor mat, be sure to enter your initials in order. We will then take your third letter and make it the bigger letter in the middle. If you prefer your initials in order, all the same size, simply choose the embroidery font and type the letters as you'd like them to appear. See more examples of the options by clicking here.
Once you complete your custom floor mat purchase we will make and ship your mats in two business days or fewer. Click the button below to get started, or see the patterns of our luxury Car Couture™ line if you prefer animal or oriental patterns!
*Free ground shipping in the contiguous U.S. only.