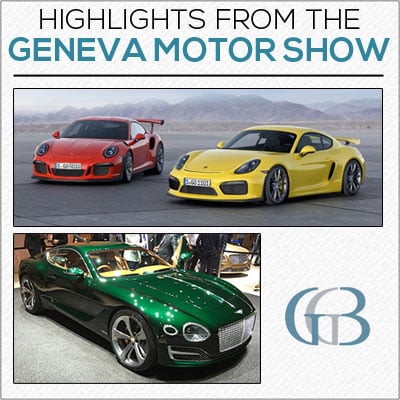 The Geneva Motor Show just wrapped up for 2015 and there was plenty for the automotive world to get excited about, including the Rinspeed Budii, which featured custom floor mats designed by Racemark International, the parent company of GGBailey.com.
Racemark International has always been on the forefront of car mat development and was the first company to create a carpet car mat, as well as a European velour carpet for car mats. GGBailey.com uses the same materials for our custom carpet car mats. You can visit our Design Your Car Mats™ page to choose from thousands of design combinations to create your own one-of-a-kind personalized floor mat, or you can pick one of 10 luxury patterns from our Car Couture™ line.
The Geneva Motor Show, meanwhile, is one of the largest car shows in the world, and this year's event featured more manufacturers and exhibitors than ever before. Keep reading below to see some of the vehicle highlights.
Porsche flexes some muscle
Porsche had two powerful cars on display during the Geneva Motor Show.
The Porsche 991 GT3 RS is powered by a 4.0 liter, 500 horsepower flat-six engine paired with with a 7-speed dual clutch PDK transmission only. It also boasts variable locking differential and weighs slightly less (22 pounds) than the standard GT3. Other visual differences include a larger rear spoiler, bigger air intakes, and a prominent front spoiler lip.
All that adds up to a 0-60 time of only 3.1 seconds, a top speed of more than 200 miles per hour, and a quarter-mile time clocked at 11.2 seconds.
Porsche's Geneva display was all about performance this year. The Porsche Cayman GT4 attracted a huge amount of attention earlier this year when Porsche released official details. Whilst the GT4 isn't quite as raw and race-ready as its older brother, it is widely anticipated to be one of Porsche's best models to date.
The Porsche Cayman GT4 is a lighter, more powerful, more extreme version of the popular Porsche Cayman. The mid-mounted 3.8-litre flat-six now produces 385 horsepower, and does 0-60 in 4.4-seconds with a top speed of 183 mph. Outside the GT4 gets a large fixed rear wing together with a reworked front facia and a new rear diffuser.
It can also be loaded with additional options, including PCCB ceramic brakes, carbon fiber reinforced shell seats and an all new and unique "Track Precision app" and Club Sport Package. The interior also gets a series of unique parts and components.
GG Bailey loves Porsche because one of the founders of our parent company, Racemark International, raced for Porsche of America. You can read more about our legacy here.
Ford has two international debuts
Although the public got a first glimpse of the car last month, the all-new Ford Focus RS made its official, global debut at the Geneva International Motor Show.
The third-generation Focus RS is one of 12 performance cars Ford Motor Company plans to introduce now through 2020. The all-wheel-drive hatchback will come equipped with 315-plus-horsepower, 2.3-liter EcoBoost engine and will be the first RS model available in North America.
Ford also showed off it's GT supercar, which was first revealed in Detroit in January.
The supercar is getting a new, twin-turbo, 3.5L EcoBoost V6 from Ford that will produce more than 600 horsepower.
The rear-wheel drive, mid-engine GT is being made with carbon fiber, aluminum and other lightweight materials. Ford's aim for aerodynamics is obvious in the design of the GT, with what Ford describes as an "optimum tear-drop shape" and an "aircraft-inspired fuselage."
The company aims to have the GT compete with the likes of the Lamborghini Aventador, McLaren 650S and Ferrari 458 Speciale. That means its pricing will likely be north of $200,000, according to analysts.
Bentley's surprise
One the most lauded vehicle debuted at the 2015 Geneva Motor Show was the Bentley for their EXP 10 Speed 6 Concept. The car caught most show-goers by surprise because there was no teaser campaign leading up to the event.
Painted British Racing Green, the sports coupe showed that the brand can use some of its signature style in a relatively less expensive concept. The EXP 10 Speed 6 Concept is a two-seater that features the agressive Bentley fenders in the rear, and egg-crate-style grill, and a swooping roofline.
Inside, the car stands out with a beautiful leather-wrapped steering wheel, large pedals dressed up in chrome and a digital gauge cluster. The car's functions can now be controlled by a touch user interface in the center console.
As for the car's future, Bentley boss Wolfgang Durheimer says it could be a future model for Bentley alongside the Continental GT.
GG Bailey is a big fan of Bentley because Racemark International provides top quality car floor mats for the brand from their facility in Switzerland.
You can get the same level of quality when you order custom fit, personalized car floor mats from GGBailey.com. All orders are processed in about two business days, and we can make custom fit mats for all makes and models.
Check out the options now!