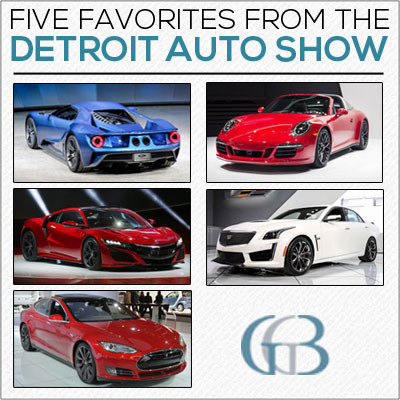 The North American International Auto Show, commonly referred to as the Detroit Auto Show, is underway this week and continues until Jan. 25. It is the first major auto show of the year, and one of the most important ones.
Automakers use the show to debut their latest concepts and production model vehicles, and because we make custom fit, custom designed car floor mats for all makes and models, we always like to see what new cars, trucks, and SUVs will be hitting the highway soon.
More than 500 vehicles are on display, and the show opens to the public this weekend. But if you can't make it to Detroit, then keep reading, because we picked five vehicles at the show that we are excited about and look forward to making mats for.
Using our Design Your Car Mats™ tool, our clients can custom design their own personalized car floor mats. There are only four steps to design a set of personalized floor mats but thousands of possible design combinations. You pick from one of 10 carpet colors, choose one of 41 edging options, then pick an optional heelpad shape and color, and then personalize it.
Our Car Couture™ line features 10 luxury quality, woven patterned carpets. We have leopard and zebra car floor mats, black oriental, red oriental, beige plaid, beige chariot, camouflage, and our subtle style two-tone carpets in grey and beige.
We expect when the cars below make it to the market, we'll start making custom car mats for them soon after.
1. Acura NSX
The 2016 Acura NSX supercar debuted this week, and car collectors Jay Leno and Jerry Seinfeld are already getting in line to buy the first one. Scheduled for production this summer, the $155,000 car should be delivered toward the end of the year.
The 2016 NSX has a twin-turbo V6 engine but includes three electric motors — one for each of the front wheels and a third teamed with the midship engine, making the powerful car a hybrid.
The body has an aluminum frame but also uses lightweight steels and has a carbon fiber floor. The car was made longer and wider to fit the engine. An all-wheel-drive, the vehicle sits low and has functional vents in the hood, front and rear fenders for cooling and downforce.
Paired with the engine is a 9-speed dual-clutch transmission, and the car has ContiSportContact performance tires and Brembo carbon-ceramic brakes to make it one of the world's most advanced supercars.
2. Porsche 911 Targa 4 GTS
The latest version of one of the most iconic Porsche models, the new 911 Targa 4 GTS is getting a major horsepower upgrade -- the 3.8-liter flat-six churns out 424 horsepower, enough to launch it from 0 to 62 mph in a mere 4.3 seconds.
It also adds a number of sporty features, including an adaptive suspension, sport exhaust, 20-inch Turbo S black wheels and Sport Chrono package. Visually, there are unique mirrors, chromed exhaust pipes and GTS logos on the door.
Inside, the 911 Targa 4 GTS is trimmed with black Alcantara and it sports the GTS logo on its Sport Plus Seats. To put all the power to the pavement, the GTS comes standard with all-wheel-drive -- reflected in the Targa 4 designation.
A U.S. release date has not yet been announced.
3. Tesla Model S P85D
Tesla showed its new Model S P85D, the upgraded version of the Model S it has been showing off since 2011. The P85D offers massive performance potential in an electric package.
Tesla's new addition comes with 691 horsepower spinning all four wheels (470 horsepower just in the rear), and the electric sport sedan can hit 60 mph in 3.2 seconds and reach a top speed of 155 mph.
The example of the new Model S P85D on display at the 2015 North American International Auto Show provides a perfect up-close look at one of these crimson beauties. Sporting dark wheels and a carbon fiber rear spoiler, the exterior certainly doesn't hide the P85D's high-performance ability. The car interior brings its own sporty opulence with carbon trim, sport seats and an Alcantara headliner.
The Tesla Model S P85D is scheduled for delivery beginning next month.
4. Ford GT
The show is in Detroit, so of course Ford had to bring out the big guns with their new Ford GT.
The 600-plus-horsepower supercar is modeled after the GT40 endurance racer that first broke hearts in the 1960s. The new one is beautiful, loaded with carbon fiber and aluminum and built with twin-turbo and wind tunnels, but it will also break wallets: Ford won't give a price, but some speculate it could cost about $250,000.
A new 3.5-liter twin-turbo EcoBoost V6 produces more than 600 horsepower and is channeled to the rear wheels through a seven-speed twin-clutch gearbox. The GT's suspension setup includes an active racing-style torsion bar and pushrod architecture, with adjustable ride height. Twenty-inch wheels carry bespoke Michelin Pilot Super Sport Cup 2 tires, with rubber compound and structure designed specifically for the GT. Brembo carbon-ceramic brake discs are standard.
It was also one of the few new supercars not introduced in red.
5.
Cadillac CTS-V
Cadillac updated the CTS-V performance sedan with a 640-horsepower, 6.2-liter V8 engine -- basically the Corvette Z06 engine -- and now this car will produce a staggering 630 lb-ft of torque, good for a zero-to-60 mph time of 3.7 seconds. It features a high-tech automatic transmission that tweaks responsivity based on how you're driving.
All that makes this Cadillac's most powerful production vehicle ever.
A ventilated carbon fiber hood, Brembo brakes and GM's magnetic ride suspension are standard. The suspension has been stiffened and retuned for the occasion, there are four drive modes (tour, sport, track, and snow) and the CTS-V comes with 19-inch aluminum wheels wrapped in sticky Michelin Pilot Super Sport tires. A limited-slip differential is also standard.
Inside, the CTS-V offers suede and carbon fiber trim and Recaro sport seats. Electronic add-ons include a front camera to make sure you don't scrape the low front splitter, automatic parallel parking, lane-keeping assist, and blind-spot monitoring.