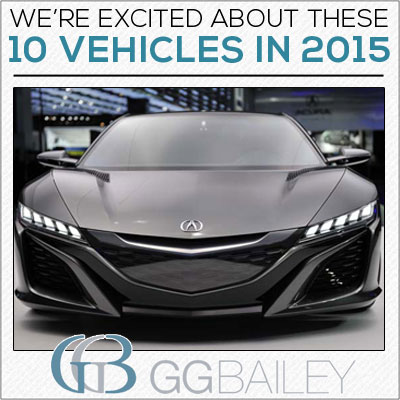 A lot of fans of GG Bailey always order new custom car mats any time they buy a brand new vehicle, and we always look forward to making personalized floor mats for the latest makes and models.
To make sure we have the patterns to make custom fit car floor mats for the newest models, we like to keep an eye on the vehicles that are being released. That means, with 2015 just underway, it is a good time to look at the 2016 models that will be released this calendar year.
Car companies had a good year in 2014, and they look to capitalize on that trend by rolling out some new models in 2015. We've written about some of these vehicles before, as they made their debuts at auto shows around the country last year, but this year they will finally hit the road.
If you find yourself the proud new owner of one of these exciting new models this year, remember that you can design your own personalized car floor mats using our Design Your Car Mats™ tool or pick a luxury quality pattern from our Car Couture™ section.
If you already have a new vehicle, but don't see it listed among our drop down menus, you can request it here. Below, in no particular order, are 10 cars coming out in 2015 that we're excited about.
1. Tesla Model X
Expected for delivery in late 2015, Tesla's Model X is a vehicle a lot of people are excited about. The seven-passenger Model X promises to be more versatile and family-friendly than the Model S, and will double the size of Tesla's current U.S. lineup when it eventually goes on sale.
The Model X looks a lot like a Model S that has been stretched vertically. Its grille, headlights, taillights, and general contours are similar to the sedan's. Even the two cars' dashboards are nearly identical, with the X inheriting the S's giant, 17-inch central touch screen and reconfigurable gauge cluster. However, the Model X has two key differences: a set of rear "falcon-wing" doors and a forward-facing third row of seats.
Originally slated for early 2015 release, production delays have pushed the Model X closer to the end of the year.
2. Cadillac SRX
The SRX crossover was an immediate hit when Cadillac introduced it, but the handsome five-seater has grown old. Cadillac needs a new model with the latest features and improved fuel economy to cash in on the boom in luxury SUVs.
The new 2016 Cadillac SRX will become narrower which will create more space for a larger chrome grille and the interior area as well. The new Cadillac SRX will be built on an Omega platform which will give the car a more futuristic look. Furthermore, the new model will have newly designed LED headlights which will have the length of 204.2 inches. As far as the interior design is concerned, it will be highly improved with new high-quality materials such as leather and plastics. It will be able to accommodate seven passengers.
3.

Acura NSX
Designed, developed and built in the USA, this all-wheel drive hybrid super car is the heart of Acura's plan to become a leading luxury brand. The two-seat NSX will be one of the most eagerly watched introductions at the North American International Auto Show in Detroit later this month.
While it will sell in small numbers, Honda engineers are throwing the kitchen sink at the NSX — including separate electric motors for each of the front wheels and a mid-engine gasoline-electric hybrid package — to reestablish Acura as a go-to brand for performance, technology and excitement.
4. Jaguar XE
Jaguar's first compact sedan launches the British brand into direct competition with aggressive sport sedans like the BMW 3-series and Cadillac ATS. It's a tough market, but success is vital to Jag's global growth plan. An expected all-wheel drive model could help.
The XE is one of the first tests of the Indian Tata Group's ability to develop a luxury car without former Jag owner Ford's help. Jaguar says this new sports sedan will "challenge the status quo of luxury car brands and rewrite the rules of its class."
6. Lexus RX
Like the similar-sized Cadillac SRX, the Lexus RX is one of the older five-seat midsize luxury SUVs on the market. It's also the best-seller in its segment, and the vehicle other automakers gear themselves up to compete with. This car might show up at the Detroit Auto Show.
Expect advanced features and a luxurious interior to keep the competition on its toes. The 2016 RX is expected to fall in line with Lexus' latest design language thanks to a large spindle grille up front and a noticeable sharper look all around. Mechanically, the next RX will continue to be offered with a V6 engine and a gasoline-electric hybrid drivetrain. Front-wheel drive will come standard, and buyers looking to tackle adverse weather conditions will be able to order the crossover with all-wheel drive.
6. Lincoln MKX
Ford's luxury brand is basking in the warm response to the smaller MKC SUV it launched in 2014. The five-seat MKX needs to make a big impression to maintain that momentum and compete with the replacements for the SRX and RX.
Look for Lincoln to build on its strength making high-end interiors with the new MKX. The new Revel audio system will also debut on the MKX, which should be on sale this spring.
Under the sheetmetal, you'll find the same underpinnings as the latest Ford Edge, with the MKX to likely use a 2.0-liter or 2.3-liter turbocharged EcoBoost four-pot as its base engine, and a 2.7-liter EcoBoost V6 with over 300hp at the top, all paired to a six-speed automatic transmission with available four-wheel drive.
7. Volvo XC90
The XC90 was one of the most popular European SUVs when it debuted, but it's been on the market too long, with too few updates. Volvo product development slowed to a crawl when Ford sold the Swedish brand to a Chinese company during the Great Recession.
The company's getting back on its feet, and the XC90 is key to winning back safety-conscious family buyers who are Volvo's core audience. The 2016 Volvo XC90 T8 will be a plug-in hybrid SUV that uses Volvo's new Twin Engine powertrain built around a turbocharged and supercharged four-cylinder gasoline engine. According to Volvo, peak output is a V-8-like 400 horsepower and 472 pound-feet of torque, which is enough to get the seven-seat SUV moving from 0-62 mph in just 5.9 seconds. And when it comes to fuel efficiency, Volvo says owners can expect 59 MPGe for the combined cycle.
8. Honda HR-V
Honda's entry in the hot subcompact SUV market, the HR-V could win the brand new buyers, thanks to slick looks and one of the larger engines in the segment. Experts think it's going to get a lot of attention and that the small crossovers market will be a strong one this year.
Fuel economy, price and features will be key for the HR-V, whose competitors will include the Chevrolet Trax and Fiat 500X. The HR-V looks to have one of the roomier interiors in the pack.
Compared to Honda Fit, the 2016 HR-V is significantly wider and taller while stretching more than 9 inches longer on a wheelbase that covers nearly 3 inches of additional real estate. The result is a cargo bay that, at 24.7 cubic feet, claims nearly 7 cubes more than Fit. Fold HR-V's rear seat and you'll get a whopping 58.8 cubes.
9. Hyundai Tucson
Speaking of crossovers, Hyundai's smaller SUV will grow slightly larger in 2015 to make room for — you guessed it — a future subcompact crossover. That will push it closer in size to the Santa Fe, potentially creating a traffic jam on Hyundai dealership floors.
The platform will be all-new, making extensive use of high-strength tensile steel. By making the body rigid, the suspension can become softer, more compliant with the road. Officials have hinted a premium ride feel, improved NVH (noise vibration harshness) and a more engaging, responsive steering will make this a top choice in the C-SUV segment.

US-spec models will get the same engines as the 2015 Sonata, including the 2-liter turbo model, a first in this segment. Europeans will be treated to EU6 diesels aimed delivering around 10% better fuel consumption.
10.
Jeep Renegade
Developed primarily for sale in Europe, China and other regions, the subcompact Renegade's appeal in the U.S. is unknown, but Jeep could use an appealing entry-level model. A lot will depend on whether the Renegade delivers on Fiat Chrysler's promise of serious off-road capability. The vehicle has been scheduled for release this month.
The Jeep Renegade sits 166.6 long and 71.0 inches wide, a bit bigger category. Wheelbase is at 101.2 inches, outmatching the Juke and other competitors like Mini's Countryman.
The base Sport model features a 1.4 liter, turbocharged engine that produces 160 HP and 184 pound-feet of torque and is only available in a six-speed manual. Other features include Hill Start Assist, remote keyless entry and 16 inch alloy wheels. The Latitude model will include a leather-wrapped steering wheel, reverse back-up camera, 5-inch display touchscreen radio and front fog lamps.