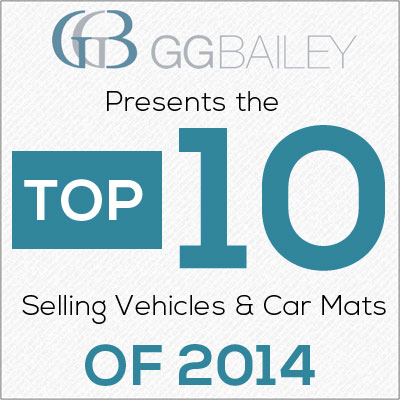 Today is the final day of 2014, so we at GG Bailey have decided to look back at the year and see which vehicles sold best this year.
At GGBailey.com, we make custom fit, custom designed car floor mats for all makes and models. With our Design Your Car Mats™ tool you can pick all the elements to create your very own personalized car floor mat. If you prefer an animal, oriental, or plaid pattern, then the luxury weight carpet in our Car Couture™ section is what you want.
There are only four steps to design your personalized floor mats but thousands of possible design combinations. You start by picking one of 11 carpet colors, then choosing one of 41 edging options. You can then add a heelpad, available in 19 colors and two shapes, and then personalize it with embroidery. You can add an embroidered name or message of up to 10 characters (including spaces) or choose a monogram or initials. We have two font styles available -- block text or script -- and 18 color options. If you prefer an embroidered image instead of custom text or a personalized monogram, we also have 16 logos to choose from. Click here for more details about each step.
Our Car Couture™ section features nine luxury carpet options, from animal inspired patterns to a pair of oriental options, with a few others in between.
These are woven carpets, not printed, which means the designs won't fade over time. Printed designs merely sit on top of the carpet and will fade or disappear entirely as time goes on. On the other hand, woven designs like ours permeate the entire carpet. Each design comes with a matched serged edge and specially engineered foam backing to prevent mat movement.
So you if purchased one the top selling cars of 2014 below, know that we can make custom car mats to fit your style and taste.
The rankings below are based on finalized numbers through November and projections for December.
1. Ford F-150
It should come as no surprise that America's long-time best seller is once again at the top of the list. Ford's F-150 pickup has outsold every other vehicle in America by a huge margin.
Ford had sold more than 430,000 F-150s by July, and most of the year the company has averaged more than 60,000 of the trucks sold each month.
2. Chevrolet Silverado
Despite challenges for the automotive maker in 2014, Chevy's Silverado has not seen a slow-down in sales, as it is the second-best selling vehicle across all segments this year, another clear sign that Americans love their pickup trucks. Of course, the Silverado's new redesign has definitely helped spur on sales.
3. Toyota Camry
Toyota's immensely popular sedan, the Camry has put all of its competitors firmly in their place. Camry sales were particularly eyebrow-raising during the first half of the year, handily smashing sales of the Civic, Altima and Accord. Toyota sold 28,846 of the vehicles in November alone, an increase of almost 14 percent compared to 2013.
4. Ram 1500
The final pickup truck to appear on the list, the Ram 1500 had an impressive start to 2014 with sales of just under 240,000 through the midpoint of the year. A recent redesign and the spinning out of the Ram brand out from under the Dodge label helped the Ram truck line really picked up a lot of momentum among customers. Shoppers got an early jump on the Ram this spring, as March was the biggest month in terms of sales with more than 42,500.
5. Honda Accord
Much like its younger brother the Civic, the Honda Accord has a very valuable name that routinely ranks near the top in sales. Nearly 40,000 Accord units were sold in May alone, and during July, another 35,000 were moved. More recently, Honda sold more than 25,000 in November. The Accord has been a best-seller in the sedan segment for a long, long time, and it doesn't appear this year will see a dramatic change from that narrative.
6. Toyota Corolla
Toyota's Corolla has gone head to head with the Civic for many years, and so far in 2014, it's winning. A bit more than 205,000 Corollas were sold by mid-year, with May, June and July being the best months. A recent redesign has spurred on sales, as new aesthetics and augmented interior features have pushed purchases throughout the year. It also checks in with the lowest starting price on the list. That lower price and high gas milage spurred another 25,500 sales in November.
7. Nisaan Altima
Another Japanese sedan that has taken the top-seller list by storm, Nissan's Altima has had an impressive year by beating out the popular Honda Civic. Although it didn't quite crack the top five, more than 203,000 Altima models were sold across the country before the end of summer. Despite its placement in an incredibly competitive sedan segment, the Altima is proving it can hold its own.
8. Honda Civic
The Honda Civic is a perennial favorite and had a strong year like usual. Attractive because of cost, fuel economy, and reliability, the Civic posted more than 23,000 vehicles sold in November alone. Final sales for the year will almost approach 800,000.
The only makes sense that one of the top selling vehicles in America would also be a vehicle our customers request custom car mats for. The Honda Civic and Honda Accord floor mat sets were some of our best selling car mats in 2014. Customers selected both Design Your Car Mats™ and Car Couture™ for their Honda floor mats this year.
9. Ford Fusion
Ford again cracks the Top 10 best selling cars list with the Ford Fusion. Ford certainly has found a hit with its sedan, which offers a formidable competitor to similar vehicles from Nissan, Toyota, and Honda. The Fusion has seen steady sales most of the year, and had moved 189,440 units by mid-year. Again, more Fusions sold in May than in any other month so far this year, as the summer sales season kicked off. The Fusion offers very good gas mileage and a pleasing design, propelling it up the best-sellers list.
10. Honda CR-V
Honda's popular CR-V compact crossover finishes the list, with total sales of more than 183,000 through the midpoint of the year. Consumers are attracted to the CR-V's incredible versatility and capability, as well as its high resale value. It's ideal for families, but can also be used as a commuter vehicle as well. Sales peaked in May when more than 32,000 CR-Vs left dealer lots.