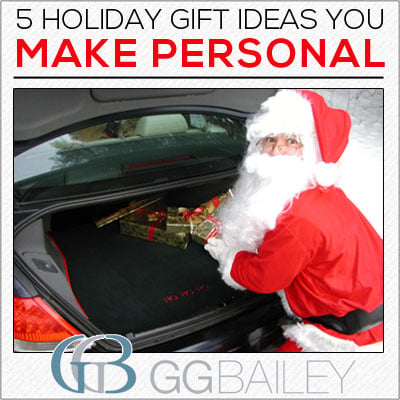 The holiday gift giving season has begun, and the online marketplace is so full of great gift ideas it's hard to know how to pick the perfect present for your friends and family. At GGBailey.com, we like to suggest giving personalized gifts.
We love to give and receive custom gifts and personalized items. So as you look for ideas to please those picky people on your shopping list, consider giving them a one-of-a-kind gift personalized just for them. Custom gifts are not only fun and unique, but they show the recipient that you took the time to design a gift just for them.
We complied a list of five of our favorite personalized gift ideas below, beginning of course with our own custom car floor mats that you design yourself.
Browse our ideas for personalized gifts below, and let us know what you think in the comment section or share your own ideas. Also, if you choose custom car mats from GG Bailey during the holiday season, you'll get free ground shipping* as our gift to you.
If you are looking for gift ideas for car enthusiasts, check out this blog post for 10 awesome ideas.
1. Personalized car floor mats
We may be biased but we think our own personalized car floor mats from our Design Your Car Mats™ section make great gifts. All you need to know is year, make and model of your friend or family member's vehicle to design custom floor mats they will love. Our car mats are made to custom fit each make and model, so those details are important.
There are only four steps to design your personalized floor mats but thousands of possible design combinations. You begin by picking one of 11 carpet colors, then choosing one of 41 edging options. You can then add a heelpad, available in 19 colors and two shapes, and then personalize it with embroidery. You can add an embroidered name or message of up to 10 characters (including spaces) or choose a monogram or initials. We have two font styles available -- block text or script -- and 18 color options. If you prefer an embroidered image instead of custom text or a personalized monogram, we also have 16 logos to choose from. Click here for more details about each step.
Our personalized floor mats really do make great gifts, and we can make custom-fit floor mats for all makes and models. You can even personalize a trunk mat or cargo mat with a custom message or monogram! We make all custom car mats in about two business days, so you won't have to wait long to get your hands on this custom gift.
Visit our Design Your Car Mats™ or Car Couture™ sections to get started. Car Couture is where you can find woven patterns, such as leopard, zebra, oriental, plaid, and more. We have 10 patterns to choose from in our luxury floor mat line.
We also have gift certificates if you would prefer to let your recipient design their own mats.
2. Personalized puzzle
This personalized puzzle allows you to turn your loved one's home (or any U.S. address) into the centerpiece of this 400-piece puzzle, which shows a roughly five-mile-radius map of the neighborhood and includes such details as named roads, contour lines, water features, and notable buildings. The center piece is shaped like a house.
Map puzzle covers an area four miles north/south and six miles east/west of the address that you provide. Each puzzle is made in the UK from quality 1.5mm millboard. The assembled size is 12.25" x 18.5". It is delivered in a presentation box that contains an area allowing you to write a personalized gift message (if shipping direct to a gift recipient, a message can be on an included slip).

Puzzle maps can be made for U.S. addresses only. Because each one is made to order you should allow 2-3 weeks for delivery.
3. Personalized pillows
Looking for home decor that you can personalize? Check out the pillow selections at redenvelope.com. They have dozens on designs with lots of colors available that you can add names or messages to.
The majority of the pillow covers are 100 percent cotton, and the inserts are down, but be sure to pay attention to the details because not all pillows come with inserts. Each design has multiple color options and various ways to personalize the wording.
For other home decor ideas, check out our For Your Home section, where we have sheepskin rugs and entry mats made using our Car Couture luxury weight woven carpets. Our entry mats are available in four sizes and 10 carpet designs.
4. Personalized jewelry
At GG Bailey, we're fans of single letter monograms, and the jewelry from Helen Ficalora would make a lovely gift. The artist has a unique and personal handmade style, and the style is reflected perfectly in her alphabet charms. The charms are about a half-inch in size and range from $155 to $165 depending on your preference of metal.
You can choose any combination of letters to personalize a bracelet or necklace featuring the initials of your friend or family member. The charms are available in gold and silver, with each letter engraved in block print. Jewelry from Helen Ficalora is available in six stores across the country or by calling a custom service line. Details about processing and shipping times were not available on the website.
We recently added single letter monograms to our embroidery selection. Featuring a double circle and either of our front options, this classy designs looks lovely on our custom car floor mats. Just type the single letter you want followed by an asterisk, like so: A*
5. Personalized iPhone case
Your iPhone serves many purposes, including being a repository for your photos. Encase a favorite shot in this shatterproof shell. It adds one more function to the smartphone super-list: a go-everywhere photo frame.
There are lots of options available, including three case types, the finish, and the number of photos used, and custom text in multiple colors. Cases are available for the iPhone 4, 4s, 5, 5s, 5c, 6, and 6 Plus. You need to order by Dec. 12 for delivery in time for Christmas, but express shipping is available for an additional cost.
If you are considering ordering custom car mats from GGBailey.com, you should order by Dec. 16 to allow time for production and shipping using FedEx Ground. Look at this map for the FedEx ground shipping schedule. Free ground shipping will continue through the holidays, but orders placed after Dec. 16 with ground shipping may not make it in time. We do have express shipping available.
*Free ground shipping good for the contiguous U.S. only.