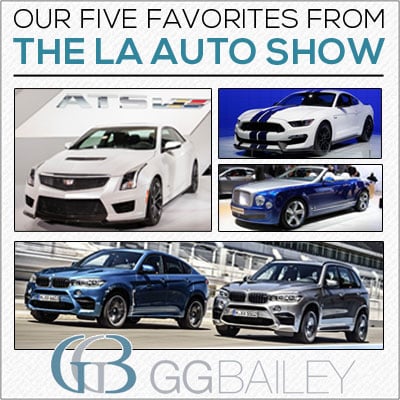 The 2014 Los Angeles Auto Show is now open to the public, and it is full of important debuts from automakers all around the world. Because we make custom fit, custom designed car floor mats, we like to keep an eye on the new vehicles coming out so we can be ready for our customers who drive these new cars.
The LA Auto Show, which runs from Nov. 21 to Nov. 30, features debuts from Chrysler, Ford, General Motors, Audi, Honda, Mazda, Toyota, and Volvo. We have been followingall the news from the event and have picked our five favorite new vehicles that are display in Los Angeles.
If you end up driving one of these awesome vehicles, remember that GGBailey.com can make custom fit, custom designed car floor mats for all makes and models. If you have a brand new vehicle that we don't yet have in our database, you can request it by completing the form on this page.
With our Design Your Car Mats™ tool you can choose your carpet color, edging type and color, a heelpad shape and color, and add embroidery in one of 19 colors. If you prefer a pattern, our Car Couture™ line features several high quality woven designs, including oriental options, animal patterns, camo, plaid, and two-tone choices.
Whatever you choose, we will make your mats in two business days. Our mats also make great gifts, so with the holidays approaching you should consider giving GG Bailey custom car mats to your loved ones.
Check out our five favorite debuts from the LA Auto Show below, and then comment at the bottom to let us know what you think or share your favorite.
2016 Cadillac ATS-V
The first-ever ATS-V will introduce class-leading twin-turbocharged power and a comprehensive suite of design and performance systems when production begins in spring 2015. It will be available in sedan and coupe forms.

Since its introduction in 2004, Cadillac's V-Series has added impressive power and performance capability into the brand's growing luxury car range. Building on the ATS platform, the V-Series adds considerable track capability to what was already the lightest and most agile-driving car in the luxury compact class. The result is a luxury performer – a car with high performance value from the factory that is also a sophisticated luxury car on the road.

The ATS-V arrives next spring, powered by the first-ever twin-turbocharged engine in a V-Series. Rated at an estimated 455 horsepower and 445 lb-ft of torque, the engine is the segment's highest-output six-cylinder and enables 0-60 performance in 3.9 seconds and a top speed of more than 185 mph. It is backed by a six-speed manual – with Active Rev Match – or a paddle-shift eight-speed automatic transmission featuring launch control and Performance Algorithm Shift.
2016 Ford Shelby GT350 Mustang
One of the most iconic performance Mustang version of all time is returning, Ford announced at the LA Auto Show with the reveal of the brand new Shelby GT350 Mustang.

The original Shelby GT350, introduced in 1965, established Mustang's performance credentials. The all-new Shelby GT350 Mustang, featuring the most powerful naturally aspirated Ford production engine ever, is a world-class performance vehicle, designed to tackle the world's most challenging roads – a top quality track car that's also street legal.

The new GT350 expands on Carroll Shelby's original idea – transforming a really nice every-day car into a dominant road racer – by taking advantage of a dramatically improved sixth-generation Mustang to create a special driving experience. Drivers lucky enough to get behind the wheel of a Shelby GT350 will be treated to the most balanced and nimble production Mustang yet.

Ford engineers took an innovative approach with GT350. Rather than develop individual systems to perform well independently, every component and shape is optimized to work in concert. While paying rigorous attention to detail, the team pushed the envelope with cutting-edge materials and technologies.
Bentley Grand Convertible Concept
Bentley's Grand Convertible is technically a concept, and has not been confirmed for production yet. But it appears to share much with the Mulsanne and looks ready for sale, so most automotive experts expect it will hit the market sooner rather than later.
This Grand Convertible is designed in the same vein as the Azure. A 530bhp, 811lb-ft 6.75-liter twin-turbo V8 engine drives the rear wheels, and that's probably one of its subtler boasts. The Sequin Blue paint was designed from the sequin of a haute couture gown, and the wooden tonneau cover is hand made of dark-stained burr walnut.
We're a huge fan of Bentley because our parent company – Racemark International – makes the car floor mats for the brand. When you order custom mats from GG Bailey, you are getting the same top quality carpet floor mats as the best automotive brands in the world. The only difference is that you get to custom design your own car floor mats at GGBailey.com.
Mercedes-Maybach
Mercedes-Benz announced at the LA Auto Show that it is bringing back the Mayback brand, this time as a sub-brand called Mercedes-Maybach that will specialize in ultra-luxury, the same way the Mercedes-AMG sub-brand specializes in performance.
The version debuted in Los Angeles was a Mercedes-Maybach S600, powered by a twin-turbocharged 6.0-liter V-12 shared with the regular Mercedes S600. The engine is rated at 523 horsepower and 612 pound-feet of torque, the latter of which is available from just 1,900 rpm. Owners can expect 0-60 mph acceleration in just 5.0 seconds and a top speed of 155 mph. Additional powertrains will be available in the near future, including V-6 and V-8 options.
Other perks include a stretched wheelbase that adds an extra 8.1 inches for the rear passengers, more personalization options to choose from, such as unique seats, additional comfort and convenience features, and ultra-luxurious trim elements, including wood and chrome, fiber optic interior lighting, a unique perfumer, and a Burmester 3D sound system.
BMW X5 M and X6M
BMW introduced the new BMW X5 M and BMW X6 M were to the public at the 2014 LA Auto Show. Considered a niche product in the high-performance SUV market, the two M-brothers aim to set the bar higher for BMW in terms of sales and showcase that a heavyweight M car can still be fun on the road and on the track.
The two all-wheel drive Ms benefit from an updated V8 TwinTurbo engine delivering more horsepower and torque, as well as from a tuned up chassis, better and bigger brakes, and Michelin tires to match the performance of the car.
Design wise, the 2015 BMW X5 M and BMW X6 M stand out with their aggressive styling, the recognizable large air intakes and sporty bumper, and now the side functional vents. In the back, the twin tailpipes remind us this is a powerful SUV and that it delivers an impressive sound as well.
Inside the car, the typical M design is present and compared to the previous generation, it is not only sportier but also more luxurious. One particular thing that stands out are the M seats that remind us this is more race car than it looks from the outside.