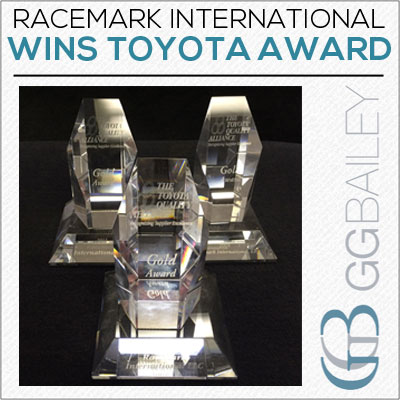 Racemark International recently received the Toyota Quality Alliance 2013 Gold Supplier Award from Toyota Motor Sales, U.S.A., Inc. The Gold Supplier Award is presented to top parts and accessories suppliers who have consistently demonstrated their commitment to product development, product quality, operational quality and product support. This is the third time Racemark has received the Gold Award from Toyota.
"Toyota is a great partner. They recognize the importance of working with their suppliers to continuously improve the products we provide. The result is that it is always getting better. That is what makes the Toyota brand the best. We are proud to have the opportunity to supply the finest car floor mats in the industry over so many years. The award is appreciated by our entire team and motivates us to set even higher goals for our company." said Ginger Cannon Bailey, CEO of Racemark International and GG Bailey.com. "
Racemark supplies automotive floor mats to many top automotive brands including Bentley, BMW, General Motors, Honda, Hyundai, Kia, Mercedes-Benz, Maserati, Mitsubishi, Tesla,Toyota, and Volkswagen. Racemark created the first carpet floor mat in the industry in 1974 and is the leader in floor mat innovation. Racemark has production plants in New York, Georgia, Switzerland and Hungary.
To see the full range of floor mats manufactured by Racemark and to design your own set of custom fit mats, visit our online webstore at GGBailey.com.
Through the website's Design Your Car Mats™ section, anyone can design a solid color floor mat and choose from many carpets, edgings, and heel pad designs. The car mats can also be personalized with names, monograms, or messages. There are more than 500,000 possible design combinations, and custom floor mats can be made to fit any car make and model and are manufactured in two business days.
In addition, the company offers Car Couture™ floor mats, which come in woven carpet leopard, zebra, oriental, plaid, camouflage, and other designs including our new stain resistant Sisal luxury carpet.