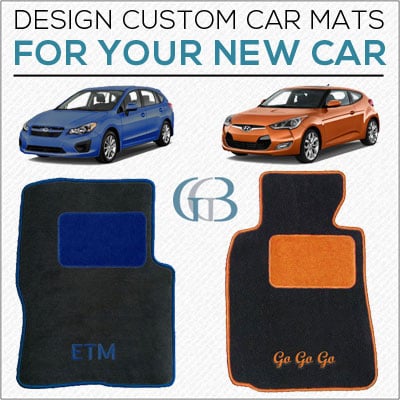 Few factors are as important to car buyers as color, and color alone can help car owners make a bold style statement.
At GGBailey.com, we make custom fit car mats custom designed by our customers, and we have so many options that creating a custom floor mat to compliment your new car is fun and easy. This is one of the many reasons we like to keep an eye on the color trends in the automotive industry.
Back in March we wrote about Pantone's trending colors for 2014 and how you could design floor mats to go with their selections. For this post, we decided to see what hot car colors are available now and see how we could custom design car mats to go with each one.
Using our Design Your Car Mats™ tool, there are only four steps but thousands of potential design combinations. You get to choose your carpet, then edging type and color, give your driver side car mat extra protection with a heelpad, and then finish off the design with an embroidered message, traditional monogram, single letter monogram, or a logo.
We picked four new cars below that feature some of the most popular colors for new vehicles, and then we custom designed car mats for each one. Check out how we did it and then design your own car floor mats.
And remember, if you prefer a patterned floor mat such as oriental style, an animal design, or subtle two-tone, our Car Couture™ line will have something to suit your tastes.
Quartz Pearl Blue
One of Subaru's many color options for many of its vehicles right now is Quartz Pearl Blue, as seen on the 2014 Subaru Impreza Sedan at right. The automaker is one of many to feature a bold blue option recently.
Our Design Your Car Mats™ tool includes several blue options, so designing a custom floor mat to compliment this color is no problem. For this design we started with a black carpet and then picked blue serging for the edging. Serging is a stitched yarn edge.
We offer two types of edging: serging and binding, which also includes reflective and ribbon edging. Binding is a smooth fabric edge. Our premium Saratoga ribbon bindings are available in polka dots, plaid and stripes, and our L.A. bindings are available in camo and reflective. Our standard binding comes in nine colors, and our serging is available in 21 colors, including a couple of two-tone choices.
To stick with the blue theme, we added a blue rectangle heelpad and blue embroidery. The finished product would look great inside a blue Subaru, or any new blue car.
Vitamin C orange
The 2014 Hyundai Veloster is one of many vehicles to include some version of the burnt orange color. Hyundai's specific variety is call Vitamin C. It is a popular color for new cars, and a color we can make custom car mats to compliment.
For the custom car mats to go with this Hyundai Veloster, we picked our black carpet again because black is one of the most popular Design Your Car Mats™ carpet colors. We have 11 carpet colors in total, including a series of greys, neutrals, brown, and even pink.
All of GG Bailey's carpet floor mats have a European velour look and are made of the strongest, most durable and trouble-free carpet fibers available today. The carpets have been developed with built-in resistance to soil and stains, so you don't have to worry about damaging them with regular use. In fact, we even team up with the world's leading yarn suppliers to design our own carpet. GG Bailey produced the first European velour car floor mats in the United States, and they are now the standard in the world's most elegant automobile brands.
Additionally, our Car Couture™ line features nine heavy weight, woven carpet patterns, including animal, oriental, camo, plaid, and more.
To go with the Vitamin C orange, we picked orange serging, an orange rectangle heelpad, and orange embroidery. We chose a script font and the words "Go Go Go."
Cayenne Red
Hybrid vehicles and electric vehicles often have fun color options, and the Nissan Leaf is no exception. The color seen at right is called Cayenne Red, but the car also comes in Blue Ocean and several others. This shade of red lines up closely to our burgundy options, so we designed a custom car floor mat using our burgundy elements.
We started this custom design with black carpet, then picked burgundy serging for the edging. To add some extra protection, we picked a burgundy rectangle heelpad.
Our heelpads are an exclusive option that help prevent wear on your car mats with an extra thick carpeted pad that goes under the heel area on the driver's side mat. All of our heelpadsare applied with a special finished edge, and they are available in two styles – rectangular or round – and in 19 colors.
Heelpads are the best way to protect your floor mat from daily wear and extend the life of your new custom car accessory. Click here to read more about the importance of adding a heelpadwhen you design your custom-fit car floor mats.
To complete this custom car mat design, we added some initials in burgundy script.
Black
To paraphrase Henry Ford, you can have it in any color as long as it is black. Sure enough, one color that is always popular for new cars is black. And one added benefit from driving a black car is that your car accessories can be any color you want and still go well together.
So to go with this black Mercedes-Benz SL-Class, we decided to design something fun. We started by choosing the dark grey carpet, and then added some color by choosing a Saratoga binding that is green with white polka dots. Finally, we finished this design with a silver monogram.
If you choose a monogram when you Design Your Car Mats™, be sure to enter your initials in order. We'll then take your third initial and make it the bigger letter in the middle. For example, if your name is Karen Jane Smith, you should enter your initials as KJS. If you prefer your initials in order, all the same size, simply choose the embroidery font option, not monogram, and type the letters as you'd like them to appear. See more examples of the options by clicking here. You can also check out our new single letter monogram.
Our personalized embroideries are available in block or script lettering and in 18 color choices that are directly embroidered into the carpet. You can choose a custom word or slogan up to 10 characters (including spaces) or pick one of 18 logos.
The options are almost limitless when you custom design your own car floor mat withGGBailey.com.