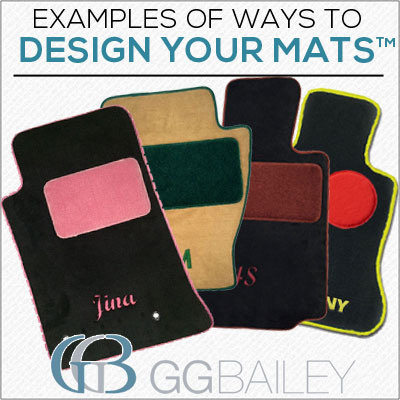 Customers love GG Bailey because we allow you to custom design your own car mats. Using our Design Your Car Mats™ tool you can use four steps to create any of thousands of possible design combinations to find the look that best fits your vehicle and personal style.
You start by picking your car mat carpet color (we have 11 to choose from); then you pick an edging style and color (there are 41 edging choices in four different styles); add a heelpad (two shapes in 19 different colors are available); and then personalize your car mat with embroidery or a logo (you can pick from 18 embroidery colors and add up to 10 characters).
With so many choices, the only hard part is deciding which elements you want to use to design your car floor mats. We recently posted a blog that included four creative design ideas, and because our fans found that one really useful, we decided to create another post featuring some recent Design Your Car Mats™ floor mats created by our customers.
You can design your own floor mats to custom fit whatever vehicle you drive, and we'll make and ship your new car mats in two business days. If you have a brand new or unique vehicle you don't see listed in our drop down menus, use this form to request a custom pattern to fit your car.
So check out the custom design car floor mats below and then click the button to start designing your own mats today.
Black and burgundy
Our black carpet is one of our most popular color choices, and this custom mat was design with burgundy elements.
After selecting the black carpet, this designer chose a burgundy binding. There are 41 edging options that are comprised of two different kinds of edging: serging and binding.
Serging is a stitched edge and binding is a smooth fabric edge. Serging tends to be the more popular choice when our customers design their car floor mats, probably because we offer so many color choices, including a couple of two-tone options, but the bindings are popular too. There are three different varieties of binding: the solid color bindings, of which there are nine colors available; the Saratoga bindings, which include polka dot and striped options; and the LA bindings, which include reflective and camo options.
To go along with the burgundy binding, this designer also added a rectangle burgundy heelpad and burgundy embroidery in the script font.
Single letter monogram
This design uses a a single letter monogram in blue and a matching round heelpad to create a nice look. The blue plaid ribbon edging adds to the color theme.
Whichever carpet color you pick, you should know that all of our carpets are of the highest quality. Each color has a European velour look and is made of the strongest, most durable and trouble-free carpet fibers available. We actually design our own carpet, working with the best yarn suppliers in the world. We produced the first European velour car floor mats in the United States, and they have become the standard in the world's most elegant automobiles. All of our car mats are made with superior stain resistance and backed with our Open Cell Foam backing to prevent mat movement.
To design your car mat with a single letter monogram, simply pick the font style and then enter your chosen letter followed by an asterisk. For example, this customer picked Script and then enter V*.
Pink with polka dots
One of our fun options you can add to your custom car mats is polka dot binding. These mats were designed with the pink polka dot ribbon binding, a pink heelpad, and pink embroidery.
The heelpad may by pink, but it is made to be tough. Adding a heelpad is the best way to protect your custom floor mat because a heelpad is an extra thick carpeted pad that goes under your heel area on the driver's side mat. All of our heelpads are applied with a special finished edge. They come in two styles – rectangular or round – and are available in 19 different colors.
Our carpets are made to be tough and durable, but adding a heelpad will ensure your personalized floor mats will last much longer and look much better over the long haul. You can learn more about our heelpads and why they are important in this blog post.
This mat was finished with a pink embroidered "Tina" in our script font. You can add any name, initials, message (up to 10 characters), traditional monogram, or our special single letter monogram to any custom designed floor mats. Want even more pink? We have pink carpet too.
Camel and hunter green
This custom designed mat features a nice combination of neutral carpet and hunter green elements. The designer started the process by picking our camel carpet for their custom car mats. Not sure which color would be best for your design? Request a free swatch kit and you will get samples of all our carpets, including the woven patterns in our Car Couture™ line.
The next step to custom design this car mat was to add the hunter green binding, then a hunter green rectangle heelpad, and finally the initials ETM in hunter green to complete the look. If you prefer a traditional monogram like in the next example, all you need to do is select either Monogram Script or Monogram Block and then enter your initials in order. So, this designer would have picked Block, not Monogram Block. Had they picked Monogram Block we would have taken the last initial -- the M -- and moved it to the center and made it larger.
Whatever you decide, all embroideries are stitched directly into the carpet for a high quality finished look. There are 18 colors to choose from, so you can match it to your other elements or go with something that contrasts. The choice is yours when you Design Your Car Mats™.
Reflective edging
This fun set of car floor mats was designed with chocolate brown carpet, a red heelpad, red monogram, and our reflective edging. The image on the left was taken without a flash, and the one of the right shows what the edging looks like when light is shone on it.
The silver reflective binding is one of three options in our LA Binding category. We also have a black reflective and a camouflage option. Each provides a subtle way for you to set your custom designed car floor mats apart from others.
In this example the designer started by choosing chocolate brown carpet, then the reflective binding, added a red rectangle heelpad, and then picked Monogram Block embroidery to personalize their car mat. They entered the letters CCR, so we took the R and moved it to the center and made it larger for a traditional monogram look.
In honor of Germany
Germany just won the World Cup this weekend, and we had previously designed a set of car floor mats in honor of the team when they took on the U.S. during group play.
The German colors are black, yellow, and red, so we picked a black carpet, yellow serging and embroidery, and a red heelpad to celebrate the German World Cup team. We could have also went with one of our soccer ball logos in stead of embroidery.
If you are interested in designing car mats for your team, we have plenty of colors to choose from, but we also have sports logos, including a football, baseball, tennis, golf, basketball, and more.
Those are just five Design Your Car Mats™ samples, but we're sure you can design something great for yourself. Get started now!