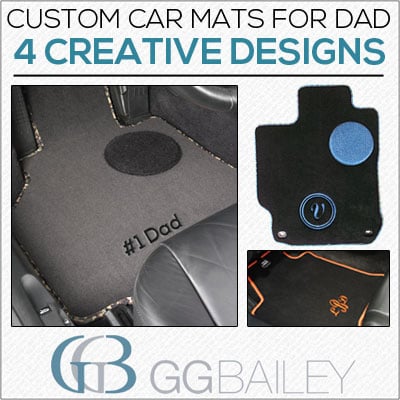 There are a lot of options to choose from when you design your own custom car mats using the GGBailey.com Design Your Mats™ system. There are four steps with multiple options at each step. Considering custom car mats as a Father's Day gift? There are thousands of design combinations to use to design your personalized floor mats in a way that would make them truly unique.
Below are four examples of some of the more creative design ideas we have seen. Check out the designs and then use our customizer to browse our options and design your own car mats. And remember, we are currently offering free ground shipping* for Father's Day, so buy your new floor mats today and we will ship them for free.
Our products are made with the highest quality materials, and we make and ship all orders within two business days. Our Design Your Mats™ are as beautiful as they are durable. There are four steps to the custom design process, and as the samples below show you, there are lots of ways to get creative, whether it's your color combinations or the embroidery you select.
1. Designs for Dad
Father's Day is a few weeks away, so time is running out to get your dad a personalized gift he will love. Why not custom design a set of floor mats for your father? All you need to know are the vehicle year, make, model, and sub-model (if there is one), and you can choose from our thousands of possible design combinations to create a custom set of car mats for Father's Day.
We are offering free ground shipping* for Father's Day, so you can even save some money on your order. Simply choose the free ground shipping option during the checkout process -- no codes or coupons required!
For this design a dark grey carpet was picked, then our camo binding was added, followed by a round black heelpad, and finally, a black embroidery that reads #1 Dad. Orders are processed in two business days, so you will get your custom Father's Day gift in plenty of time if you order now.
2. Single letter monogram
Another way to get creative with your custom car mat is to choose the single letter monogram option. This personalized floor mat features a single letter embroidered monogram with the letter V.
After you pick your carpet color, edging, and heelpad, you can choose to have your car mat embroidered. This mat was made with dark grey carpet, our blue-plaid Saratoga ribbon edging, a round heelpad in blue, and a single letter monogram in blue. To get your own single letter monogram, simply pick one of the 18 embroidery color options, then choose the monogram block or monogram script font, then enter the single letter followed by an asterisk. So, for example, this customer would have ordered this mat by typing V* in the message box.
If you prefer a traditional, three-letter monogram, simply enter your initials in order. We will then take the last initial, move it to the center, and make it larger than the outer two letters. If you want embroidery but not a monogram, just choose either the block or script font and enter up to 10 characters, including spaces, and we will add any custom message you'd like.
3. Fun color combinations
You can make your car mats truly unique by using some fun color combinations when you Design Your Mats™. Because we have so many carpet, edging, heelpad, and embroidery options to choose from, there are thousands of possible color combinations for you to pick when you custom design your floor mats.
This mat starts with a black velour carpet, then adds a yellow and black serged edging, followed by a red rectangle heelpad, and finishes up with the words "Slow Down" embroidered in yellow script. The yellow in the mixed serging goes well with the yellow embroidery, but the red heelpad adds a nice and unexpected contrast to really make the car mat fun and unique.
We have 11 carpet color choices, 41 edging options, 19 heelpad colors, and 18 embroidery colors to choose from, so there is almost no limit to what you can design. There are just so many choices to pick from during the four step process.
4. Get a matching trunk or cargo mat
GG Bailey is the only place on the internet where you can custom design your own custom fit cargo or trunk mat. If you are going to get custom car mats for your interior, getting a custom mat for your trunk or cargo area that matches is one fun way to complete the new look for your vehicle.
Just as our car mats protect your vehicle interior from dirt and debris, our cargo and trunk mats will protect your storage and hauling area from the wear and tear of regular use. If you drive a van or a three row SUV, we have two options for you: a cargo mat with the third row up, or a cargo mat with the third row down. Also, just like our floor mats, our cargo and trunk mats are custom fit to your specific year, make, and model.
In the example pictured, you can see the trunk mat was designed using the same carpet and edging colors, and the same monogram, but the customer picked a different font style for the trunk. You can custom design your trunk or cargo mat however you want.
What did you think of those custom designed car mats? Share your thoughts below or check out our Design Your Mats™ page to begin designing your own floor mats now.
*Free shipping offer good for the contiguous U.S. only.