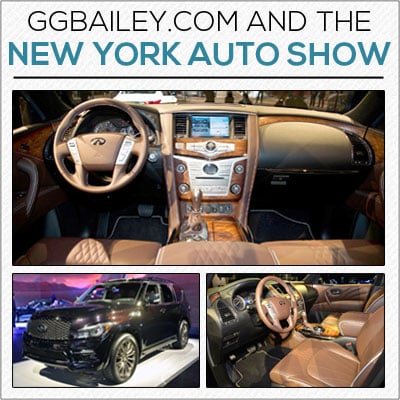 If you are anything like us, you have been following the news out of the New York Auto Show, which wrapped up last weekend. One of the biggest auto shows in one of the nation's biggest cities did not disappoint, and we have already written about our favorite five vehicles debuted during the event.
What we didn't mention in that previous post is that GG Bailey has a connection to the New York Auto Show in that our parent company -- Racemark International -- had a set of special double bound mats in custom color and design on display in the new Infinity QX80. Racemark makes car floor mats for the world's top auto brands, and GG Bailey uses the same carpets and materials to make our custom fit, custom designed floor mats.
As for the 2015 Infiniti QX80, the SUV was treated to an updated appearance and interior enchancements for the new model year. Starting with the SUV's exterior, the new QX80 gets a redesigned grill, new bumper with an integrated lower grille and flush-mounted sonar, LED headlights and fog lights, and a standard rear bumper protector. Other upgrades include new 20- and 22-inch wheels, as well as new paint colors called Hermosa Blue, Graphite Shadow, and Majestic White.
Inside, Infiniti makes its darker Mocha Burl wood trim standard, and adds it to the steering wheel, and at the New York Auto Show, Racemark's double bound floor mats were part of the package too. All Infiniti QX80s include a high-stiffness frame structure that enhances ride comfort while reducing noise, vibration and harshness.
The vehicle will see no change to the 5.6-liter V8 engine, which produces 400 horsepower and 413 lb.-ft. of torque, good for a towing capacity of 8,500 pounds. A seven-speed automatic transmission with Adaptive Shift Control and manual shift mode with Downshift Rev Matching comes standard on all models.
The vehicle is expected to arrive to the marketplace in the fall, and a Limited version will offer additional styling and technology options. See more photos of the Infiniti QX80 from the New York Auto Show by clicking here.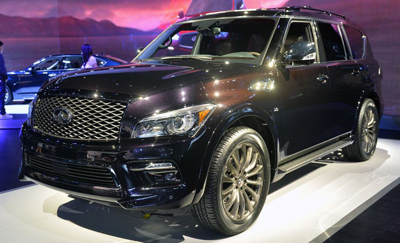 We are proud of our association with Infiniti and their role in the New York Auto Show. If you are interested in getting your own piece of custom style and luxury for your vehicle from our Design Your Car Mats™ section or our Car Couture™ line, then you should know we are currently offering free ground shipping* on all orders.
Browse your options, design your own car floor mats or pick a pattern and get free shipping while the offer lasts. And don't forget...
Friday is the last day to enter our giveaway!
If you haven't already signed up for a chance to win a free set of custom fit GG Bailey car floor mats that you will design and personalize yourself, do it now. We will close the sign up page on Friday at 5 p.m. EST.
If you have already signed up, then use the social sharing links at the top of this post to tell your friends and followers about it. All that is required for entry is a name and email address.
A winner will be picked and notified via email next week. The winner will get to use our Design Your Car Mats™ page to custom design their own personalized car floor mats, picking the carpet color, edging color and type, heelpad shape and color, and their own unique embroidery.
Click the button below to enter. Good luck!