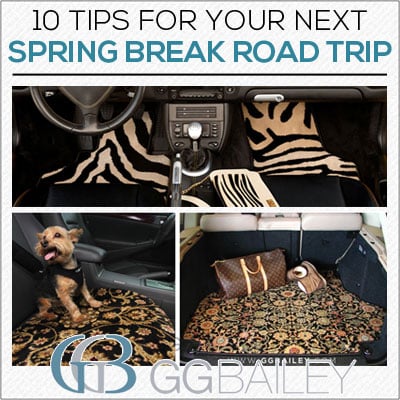 The first day of spring is less than two weeks away, which means spring break and road trips are just around the corner. Millions of drivers will be hitting the highway, taking to the road to enjoy some fresh air and sunshine after a particularly harsh winter in most of the U.S.
Road travel, and especially long trips, can sometimes be a hassle, because riding in a vehicle for long periods of time can be rough on the body and the nerves, but the stress can mostly be avoided with a little preparation. Check out our ten tips for spring break road trip travel to make sure you and your friends or family are prepared for the challenges of of the road. Then comment below to give us feedback or to share your own tips.
While you're reading, think about getting some GG Bailey floor mats for your vehicle. Our custom-fit, personalized car floor mats will allow you to travel in style and luxury.
1. Make sure your vehicle is road trip ready
The warm weather of spring allows you the perfect opportunity to make sure your vehicle is ready for a long trip. There are several parts of your vehicle that should be inspected and, if necessary, repaired before spending so much time on the road. The five most important things to look at, or to have someone look at for you, are:
Your tires -- Check for uneven wear and proper inflation (don't forget to check the spare too)
Your battery -- Make sure the terminals are free from corrosion and the connections are snug
Your fluids -- Check the levels of the engine coolant, the oil, and transmission and brake fluid. Change or top off as needed per your vehicle manufacturer's instructions
Your belts -- Look for signs of cracking or fraying
Your brakes -- Rubbing or scrubbing noises generally mean your brake pads need to be replaced, but it is still a good idea to make sure they are at least 3 millimeters thick
2. Consider your comfort
If you are going to be in a car for a few hours or more, then you are going to want to be as comfortable as you can be. For the driver, this starts with the position of the seat, which most driving experts agree you probably have wrong.
First, the back of the seat should be positioned between 90 and 100 degrees, and the driver should place their rear and lower back as far back in the seat as they can. Sitting like this reduces the strain on your lower back and ensures as much as of the spine as possible is being supported. It may feel uncomfortable at first, but it will result in much less pain down the road (literally and metaphorically).
Next, slide the seat forward so that you are close enough to fully depress all pedals and still have a bend in the knee, but not so close that your knees come into contact with the steering column or dash. When you reach for the steering wheel you should be able to comfortably control it while still having a slight bend in the elbows and wrists. You can adjust the tilt of the wheel to your liking, but be sure it does not obstruct your view of the instruments.
If you want to add an extra layer of comfort, you can also add a Sheepskin Seat Vest Cover or Sheepskin Bucket or Bench Seat Cushion. Available in seven colors, our sheepskin seat accessories are universal fit for all seat types and they are every bit as durable and elegant as they are comfortable. These car accessories give you an extra bit of comfort and a whole lot of style.
Finally, with your driver's seat properly adjusted, you will need to adjust your mirrors. There are plenty of ideas about the best way to do this, but the obvious answer is to make sure you have the most visibility from each mirror. Blind spots are going to happen, so be aware of your blindspots and always glance that way before changing lanes.
3. Give your vehicle a spring cleaning
For driving peace, make sure your vehicle has been recently cleaned. Since your road trip is likely to have you spending a significant amount of time behind the wheel, making sure your interior and exterior is freshly cleaned should be considered a priority. There are plenty of products out there that will get the job done, but at GG Bailey we prefer to suggest products that will allow you to clean your vehicle with a touch of luxury and style.
First, for the outside, pamper your vehicle with our Sheepskin Washmitts, made of 100 percent Merino sheepskin. These are soft enough to be ideal for dusting, polishing, and washing your car, truck, or SUV without damaging the paint. Available in black or grey, our washmitts can be used both wet and dry and with any soap that is safe for vehicle paint. Simply rinse your mitt afterward and it will last a lifetime.
For the interior, we also offer a Sheepskin Duster, ideal for safe dusting and debris removal for your vehicle dash, and our Oreck XLAUTO Car Vacuum. Our lightweight sleek silver vacuum plugs into the cigarette lighter and has a 15-foot cord for reaching into the trunk, cargo, and other hard-to-reach places. And it's small enough to store in your vehicle, so you can take it along on your road trip.
4. Pack your vehicle the day before departure
The morning of many road trips are often filled with a chaotic rush of passengers attempting to pack their bags, load the car, and hit the road. But all that stress can be easily avoided with some proper planning. Pack your bags the day before and load up the trunk or cargo area before you go to bed and you can avoid the morning travel hustle. Just picture getting up the morning of your trip, enjoying some breakfast, and pulling out of the driveway on time and in a great mood.
All you need to do to make it happen is pack the night before. You won't feel as rushed, which means you are less likely to forget something and more likely to load your vehicle in an efficient way. We can help you protect your vehicle and add some style with one of our cargo mats. Pick an animal, Oriental, camo, or plaid pattern from our Car Couture™ line, or design your own custom cargo or trunk mat complete with personalization in the Design Your Mats™ section of our website.
5. Check your road trip essentials list
If you packed your bags and loaded the vehicle the night before, the morning of departure should be easy, but to avoid being so relaxed and carefree that you forget something essential (like your cell phone charger, for example), create a road trip essentials list and be sure to check off the items you need to bring before heading out.
Because most of the big things are already loaded, this will likely be a short list. Think about things like the digital devices and their necessary accessories that power our lives and keep the younger travelers in the backseat occupied, the toiletries you might not have packed the night before because you needed them in the morning, and snacks. Plenty of snacks.
6. Bring your furry friend
If you are a pet owner, then you probably consider Fido or Fluffy to be a four-legged family member, so why not take your pet with you? It's better than boarding your animal and will make your pet happy too. More and more hotels are friendly toward pets, and few things engage house pets as much as exploring new locations.
Just remember to pack treats and a leash and consider the stops your pet might require. If your pet travels with you often, you can protect your seats from eager paws with a GG Bailey Pet Car Mat. Available in two sizes and 10 patterns, our Pet Car Mats give your pooch a cushy seat that protects your interior from dirt and debris in style. We also have pet placemats available in the same patterns.
7. Plan the route
Distracted driving comes in many forms, and trying to adjust the GPS or zooming in on the map on your cell phone while driving can be dangerous. Be sure to plan your route ahead of time and leave the navigation up to your passengers so you can keep your eyes on the road. And you don't have to stress about missing your exit. Allow some time for traffic congestion and unexpected stops and you will be sure to make your destination on time. If you luck out and the trip is traffic-free, you can use that extra time to visit a roadside attraction or skip the drive-thrus and sit down to a nice meal.
8. Comfort makes passengers happy
If you are going to be on the road for a while, some passengers might nap along the way, so be sure to carry a pillow. A blanket is a good idea too because someone might be cold when everyone else is comfortable. Another thing to consider is entertainment for everyone, whether that is books, toys, music players, or portable gaming devices.
You can also add some luxury and style with a custom touch by ordering personalized car floor mats from GG Bailey. We allow you to Design Your Mats™ or pick a pattern in our Car Couture™ section. Our custom-fit floor mats will protect your vehicle while also adding comfort and class. There are only four steps to Design Your Mats, but thousands of possible design combinations.
9. Drive safely!
We know that you always obey speed limits and other traffic laws, but we're still going to say it: Obey traffic laws and be safe. Nothing ruins the road trip mood like getting a speeding ticket in some far flung city or county. Know ahead of time that you will likely encounter drivers who aren't as careful as you are, as well as traffic problems. Try not to stress out when these things happen. Take your time, enjoy the journey, and be safe. After all, we don't want all this preparation to be for naught, so you need to arrive at your destination safely.
10. But be prepared just in case
Driving safely is the surest way to avoid a wreck, but sometimes crashes happen that aren't your fault, so it is a good idea to always be prepared for such situations.
Consider keeping a first aid kit in the vehicle, and make sure the products inside are up-to-date. Think about letting someone know your travel plans, including the route and anticipated arrival time. And be sure to have the auto insurance and the medical insurance of everyone in your vehicle handy. No one ever expects to be in a car crash, but you should still be prepared for it just in case.
We take safety seriously, and our custom car floor mats are engineered to be the safest available. Special foam backing and our exclusive Mat Loc Clip™ system ensure your mats won't move under foot. Click here to read more about our focus on safety.
Do you have spring break road trip tips you'd like to share? Comment below to let us know what you think. If you want to check out our custom car floor mat options, get started by clicking one of the buttons below.