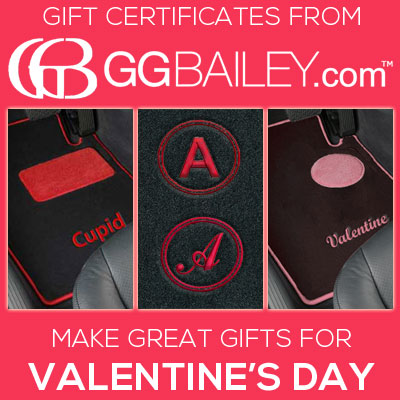 Valentine's Day is almost here, and if you still need to get that special someone a great gift, then consider a gift certificate from GGBailey.com
At GGBailey.com, we are best known for the custom designed, personalized car floor mats of our Design Your Mats™ line and the stylish, luxury floor mats from our Car Couture™ line, but we do more than custom-fit car floor mats. Our car floor mats are great, but we're just as proud of the other sections of our website too:
We have partnered with the top home designers in the country at Stark Carpet to bring you our home couture as well as our Car Couture™ line of carpets. Stark Carpet has carpeted for the great homes in the United States, including the White House. You can coordinate your fine carpets with our accent mats at entryways, in the kitchen or bath, or even with your pet placemat.
Our personalized floor mats make great gifts, and we can make custom-fit floor mats for all makes and models. You can even personalize a cargo mat or trunk mat with a custom message or monogram! And our quality is second to none, as we make car floor mats fit for royalty. Even Her Majesty Queen Elizabeth II has our floor mats in her vehicle.
If you are worried about getting the personalization perfect or the gift arriving on time, gift certificates might be the answer. At GG Bailey, we offer gifts certificates of various amounts that can be used on any of our products, from our custom floor mats in the Design Your Car Mats™ section and the luxury floor mats of our Car Couture™ line to our home and pet products.
If you give a gift certificate, your Valentine can visit our site and design their own custom floor mat, ensuring they get the perfect fit and style for their vehicle or home. Our gift certificates do not expire and can be used at any time for anything on our website, including shipping costs.
Gift certificates from GGBailey.com are delivered electronically, so there is no additional cost beyond the amount you want to give to your Valentine,and the personalized gift certificate will arrive by email.
We have included more detail about our custom designed, custom fit car floor mats below. Let us know what you think or feel free to ask questions in the comment section at the bottom.
Personalized car floor mats
At GGBailey.com, we think our personalized car floor mats from our Design Your Car Mats™ line make great gifts for any occasion, and they are unique because you custom design your own car floor mats. All you need to know is the year, make and model of your friend or family member's vehicle to design custom floor mats they will love.
Just in time for Valentine's Day, we are now offering new embroidery options: Single Letter Monograms! You choose from a script or block letter and color, and it will be surrounded by a double line circle to really make the embroidery on your floor mats stand out.
Only available from GGBailey.com, you can now add a high quality single letter monogram encircled by double lines to your custom designed floor mat. As always we offer 18 colors to choose from. So, pick a color, then choose either script or block monogram and type in the letter you want followed by an * so that we know you are requesting this special design. Click here to see more detail, including ordering instructions.
There are only four steps to design a one-of-a-kind set of personalized floor mats but thousands of possible design combinations. You pick from one of 10 carpet colors, choose one of 41 edging options, then pick an optional heelpad shape and color, and then personalize it. You can choose an embroidered name, initials, or message of up to 10 characters (including spaces) or add a traditional or single letter monogram. We have two font styles available -- block text or script -- and 18 color choices. If you prefer an embroidered image instead of custom text or a personalized monogram, we also have 16 logos to choose from. Click here to see more details for each step.
Visit our Design Your Car Mats™ page to get started or shop our Car Couture™ section if you prefer to give leopard, zebra, camouflage, or oriental floor mats. We have 10 patterns to choose from in our luxury floor mat line.
Or click here to view our gift certificate options.