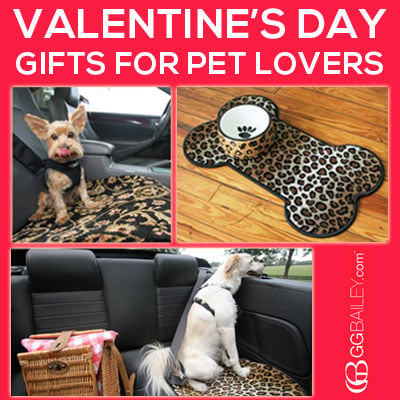 Valentine's Day is quickly approaching, and while we have written about how our custom designed, personalized car floor mats make great gifts, at GG Bailey, we are more than just car floor mats. We also have top quality home mats and pet placemats that are stylish and functional.
If your Valentine is a pet owner, then we have several items that would make for the perfect Valentine's Day gift. Our For Your Pet section offers a variety of pet placemats, Pet Car Mats, and our Bone Pet Placement in 10 different pattern options and several sizes.
These offerings inspired us to create a blog post of great gift options for pet lovers. Not everything included in our list is a GG Bailey product, but if you choose to surprise your Valentine with something from us, then you should know we are currently offering free ground shipping* on all orders for Valentine's Day.
You don't need any special code to get free shipping from GGBailey.com; just choose the free FedEx Ground option during the checkout process. Check out this map to see the FedEx Ground delivery schedule to make sure you get your gift on time.
Check out our list of Valentine's Day gifts for pet lovers below, then let us know what you think in the comment section.
1. Pet Car Mat
If your Valentine likes to take their furry friend along for car rides, then they would certainly enjoy a GG Bailey Pet Car Mat. Available in two sizes and 10 patterns, our Pet Car Mats give your pooch a cushy seat that protects your interior from dirty paws and debris in style.
Made from the same carpets of our Car Couture™ line, the pet car mat can be matched to a set of custom-fit, luxury car floor mats or purchased as a stand alone item. Choose any of the 11 designs of luxury-weight, stain-resistant carpets. For a bold look, our woven polyurethane carpets come in both traditional and contemporary designs. Our Subtle Style carpet, available in beige or grey, is specially made with high-quality nylon yarn that is cut to create a simple and elegant two-tone texture. All our mats are made with the best materials to resist stains.
Other options to protect your seats include our Sheepskin Seat Vest Cover or Sheepskin Bucket or Bench Seat Cushion. Available in seven colors, our sheepskin seat accessories are universal fit for all seat types and they are every bit as durable and elegant as they are comfortable. They add style and luxury to a vehicle while also being functional.
2. Pet Placemat
There's no need to sacrifice fashion for utility when you can get a GG Bailey pet placemat that protects your floors while adding style that complements your fine decor. Whether the desired style is traditional, contemporary, or a little of both, you'll find the right fit among our 10 designs of Car Couture™ luxury-weight carpet.
Our woven polyurethane carpets come in Beige Chariot, Topkapi, Red or Black Oriental, Beige Plaid, Camouflage, Leopard, and Zebra. Our Subtle Style carpet, available in beige and grey, is specially made with high-quality nylon yarn that is cut to create a simple and elegant two-tone pattern. Our two-tone carpets also have a Pink Ribbon version, which features a breast cancer awareness pink ribbon. Sales of those products benefit the Breast Cancer Research Foundation. See examples of the patterns by clicking here.
Made with stain and mold-resistant fibers, all of our pet placemats are perfect for use in any room. Use them anywhere you want to add style and protection. Each mat is finished with a matching serged edge and a non-slip foam backing that's gentle on fine floors, so no rug pad is required.
The rectangle pet placemats come in two sizes: small (10.5x19") and medium (13"x24"), and we have a shape with our Bone Pet Placemat (29"x17"). We also have home mats available in the same patterns, if you want to coordinate your carpets.
3. Pet jewelry
Traditional Valentine's Day gifts are chocolate, flowers, and jewelry. Your Valentine's pet probably wouldn't have much use for flowers and can't eat chocolate but jewelry is still an option with this artsy and unique pet ID tags from PamperedPawGifts.com.
Available in several styles with multiple color options, each design contains a single Swarovski type crystal inset near the top. These tags are perfect for dogs and cats alike. Made of hand-polished, durable metal, you won't have to worry about the pendant losing shine or color.
4. Pet art
This one is Valentine's Day gift both your Valentine and their furry friend can enjoy. Canvas on Demand will turn a fun doggy picture into a high-quality print for your wall or mantelpiece! They have a variety of sizes ranging from 8"x10" to 72"x19", two thickness options, and two framing options, as well as several other options that allow you to personalize your order.
The site promises a quick turnaround, offers free image enhancements, and a one-year money back guarantee. So if your Valentine had a beautiful pet that would make beautiful art, this is something to consider.
5. Gift certificates
Gift certificates are great because they allow the recipient to choose the products that best compliment their decor and sense of style. At GG Bailey, we offer gift certificates of various amounts that can be used on anything we sell, from our custom floor mats in the Design Your Car Mats™ section and the luxury floor mats of our Car Couture™ line to our home and pet products.
Our gift certificates start at $25 and there is no limit to the number you can purchase. They do not expire and can be used at any time for anything on our website. Gift certificates are great as last minute gifts.
Comment below to let us know what you think or to share you own. And don't forget, we have FREE ground shipping* on all orders for the holiday season!
*Free ground shipping offer includes contiguous U.S. addresses only.