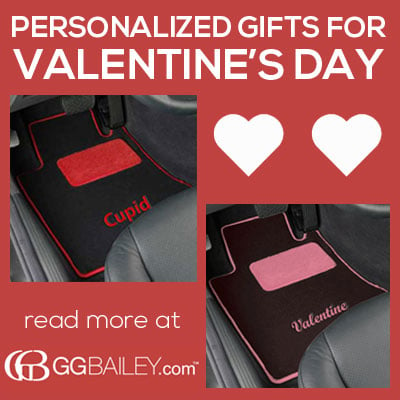 If you haven't already, it is about time to start shopping for the perfect Valentine's Day gift. To make it special, you should consider buying your loved one something customized and personal. It's with this thought in mind that we at GGBailey.com have compiled a list of our favorite personalized gift ideas.
We love to give and receive custom gifts and personalized gifts, but really, who doesn't? So as you think about what your Valentine might enjoy, consider giving them a one-of-a-kind gift personalized just for them. Custom gifts are not only fun and unique, but they show the recipient that you took the time to design a gift just for them.
Enjoy our five ideas for personalized gifts below, and let us know what you think in the comment section or share your own ideas. If you choose GG Bailey as your source for a personalized Valentine's Day gift, you can take advantage of free ground shipping* as our gift to you.
You don't need any special code to get free shipping from GGBailey.com; just choose the free FedEx Ground option during the checkout process. Check out this map to see the FedEx Ground delivery schedule to make sure you get your gift on time.
1. Personalized floor mats from GGBailey.com
We couldn't create a personalized gift list without including our own personalized car floor mats from our Design Your Car Mats™ line. Even Cupid loves our custom floor mats! All you need to know is the year, make and model of your loved one's vehicle to design custom floor mats they will be thrilled about.
There are only four steps to design a set of personalized floor mats but thousands of possible design combinations. You pick from one of 10 carpet colors, one of 41 edging options, pick a heelpad shape and color and then personalize it. You can choose an embroidered name or message of up to 10 characters (including spaces) or choose a monogram. We have two font styles available -- block text or script -- and 18 color choices. If you prefer an embroidered image instead of custom text or a personalized monogram, we also have 16 logos to choose from. Click here to see more details for each step.
Our personalized floor mats make great gifts, and we can make custom-fit floor mats for all makes and models. You can even personalize a trunk mat or cargo mat with a custom message or monogram! All mats are made and shipped within two business days, so you won't have to wait long to get your hands on this custom gift.
Click the buttons below to Design Your Car Mats™ or shop Car Couture™ if you prefer to give leopard, zebra, camouflage or oriental floor mats. We have 11 patterns to choose from in our luxury floor mat line.
2. Personalized jewelry
Few things say Valentine's Day as much as jewelry, and Helen Ficalora offers a varity of pieces in different styles. From earrings and ringbands to charms and special collections, the artist has a unique and personal handmade style that your Valentine will appreciate. Our favorite items are the alphabet charms.
You can choose any combination of letters to personalize a braclet or necklace featuring the initials of your Valentine, or pick the initials of your children if you are parents. The charms are gold, with each letter engraved in block print. Jewerly from Helen Ficalora is available in six stores across the country or by calling a custom service line. Pricing is not included on the website, but there is an email address where you can ask for more detail.
3. Personalized chocolate
If there is one thing associated more closely with Valentine's Day than jewelry, it's chocolate. TotallyChocolate.com offers molding and creative packaging that allows you to create a custom chocolate order for your Valentine. You pick a two pound Belgian chocolate bar or the 45-piece or 56-piece assortment, then design your own packaging or add a custom message to one of their existing options.
Like GGBailey.com, the site is offering free shipping for Valentine's Day. They require three days to ship your order. The site also notes that some locations may require expedited shipping charges, as each order is packaged with frozen gel inserts to prevent melting during delivery.
4. Personalized flowers
Yes, believe it or not, you can even buy custom flowers for Valentine's Day. PersonalizedFlowers.com allows you to emboss roses and a few other flowers with personalized messages or names. The down side is that you cannot put custom messages on the flowers for Valentine's Day, but you can pick from dozens of messages in English and Spanish and then add a personal message to the card.
Options range from "Happy Valentine's Day" to "You make me Crazy." Every order requires FedEx Overnight shipping (Tuesday through Friday), and there is an extra fee for Saturday delivery, so keep that in mind if you order from there.
5. Gift certificates!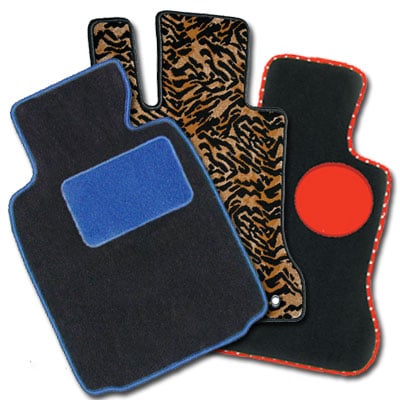 If you are worried about getting the personalization perfect, gift certificates might be the answer. At GG Bailey, we offer gifts certificates of various amounts that can be used on any of our products, from our custom floor mats in the Design Your Car Mats™ section and the luxury floor mats of our Car Couture™ line to our home and pet products.
If you give a gift certificate, your loved one can visit our site and design their own custom floor mat ensuring they get the perfect fit and style for their vehicle. Our gift certificates do not expire and can be used at any time for anything on our website, including shipping costs.
And remember, we are offering free ground shipping* for Valentine's Day, so all orders placed now are shipped for free. Click here to see gift certificate options.
A lot of sites offer gift certificates, but always be sure to check the fine print.
*Free ground shipping offer includes contiguous U.S. addresses only.