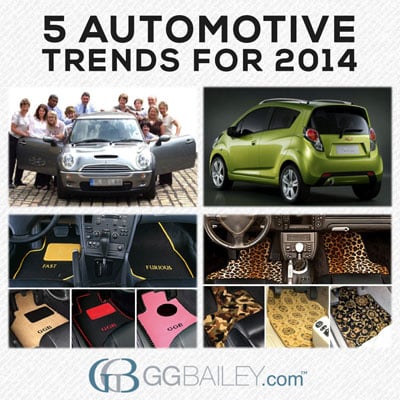 Automakers sold 15 million vehicles in 2013, and they hope to build on those numbers in 2014, which means they will be working harder than ever to get your attention -- and your dollars -- this year. The automotive marketplace is as competitive as it has ever been, and there are bound to be a number of trends you'll notice as new models roll out.
At GGBailey.com, we make custom-fit, custom-designed car floor mats, so we like to keep an eye on everything that happens in the automotive world, and that means keeping track of the coming trends too. The top car brands are always trying to create the latest and greatest innovation or idea that will attract customers to their makes and models.
A lot of what we included in our list below will be on display during the 2013 Detroit Auto Show, which begins next week, so be sure to check back next week for our coverage of that event. Click here to read a previous blog post previewing five of things we are excited to see during this year's show.
After checking out our list, comment at the bottom to share your thoughts, or visit our Design Your Car Mats™ section or our Car Couture™ line to start shopping.
1. Car Customization
Now more than ever, shoppers demand customized and personalized options for just about everything, and that is true in the automotive market too. It used to be enough to be able to choose your vehicle's color and trim package, but nowadays car makers offer a wealth of options to choose from so that your vehicle is truly unique.
Buyers can now pick from multiple engine and transmission options, wheel size and styles, trim packages, technology packages, sound systems, body add-ons, and more, and that's just from the dealership. The business of car customization is a huge one, and it looks to continue to grow in 2014.
We're excited about this, of course, because at GGBailey.com we make custom-fit car floor mats that you design yourself. There are only four steps to design a set of personalized floor mats but thousands of possible design combinations. You pick from one of 10 carpet colors, choose one of 41 edging options, then pick an optional heelpad shape and color, and then personalize it.
You can add an embroidered name, or message of up to 10 characters (including spaces), or add a monogram or initials. We have two font styles available -- block text or script -- and 18 color choices. If you prefer an embroidered image instead of custom text or a personalized monogram, we also have 16 logos to choose from. Click here to see more details and examples for each step.
Every set of designed mats is one-of-a-kind, and we can make custom-fit floor mats for all makes and models. You can even personalize a cargo or trunk mat with a custom message or monogram! All of our mats are made and shipped within two business days, so you won't have to wait long to get your custom floor mats. Design Your Car Mats™ to get started.
Another stylish option, our Car Couture™ floor mats are perfect for anyone who likes patterns. Our luxury quality, woven patterns include: zebra, leopard, camouflage, oriental floor mats, plaid, and more. We have 10 patterns to choose from and every order is custom made to custom fit the vehicle perfectly.
If you choose Car Couture™ floor mats, then you should know we also make Car Pet Mats in the same patterns. Available in two sizes and same 10 patterns, our Pet Car Mats give your pet a cushy seat that protects vehicle seats in style from dirt, debris, and claws in style.
2. Driver assistance
We may still be a few years away from cars that drive themselves, but much of the technology that is currently available in new model cars is a precursor to autonomous vehicles. The in-car safety advancements of today will eventually translate to vehicles that can get you from A to B while you tap away on your smartphone.
A lot of auto makers already offer adaptive cruise control that speeds up or slows down your vehicle based on the speed of the vehicle ahead of you, but Volvo's new version of this tool will scan for animals, or people, in the roadway and automatically brake to avoid a collision. Other assistance features that you will see more of in 2014 will help drivers stay alert, keep their vehicles in their lanes, park them, and even take over driving during traffic jams.
This article from ExtremeTech.com highlights the best car technology of 2013. While most of the more sophisticated technology has been reserved for high end vehicles in the past, the these sort of tools will be the trend for all sort of vehicles going forward in 2014.
3. Hybrids, electrics
Because the technology has become more reliable, and more affordable, you are likely going to see a lot more hybrid cars and electric cars on the road in 2014. Hybrids have been around for a while now, but automakers have recognized the growing appeal and are starting to make hybrid versions of many of their most popular models.
Tesla's Model S has been growing in popularity, and the all-electric car brand will be launching their 2015 Model X in 2014 -- a crossover vehicle with "falcon-wing" doors that has room for seven. We included the Model X in our Preview of 10 New Car Models for 2015. GG Bailey's parent company, Racemark International, will be making the floor mats for the Model X, so you can trust that our custom car floor mats meet the standards of the top automotive brands.
A quick search on MotorTrend.com shows 63 options for new hybrid models currently available, and that doesn't include the 2015 models that are coming soon. From the Honda Insight that starts at $18,600 to the Porsche Panamera Hybrid that sells for $99,000, there is a hybrid vehicle that meets just about anyone's needs.
4. Affordable cars
Automakers, especially the big American brands, have rediscovered the lower end of the automotive market place. Typically dominated by Japanese and Korean companies, Chevrolet and Ford will be looking to grab a share of the affordable market with the Spark and Fiesta, respectively (pictured).
The 2014 Chevrolet Spark starts at $12,999, and the 2014 Ford Fiesta starts at $14,926. That affordable pricetag doesn't mean you will have to give up the gadgets or gas mileage. Because there is fierce competition for the youth market, both vehicles have access to the latest high-tech gadgets, through MyFord Touch or Chevy's MyLink. The Ford can get up to 45 miles per gallon, and the Chevy can get 39 mpg. Upgrade the trim levels of either and Bluetooth connectivity, streaming audio, touch screen displays, satellite radio, and other high tech features are only a touch away.
The 2014 Mazda3, starting at $16,945, tops the USNews.com rankings of new vehicles under $20,000. It is closely followed by the 2013 Honda Fit and the 2014 Kia Forte. They have 39 vehicles ranked and another dozen listed that aren't yet included in the rankings, so there will be plenty of new cars available for the fiscally conservative shopper.
5. Car sharing
The last automotive trend we expect to keep an eye on in 2014 is car sharing. The trend is already a big one in Europe, and American companies have been dipping their business toes into this potential new revenue pool. Companies like Car2Go, Zipcar, and Enterprise are already active in cities across the United States.
The idea is simple. Plans and memberships vary slightly, but customers take a car when they want it, drive it anywhere within the company's designated area and then just leave it. They pay for the usage when they need it, without the costs of insurance or upkeep. Because the vehicles are often used just for short trips around a city, and because another reason users like the idea is the reduced carbon footprint, the cars are oftne hybrid or all-electric.
This trend is likely to continue to grow in 2014, as major car rental companies and auto manufacturers jump into the business. And European markets will likely continue to set the pace and principals for the practice.
Comment below to let us know what you think, or start shopping for your custom-fit car floor mats in our Design Your Car Mats™ and Car Couture™ sections now.