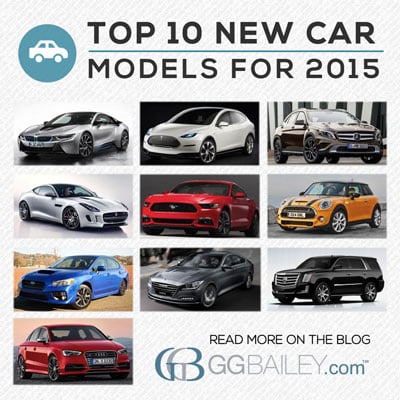 The final days of 2013 are almost over, which in the automotive industry means that auto makers are preparing to debut the new car models for 2015. Government regulations allow auto manufacturers to classify any vehicle released after January 1 as a 2015 model, a trend that they will be taking advantage of in the coming year.
Many of the new makes and models for 2014 are just hitting the road, but at GGBailey.com, we're always working to be prepared for the next rounds of makes and models, so it is never too soon to look ahead. Because we can make custom-fit car floor mats for all makes and models, we have to know about all the new vehicles that our customers may be purchasing. So when you get your next new car, you can trust that GGBailey.com will be your source for custom-designed, personalized floor mats.
Our Design Your Car Mats™ section allows you to pick from thousands of possible design combination to design your own car floor mats. There are only four steps to design and personalize your floor mat, but with mutliple carpet options, dozens of edging and heelpad choices, and near limitless embroidery options, you can design a floor mat that will be truly unique. If you prefer an oriental floor mat or an animal pattern floor mat, we have those and more available with the luxury floor mats of our Car Couture™ line.
So scroll down past the photo to check out a few of the highlights below and then let us know what you think in the comment section below or share your own picks. And if you are lucky enough to become the proud owner of one of these new 2015 models, remember that GGBailey.com is the only place on the web to design your own custom car floor mats.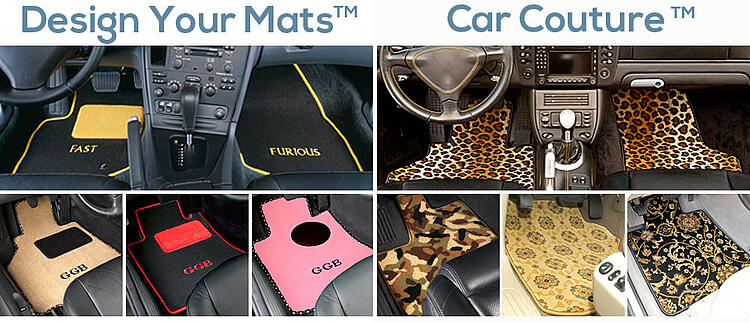 1. 2015 BMW i8
BMW is looking to jump into the future and compete with Tesla at the same time by launching the hybrid i8, a sports car that looks like it belongs on the set of a science fiction movie. This is one of two models that are currently planned with the "i" subbrand, and the i8 will be the first BMW to feature their new "layered design" styling.
The 2015 BMW i8 has a new platform called "LifeDrive" that features a carbon-fiber passenger compartment and an aluminum structure that supports two motors -- one electric with a 22 mile maximum range, and the other a turbocharged three-cylinder gasoline one with a restricted top speed of 155 mph. All told, the i8 produces 350 horsepower and weighs a dainty 3,300 pounds.
The 2015 BMW i8 is planned for release in early 2014 and should be priced at about $120,000. Click here to read more from Car and Driver.
2.
2015
Tesla Model X
Speaking of electric motors, Tesla plans to debut the 2015 Model X, a part-minivan, part-SUV creation that features "falcon-wing" doors and includes room for seven, in 2014. More than 6,000 potential customers have already plunked down $5,000 deposits in anticipation of the Model X.
The all electric motor is said to get up to 270 miles per charge, and the Model X is likely to have a rear-wheel and all-wheel-drive option. It will run on the same drivetrain as the Model S, save for the second motor to power the front wheels, and three-row seating will make it a viable option for those seeking a little extra room in an electric vehicle.
Production of the 2015 Tesla Model X is set to begin in late 2014 in California, and the price is expected to be in the $70,000-$90,000 range. Click here to read more from the LA Times.
3.
2015

Mercedes-Benz GLA

Mercedes-Benz has been battling with BMW for U.S. sales for a few years now, and their latest effort to grab the edge will be the debut of several new models in 2015, including its first compact crossover: the 2015 GLA. It will be Mercedes-Benz smallest crossover offering, and one of their first vehicles to feature front-wheel drive.

Powered by a turbocharged 2.0-liter four-cyclinder that should produce 208 horsepower and 258 foot pound of torque, the GLA will feature a stylish design, including advanced aerodynamics, scultped side panels, and 18-inch wheels. The inside, of course, will feature all the luxury you'd expect from Mercedes-Benz, with options of a faux aluminum, burled walnut, polar wood, or Designo finishing.

Slated to debut in the second half of 2014, the 2015 Mercedes-Benz GLA will have a price tag in the neighborhood of $30,000. Click here to read more from Automotive Business Review.
4.
2015

Jaguar F-Type Coupe

If you prefer a bit more power than a luxury crossover offers, then you might like the 2015 Jaguar F-Type Coupe. A sibling to the roadster, the Coupe comes with a new engine in the F-Type family, a 550-horsepower 5.0-liter supercharged V8 that take the stylish sports car from 0 to 60 in less than four seconds.

That motor will be the top option in the R Coupe. A base model will have a 340-horsepower 3.0-liter supercharged V6 that will do 0 to 60 in 5.1 seconds, and the mid-level S Coupe will have the same motor tuned to 380 horsepower, giving it the speed to hit 60 from a standstill in 4.8 seconds. Oh, and the F-Type has the styling to match the power, with a hardtop and shortened rear windows that give it a European appeal.

Expected to roll out in mid-2014, the 2015 Jaguar F-Type Coupe will start at $65,00 for the base model, and the R Coupe will start at $99,000. Click here to read more from AutoBlog.com.
5. 2015 Ford Mustang
Ford's iconic Mustang is getting a resign in the coming year, adding improvements that include a turbocharger and independent rear suspension for the first time. Ford is celebrating the 50th anniversary of the Mustang with a dramatic style upgrade as well, one that makes it look less bulky and more aggressive than the previous generation, while paying homage to its heritage.
On the inside, designers merged an aviation-inspired cockpit with one that focused more on luxury and comfort. The result is a clean, yet inspired dash and display that features paddle shifters (for automatic transmissions) and digital displays. Other first-time additions include a driving-mode selection switch, adaptive cruise control, push-button starter, and remote start. The motor options -- a 5.0-liter V8, the EcoBoost 2.3-liter turbocharged four-cylinder, and a 3.7-liter V6 -- round out the overhaul.
The 2015 Ford Mustang was officially introduced in early December, and pricing information has not been released yet, but the car should start appearing in showrooms in early 2014. Click read to read more from Motor Trend.
6.
2015

Mini Cooper

The newest Mini Cooper has grown up a little bit, adding 4.5 inches to its length and 1.7 inches to its width. As with previous generations, there will be plenty of customizable choices to make your Mini a personalized Mini.

Starting under the hood, you can choose from the base model three cylinder with 134 horsepower and 162 pound of torque, or upgrade to the Cooper S with a four-cylinder that produces 189 horsepower and 221 pounds of torque. Regardless of the motor choice, you can pick a six speed manual or automatic transmission.

The added size translates to more space on the inside, and many of the controls have been relocated. The power window buttons, for example, are now on the door instead on the center console, and the speedometer and tachometer, which used to reside in the center of the dash, are now on the steering column. A high tech digital displays claims that center location and allows drivers to made a wealth of changes to their car's performance.

The 2015 Mini Cooper is due out in March, but Mini hasn't released U.S. pricing just yet. Click here to read more from Jalopnik.com.
7.
2015

Subaru WRX

It is widely agreed that the new 2015 Subaru WRX, based on the Impreza, is a rally car monster hiding among the grocery getting sedan crowd. While taking in its funky angles and subtle styling, one might not suspect that the WRX has a 268-horsepower 2.0-liter turbo four cylinder that sits in the boxer layout. That style of motor, used only by Subaru and, of course, Porsche, results in a combination of science and fuel injection that squeezes 258 pounds of torque from this motor, as well as a pleasing growl.

A new electric power-steering system and six speed manual or continuously variable automatic (another Subaru first) that also features a manual shifting mode help push this sedan quickly and aggressively through turns like its rally racing cousins. All wheel drive is standard, and the addition of larger roll bars, firmer bushings, and aluminum lower control arms of the front suspension are unique features that add more control.

Expected to be released in early 2014, the 2015 Subaru WRX should start at about $27,000. Click here to read more from Digital Trends.
8.
2015

Hyundai Genesis

Hyundai is once again letting inspiration flow for the new 2015 Genesis, the newest version of its popular luxury vehicle. Hyundai sold more than 25,000 of the previous version in 2013, and they are counting on those numbers to grow with this redesign that includes an oversized grill on the outside, all wheel drive underneath, and a carbon dioxide detection system intended to prevent drivers from falling asleep.

The second generation Genesis will officially debut in the U.S. next month during the 2014 Detroit Auto Show, but Hyundai has already pulled back the curtain in Korea and early previews include the style description "Fluidic Sculpture 2.0." The long lines of this sedan certainly do flow, and a bundle of next generation technology is expected, including a hands-free trunk that opens automatically when you stand in front of it for three seconds. Four engine options are expected, including a 5.0-liter V8 that will produce 429 horsepower, and the eight-speed automatic will be a given.

We'll know more about the 2015 Hyundai Genesis next month, so be sure to check back for our coverage of the 2014 Detroit Auto Show. In the meantime, you can read more and see videos about the vehicle on MotorAuthority.com by clicking here.
9.
2015
Cadillac Escalade
General Motors first unveiled the 2015 Cadillac Escalade back in October, and the next version includes plenty of styling to complement their vision for this fourth generation. The interior is a luxurious as ever, and the exterior features long lines that make the SUV look longer and sleeker than before. And be sure to check out the bumper-to-roof LED tail lights. This is where art meets luxury.
If you like choice, Cadillac has seven exterior colors planned for the Escalade, including Dark Granite Metallic, Radiant Silver Metallic, Black Raven, White Diamond Tricoat, Silver Coast Metallic, Crystal Red Tintcoat, and Majestic Plum Metallic. There are also three wheel choices: 20-inch chrome plated aluminum, 22-inch premium painted with chrome insets, and 22-inch premium painted with ultra-bright machined finish. Inside, there are three cabin options: Jet Black with Jet Black Accents, Kona Brown with Jet Black Accents, and Shale with Cocoa Accents.
The 2015 Cadillac Escalade will go on sale in the spring, and prices are expected to start at about $64,000 for the base and $87,000 for the fully loaded version. Click here to read more from Forbes.
10. 2015 Audi A3
The first version of the 2015 Audi A3 that will arrive in the U.S. will be a sedan, a slight change of direction for Audi, as the hatchback has been the predominant style for the A3 (the five-door Sportback and e-tron plug-in hybrid versions will come later during an 18-month roll out). The sedan will feature LED lights inside and at the front and rear on the outside, as well as the conservative styling for which Audi is known.
Featuring a transverse-mounted, inline four-cylinder engine and a standard front wheel drive configuration, the A3 is quick enough to be fun while also indulging in technological goodies such as a retractable 7-inch infotainment screen and in-car 4G LTE wireless connectivity. Leather will be standard, as will rain-detecting wipers and a large sunroof. Another great option is the 705-watt, 14-speaker Bang and Olufsen audio system.
Due next spring, the 2015 Audi A3 is expected to start at about $29,900 for the base model. Click here to read more about the Audi A lineup from AutoWeek.com.
What do you think? Did you enjoy our picks, or did we miss a 2015 model you are looking forward too? Comment below and check out our Design Your Car Mats™ section and Car Couture™ line to design the perfect custom floor mats for your car.