Here at GGBailey.com we are always looking to create new and exciting products that both meet the needs and wants of our customers but also live up to the high standards of luxury and quality you come to expect from our carpet mats.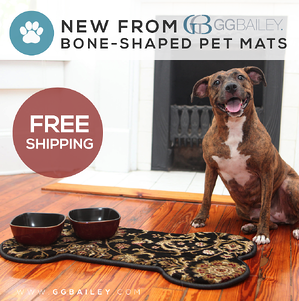 That's why we are excited to introduce out latest pet placemat offering -- Bone Pet Placemats! To celebrate this new product, we are offering free ground shipping on all orders now through Sept. 26. Plus, you can sign up to receive a 10 percent discount off your entire order!
Our bone pet placemats protect your floors with style, and there are 10 carpets to choose from for your pet placemat, including the woven animal pattern mats, oriental placemats, plaid mats, and camouflage mats in our Couture line, as well as solid colors in our Subtle Style line.
Choose any of our Couture line of luxury-weight, stain-resistant carpets. For a bold look, our woven polyurethane carpets come in both traditional and contemporary designs. Our Subtle Style carpet, available in beige or grey, is specially made with high-quality nylon yarn that is cut to create a simple and elegant two-tone texture.

All our mats are made with the best materials to resist stains. Each mat is finished with a matching serged edge and a non-slip foam backing. And you can also get matching floor mats for your home.
Click here to find the perfect pet placemat for your beloved furry friend and take advantage of free ground shipping now through Sept. 26. And don't forget to sign up for your 10 percent discount before you start shopping.
In addition to offering free ground shipping and a 10 percent discount in honor of our new bone pet placemats, we also created a special Bone Style Pinterest board. Feel free to follow all of our Pinterest boards and repin the ones you love, or keep reading to see our five favorite Bone Style pins!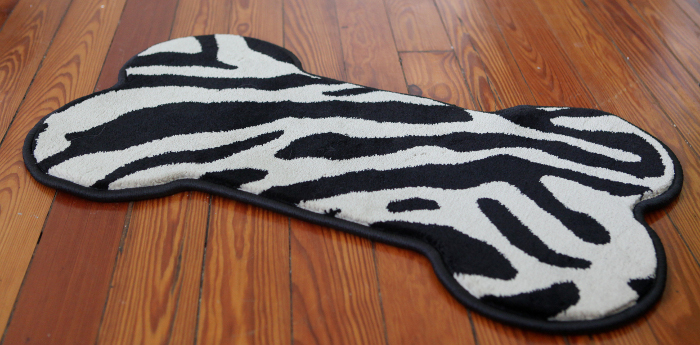 1. GG Bailey's Bone Shaped Pet Placemat
We love our own products, of course, so we would be remiss not to include our Bone Pet Placemat on our Pinterest Bone Style list. Click here to see the pin.
As you read above, these pet mats are made of top quality, luxury-weight, woven carpet. There are 10 patterns and colors to choose from, and we have matching home mats available too. The carpet pet mats are stain and mold resistant, so they will last despite any food or water spills from your pampered pooch.
While you treating your four-legged friend, you might also be interested in our other pet placemats or our exclusive pet car mats, which protect your seats when you take your pup for a ride.
2. Dog Bone with Plaid ID tags
The plaid dog bone ID tags we pinned are simply adorable. They are custom made, which we love because we make all our products to order, and sold via Etsy.com. We pinned this item because the dog bones fit in with our theme, but also because we love all things plaid.
Our dog bone pet placemats are available in a beige Plaid pattern, as are our home mats and car floor mats in our Car Couture™ line. So these plaid dog bone IDs would match our Plaid bone pet mats perfectly.
The plaid ID tags that we pinned are very similar in color to our Plaid pet mats, so the two would fit together very well for the pet owner who loves plaid as much as we do.
3. Pink Dog Bone Bowl
The pink dog bone bowl that we pinned is super cute, with a bright color and modern-style bone pattern that makes it stylish for the discerning doggie. You can find it on Fab.com. We pinned this bowl because we thought it would look great on one of our three woven animal pattern bone pet placemats. Zebra, Leopard, or Tiger -- take your pick!
You might notice that we always say "woven animal pattern," not "animal print," and that's because our designs are woven, not printed. Believe it or not, there is a big difference in quality. Printed designs merely sit on top of the carpet, whereas our woven carpet mats are permeated by the design, which means our designs of our carpet mats are woven and will not fade with use.
Using a woven design also allows us to use a luxury quality carpet, which means more durability and a long life for your pet mat. That means you can give your pet a beautiful pet mat in any of our woven designs without worrying about your furry friend damaging the pet mat. Read more about what makes woven pattern mats better than printed mats by clicking here.
4. Copper and Nickel Dog Bone Bowl
The copper and nickel dog bone bowl we pinned is fancy and stylish. Featuring a criss-cross pattern of molded dog bones and a reflective surface that shines with a pink of pinkish-orange. Originally pinned by FRONTGATE (frontgate.com), the bowl is described as being the must-have dish for the fashion forward dog.
We couldn't agree more, and we decided to repin this lovely doggie dish because we think it would look great on one of our fancy design woven bone pet placemats (though, really, it would look great on any of our pet placemats). Specifically, we would pair this one up with our Black Oriental bone pet placemat. The reflective surface and hint of color would fit right in with the luxury quality carpet and authentic woven oriental pattern of our pet mat.
Just like with our animal patterns, we are proud to say our oriental designs (also available in Red Oriental and Beige Chariot) are all woven designs, ensuring your pet placemats are made of the best quality carpet that will last without fading.
5. Grey Doggie Trench Coat
Oh my gosh, is there anything cuter than a dog wearing clothes? We pinned this adorable grey doggie trench coat because it has that awwww factor that we couldn't resist. The piece is available from petlondon.net.
We like the coat because it looks sturdy and is very fashionable in a subtle way. And there is certainly nothing wrong with being subtle, which is why our Subtle Style bone pet placemats would be perfect for the pet owner who enjoys quality with the flash. Available in grey (to match the trench, perhaps) and beige, the two-tone carpet is specially made with high-quality nylon yarn to create a simple and elegant feel.
You can get any of our Subtle Style line of products, including our bone pet placemats, and have them shipped for free now through Sept. 26. You can also sign up for a 10 percent discount off your entire order. Just fill out this form and will give you a voucher to use during checkout.
Did you enjoy our Bone Style Pinterest board? Follow our boards and we'll be sure to follow you too!